We use affiliate links. If you buy something through the links on this page, we may earn a commission at no cost to you. Learn more.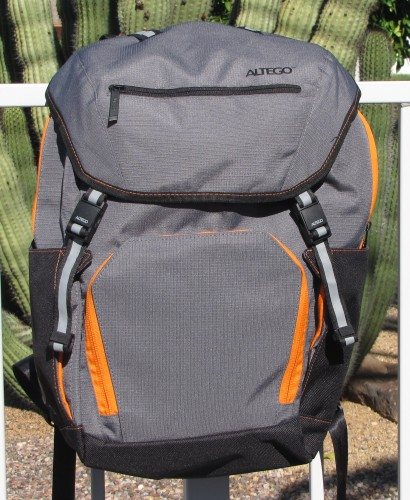 A laptop backpack is a laptop backpack is a laptop backpack, right? So, how do you distinguish yourself from the pack? I mean simple design and materials do not cut it anymore; you need to have useful features and things that make folks say "that's a great idea" or "why didn't someone think of that already?"  The Altego 17″ Polygon Sunfire Backpack distinguishes itself with unique features, ample storage for all sorts of gear, and a reasonable price.
Note: Images can be clicked to view a larger size.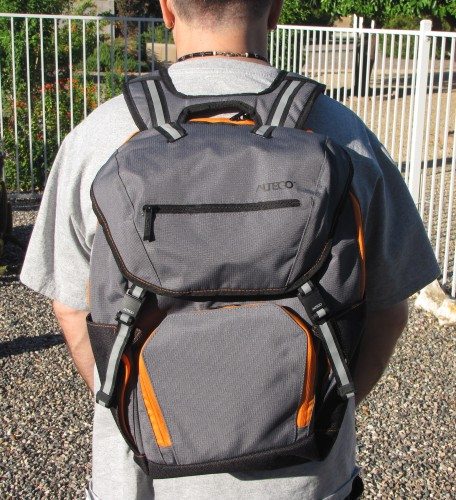 I have seen many neat and unique laptop backpacks. I have even posted some news articles on one or two, but when it comes down to it, what really makes a backpack stand out is its usability for whatever situation you may find yourself in. I know from a professional work image, backpacks are not exactly in vogue, but as a traveler or even a student, the convenience of a backpack can be invaluable. The Altego 17″ Polygon Sunfire Backpack looks like it will make a great traveling companion.  Let's see what it has to offer.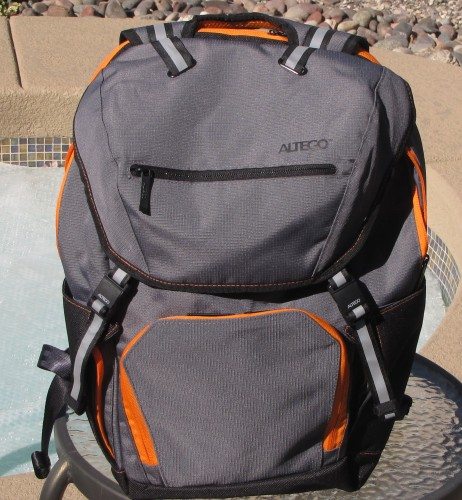 As you can see, the front of the Sunfire Backpack is clean-looking, with a top flap that has a small zippered pocket and a larger front, zippered pocket that will serve to give quick access to accessories like headphones, iPods or music players, pens, pencils, or even keys. The front pocket has two large sewn-in pockets and one small pen or pencil pocket. The top flap pocket is rather small; I might use it for my passport when traveling or maybe for change or subway tokens.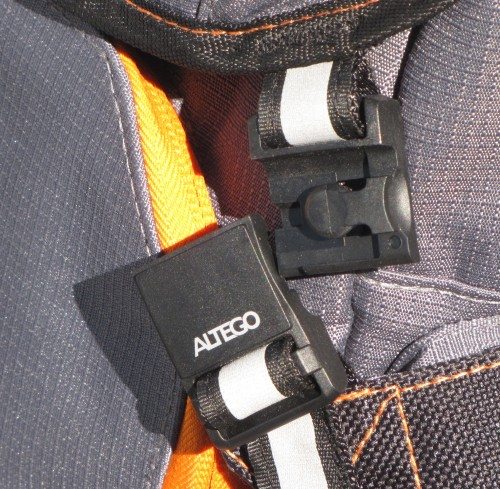 Speaking of the top flap, this is where the Fidlock, one of the unique features for the Sunfire Backpack, is located. The Fidlock is basically a magnetic buckle system that locks the front flap in place. To close the Fidlock you simply place the two ends of the buckles on top of each other, and they lock into place.  To unlock the Fidlock, simply slide the two halves of the buckle apart. The Fidlock system is very secure and strong. I tried to pull the buckle apart, instead of sliding, and could not.
All of the straps on the Sunfire Backpack have a reflective strip on them, which is a nice touch if you use the bag during low-light situations.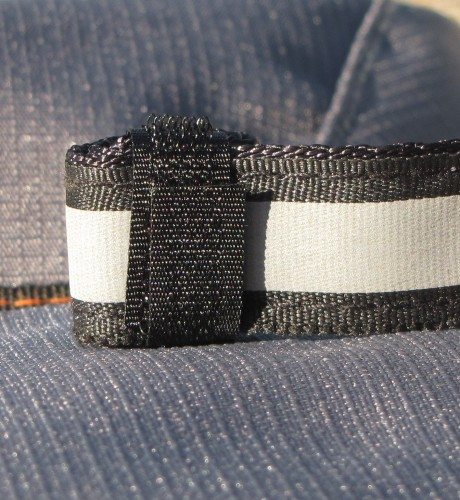 This brings me to another well thought-out feature on the Sunfire Backpack – the Velcro strap keepers. I don't know about you, but it drives me nuts having my strap ends flopping around getting caught on everything. The folks at Altego thought about this and have created a Velcro keeper system sewn to the ends of the straps on the Sunfire Backpack.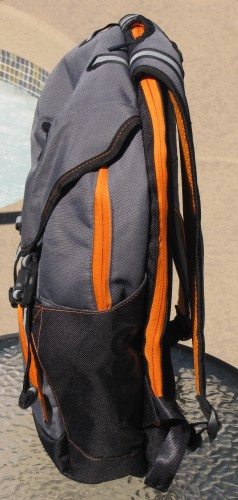 The top, bottom, and sides of the Sunfire Backpack are pretty plain except for the zippered side pockets, which are good for storing peripherals and such, and other items you'll need quick access to. The sides do have flaps that cover the zippered pockets, these flaps are attached to the bottom half of the Fidlock buckle.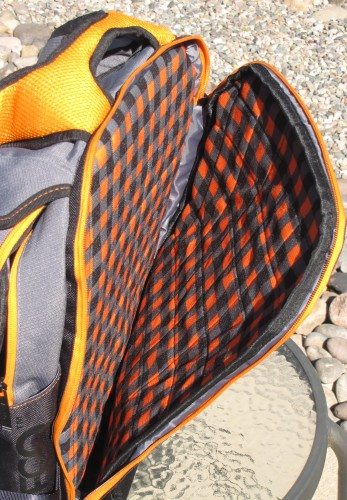 The rear of the Sunfire Backpack has adequately-padded, adjustable shoulder straps and a nicely padded back area.The top of the back side zips open to allow access to the padded laptop storage area. The Sunfire Backpack is designed to hold up to a 17″ laptop. The padding is designed to protect your laptop and to provide you with some comfort while wearing it. I found that my 17″ Lenova laptop fit into the laptop compartment easily and was held snugly when zipped into it. I also tried out my 15″ laptop in the laptop storage area, and it also fit well.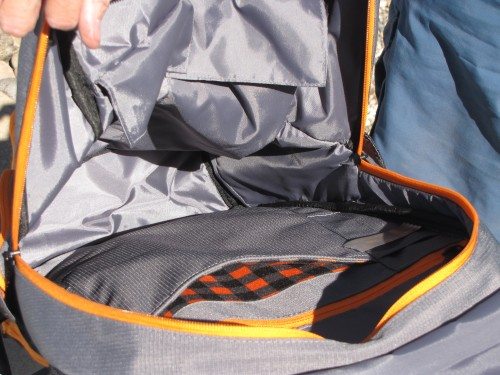 On the inside of the Sunfire Backpack is ample area for your computer peripherals as well as some personal items, such as clothes, shoes, or any other necessities you may need for traveling. There are also two accessory pockets with flaps for your laptop charger and cables sewn into the front side of the inner section. The back side of the inner section features a zippered compartment for folders and papers and a padded open pocket large enough for several types of tablet devices.
So what's my bottom line on the Altego 17″ Polygon Sunfire backpack? As a person who travels frequently, I think it is a great addition to my must-bring travel gear. With enough room to pack all your work essentials and a clothes for a day or two, this is a great carry on bag. As far as an everyday, professional carry bag, this one may be a little over kill unless you need more than a basic case for your commute, or if you were a person who runs or bikes to work. With a price of $89.99 it is competitive with similar products on the market, but with its quality and design, I believe it is superior to a lot of its competitors.
Update 01/30/15
I have had a lot of travel backpacks and computer bags in my working career, but the layout and size of the Altego 17″ Polygon Sunfire Backpack has served me well since I first reviewed it. This is our go to carry on bag for traveling. With the compartment for not only a laptop, but my iPad and room for all the extras that I may need, this backpack is a work horse.