We use affiliate links. If you buy something through the links on this page, we may earn a commission at no cost to you. Learn more.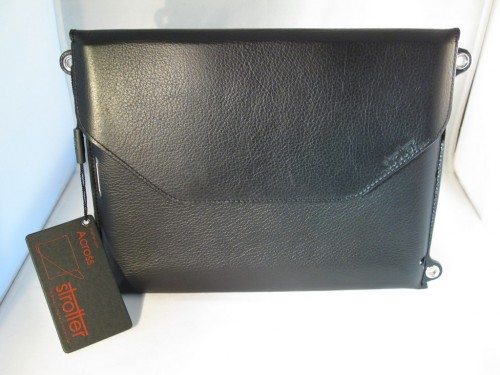 You're probably thinking " not another iPad case!", but before you hit the back arrow hear me out.  The Across Case by Strotter does have some unusual features that make it worth a look.  My first impression was also underwhelming; however, after using the case for a couple of weeks, it may be something you might consider.  I know I had a change of heart…
The details:
Across is a hands-free iPad carrying case, backpack, and stand. It fits iPad 2, 3, 4, but not the first generation.
Protects your iPad from a fall.
Allows you to work standing up with both hands free to type, both in a landscape and in portrait modes.
Understated, slim, simple, elegant design.
Premium quality.
Tight custom fit.
All ports fully accessible.
Protects camera lens when not in use.
Genuine full grain cowhide – or synthetic leather.
High quality polished and plated hardware.
Hi-tech microfiber suede lining protects the screen.
Reliable hook and loop closure.
Seat-belt material of the shoulder strap is light and strong.
Special sliding buckle for a step-less one-hand-one-motion strap adjustment.
The strap length is roughly 60″ clip to clip. The strap fits most body types, as it is adjustable on both ends.
Wear it as a mini-messenger bag, a shoulder bag or as a backpack. Or simply use it as a portfolio.
Takes 2 seconds to change from a cross-body carry mode to backpack to hands-free mode.
Thin enough to wear your iPad under clothing.
Smartly folds to give you an incline when working at a desk. You have two options here.
Works as a stand for watching movies.
Automatic magnetic On-Off switch (Apple Smart Cover style).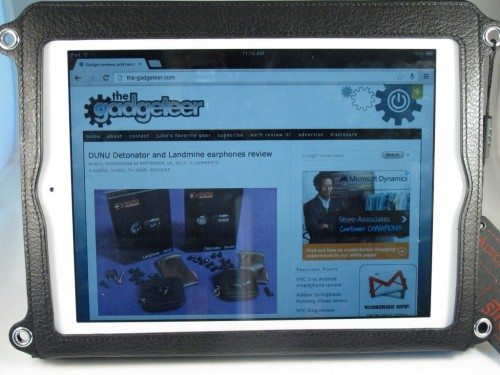 The unit I received was in leather.  Here I've inserted my iPad 2.  The instructions that came with the case warn that it's a tight fit.  They weren't lying!  As compared to other iPad cases I have, there is no plastic shell for the iPad, the case is all leather.  This means that you may have to wiggle your device in and out for a while until it stretches, just like a new pair of shoes.   However, all cutouts for switches, camera, etc; lined up perfectly.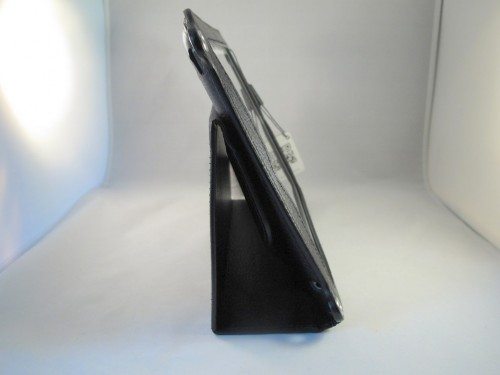 You can set the case as a viewing stand.  I don't show it, but you can lay it on the back and have another angle for viewing.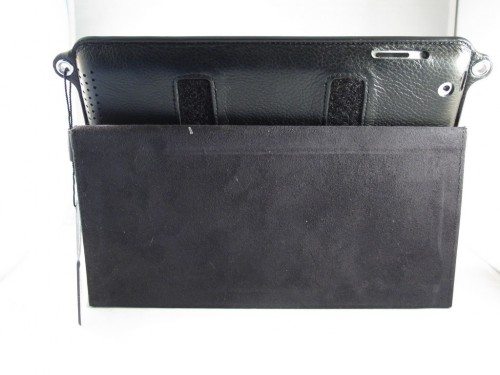 Here's a look at the back side.  The cover, which serves as the stand, adjusts using Velcro™ strips.
What differentiates this iPad case from the others is the flexibility of positions and use as demonstrated by my reluctant model.  The strap and clips come with the case.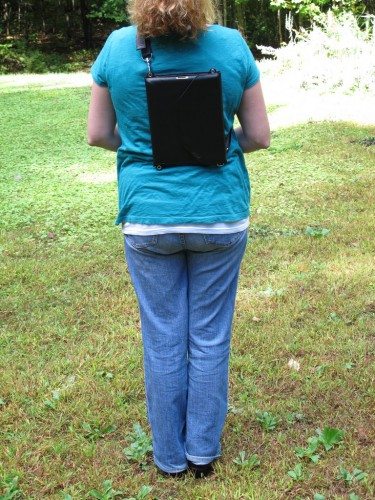 The backpack mode is something I personally haven't used, but for those needing use of both hands, riding a bike or trekking up Mount Everest, this would be very useful.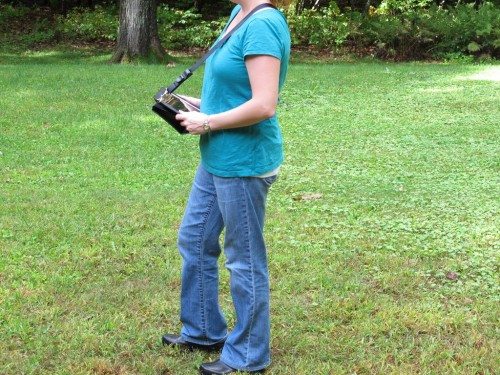 I use the hands free typing mode on many occasions, most recently on a food shopping trip to Wal-Mart.  As I was walking down the aisles looking for products, I was messaging my wife from the iPad to her iPod at home.  This mode is also helpful when you're sitting, because you don't have to continuously juggle the tablet on your lap.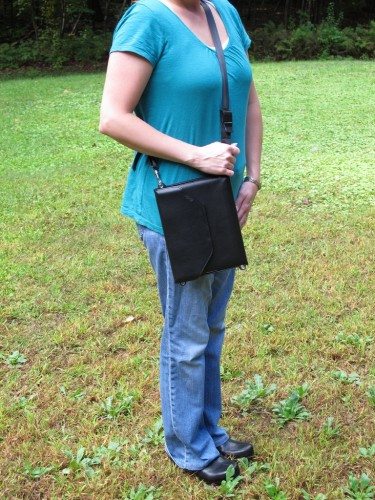 This is how I found myself carrying my iPad most of the time and I do have it with me a lot.  Before the Across Case, I would carry my iPad either in a thin leather case or a case/keyboard combination.  Neither of these had a carry strap, so I was always awkwardly shifting the iPad between hands or leaving it somewhere.
Since I bought the iPad, it's become a necessary carry item.  Using it with a $20/month no contract data plan and my $10/year cell plan, I have all the benefits of a smartphone for a fraction of the cost.  The Strotter Across now makes it easier to carry the tablet, and the ability to use my iPad in different positions is a plus, which is simplified by the one-handed buckle on the strap.  My only issue is the tight fit; I need to remove the tablet when I attach it to a bracket in my car.  Hopefully this will sort itself out over time.