We use affiliate links. If you buy something through the links on this page, we may earn a commission at no cost to you. Learn more.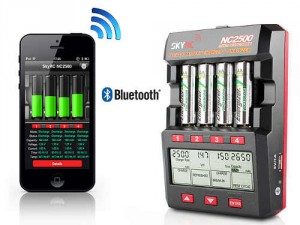 The SkyRC NC2500 AA/AAA Battery Charger & Analyzer from Brando gives new meaning to the word "overkill". We've reviewed AA/AAA battery chargers here on The Gadgeteer before, but have you ever seen a charger with Bluetooth? Why would a battery charger even need Bluetooth you ask yourself? I asked myself that very same question and found the answer on Brando's site. This charger can pair with your smartphone to allow you to control it and set and see options/data like delta peak value, discharge termination voltage, battery temp and internal resistance. The SkyRC can charge AA and AAA NiMH/NiCd batteries at the same time using a turbo fast charging circuit that provides up to 2,500mA. It has 5 modes:
CHARGE – Charge the battery at the selected rate. Suitable for batteries used frequently.
DISCHARGE – Discharges the batteries at the selected rate.
REFRESH ANALYZE – Suitable for batteries stored for more the 2 weeks but less than 3 months or the batteries showing poor performance. This mode can also determine the battery capacity for battery matching.
BREAK-IN – Charge-discharge-charge cycle which forces a full charge into new batteries and those stored for more than 3 months at a very low rate.
CYCLE – Performs charge-discharge cycle for up to 12 times. Cycle mode can remove memory effect of rechargeable batteries.
The SkyRC is sure to impress your geeky friends until you tell them the price… $105. Ouch. You could buy a whole carton of batteries for that price! But now that you know there's a smartphone controllable battery charger out in the wild, you know you want one.