We use affiliate links. If you buy something through the links on this page, we may earn a commission at no cost to you. Learn more.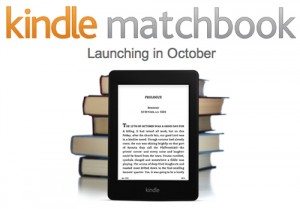 Beginning in October, the new Kindle MatchBook program will let you download a reduced-price ($2.99, $1.99, $0.99, even some for free) Kindle copy of printed books you purchased from Amazon.  That's any book you purchased since Amazon launched its bookstore back in 1995!  You'll have to wait until the publisher gives Amazon the okay to add their books to the MatchBook list, and you'll easily be able to look up your purchase history of printed books to see which books are eligible for MatchBook purchase.  Now you'll be able to leave your favorite print books safely on the bookshelves at home and carry it around in your Kindle or Kindle app for easy, read-anywhere access, too.
Amazon says they'll be launching the program with thousands of books already in the MatchBook catalog.  You can learn more about the program at the Kindle MatchBook link, above, or by reading the press release at Business Wire.