We use affiliate links. If you buy something through the links on this page, we may earn a commission at no cost to you. Learn more.
We bring our smartphones everywhere with us, and we want them to last.  Well, to last long enough to get through the 2-year contract so we can upgrade to the next one.  Part of the device protection that many people opt to use is a screen protector.  Although many of the smartphone manufacturers claim that screen protectors are not needed for their products, I still see lots of people using them.  I've used plastic film-type screen protectors before, but have been curious about the hard, tempered-glass screen protectors that have become more popular.  Sir Lancelot's Armor began life as a Kickstarter project that was successfully funded and has now become a company in its own right.  I was recently given the opportunity to try their Holy Grail Glass Screen Protector for my iPhone 4S.
Background
I've used screen protectors on my devices for as long as they have been available.  I think I've had them going back to my Palm Vx, up through my iPaq, my Blackberry 8700 and Curve, my iPhone 3GS (see my review of the iWrap) and now my iPhone 4S.  I'm somewhat embarrassed to report that for a while now I've been using cheap-o plastic film-type screen protectors that I bought in bulk on eBay.  I was never happy with my installation of them, and I had to replace these things every few weeks.  I'd had my eye on the hard glass screen protectors that have become increasingly popular, but had never become interested enough to buy one.  The idea with the tempered glass screen protectors is that not only are they highly scratch resistant, they can absorb the energy from an impact and dissipate it throughout the protector rather than transferring it to the phone's screen.  When Sir Lancelot's Armor gave me the opportunity to try one of their Holy Grail Tempered Glass Screen Protectors, I was quite willing and eager.
Specs & Options
Materials – Proprietary tempered glass and silicone-based adhesive
Colors – Black or White
Devices – Currently available for iPhone 4/4S, iPhone 5, iPad 2/3/4/Mini,  Samsung Galaxy S4, Samsung Note 2
Warranty – Lifetime
 Packaging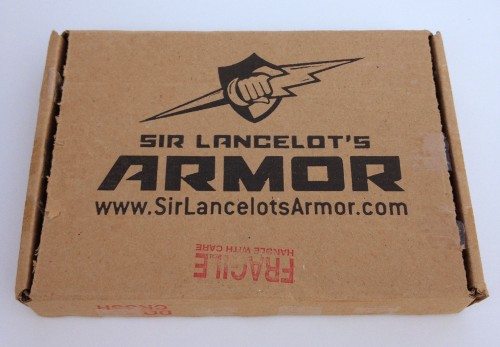 Exterior packaging is a standard clam shell corrugated cardboard box, with lightning bolt-wielding Sir Lancelot's Armor logo emblazoned on front of course.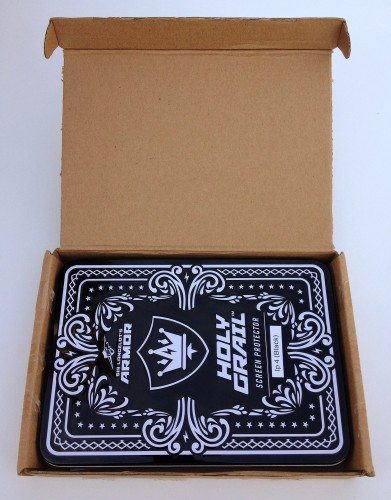 Inside the exterior packaging was something I had not expected…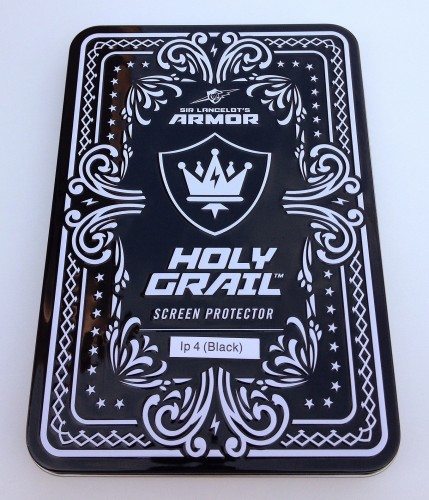 …a rather ornate, old school-looking "tin" with a base and lid.  I dig the look of the artwork on the tin.  Very "Flash Gordon"-esque.
Contents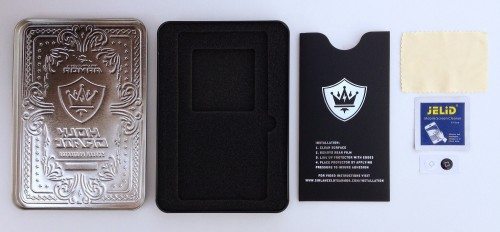 Holy Grail Glass Screen Protector
Button covers (white and black)
Screen cleaning cloth
Screen cleaner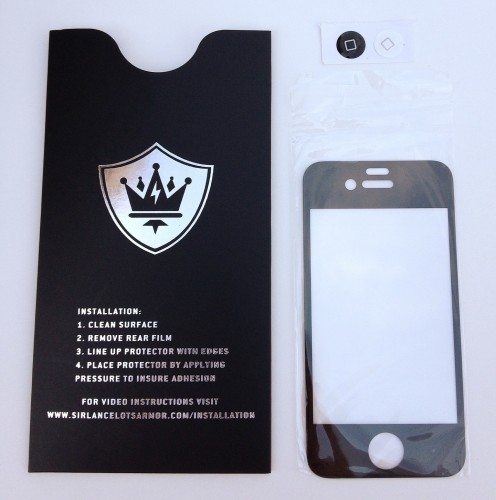 The installation instructions are four steps.  Pretty simple.
Features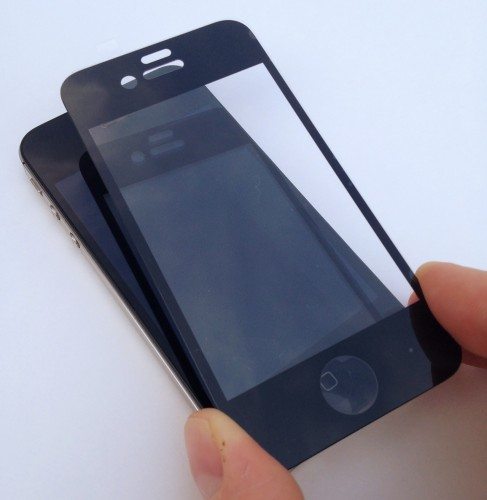 The Holy Grail is a a sheet of tempered glass sized to fit over the entire face of the iPhone.  As seen in the image above, it has an opaque frame portion, transparent portions, and cutouts.  The opaque portion is available in either black or white to match the the color of your iPhone's face—or I suppose you could get one that is opposite from your iPhone if you wanted.  The transparent portions fit over the proximity sensor, the front-facing camera and of course the touch screen itself.  The cutouts fit over the speaker and the home button.  There are other tempered-glass screen protectors on the market that do not have the opaque portion as the Holy Grail has, but are completely transparent.  Although I'm sure some would prefer the fully transparent version, I actually like the Holy Grail's design.  It basically mimics the iPhone's actual face, just offsetting it a bit.
Installation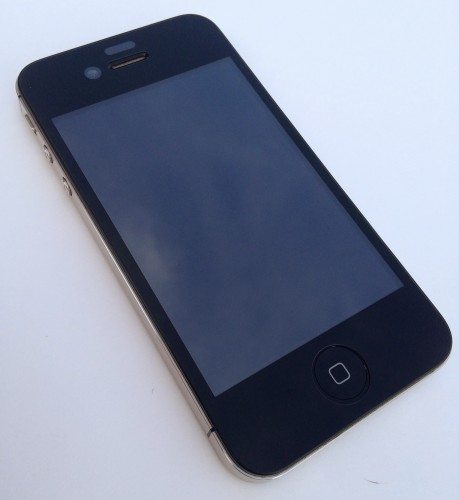 In comparison to the plastic film-type screen protectors, I found the Holy Grail to be much easier to install.  I attributed this to its rigidity, which seemed to make aligning it and keep it aligned easier than the thinner, floppier plastic versions.  In addition, it didn't require any type of liquid to activate the adhesive like many of the higher-end plastic film-type protectors.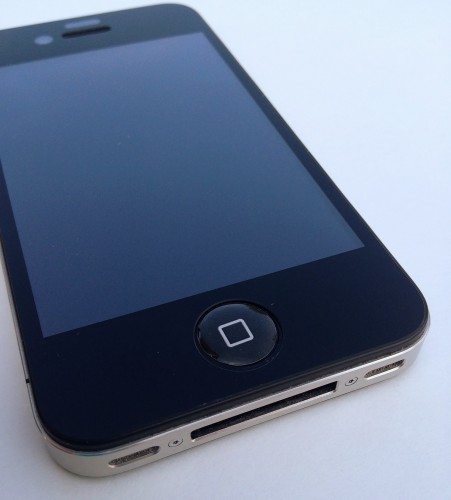 The Holy Grail also includes two home button covers, one each in both white and black.  The home button cover is basically a soft plastic dome that attaches over the home button using pressure-sensitive adhesive (in other words, it is what some might call a "sticker").  The home button cover was thick enough that it protruded beyond the surface of the Holy Grail.  Considering that the iPhone's home button is actually concave, not convex, this felt too weird to me, so I removed the home button cover after a few minutes of use.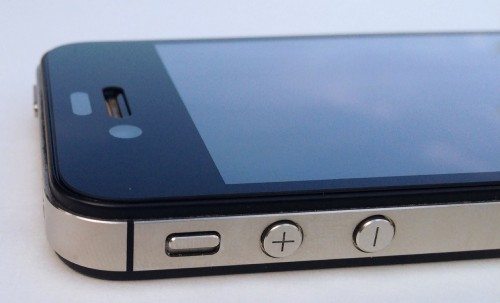 As mentioned above, I was able to align and place the Holy Grail fairly successfully the first time.  However, it was just a bit off center from where I wanted it, as shown in the images above.  The Holy Grail is billed as removable and reusable, so I did just that.  The Holy Grail's silicone-based adhesive is placed only behind the opaque portion, so I slid a fingernail under one corner and gentle peeled the protector off the iPhone's face.  It freaked me out a bit as I watched it flex slightly, but it didn't break.  There was no adhesive or any other residue left behind.  I simply carefully re-aligned the edges again, pressed down and it was exactly where I wanted it.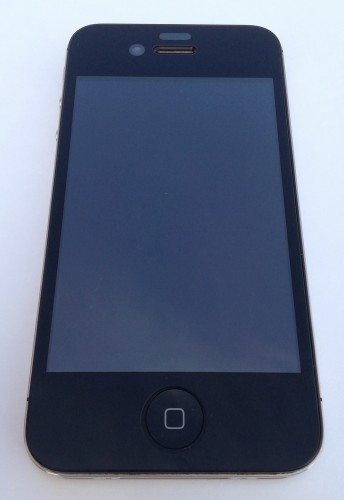 Unlike the thin plastic film type protectors, the Holy Grail leaves no bubbles, wrinkles or distortion.  Because it is actually glass and is in very close proximity to the iPhone's face, there is no loss of accuracy to the touchscreen.  On second thought, after having used it for a few weeks, there might be a tiny loss of sensitivity, but this might just be my fingers losing dexterity with age.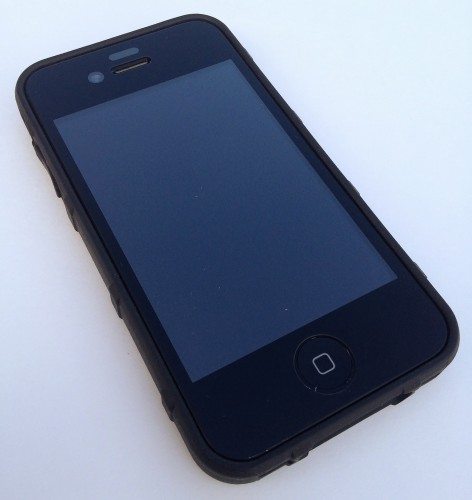 Because the Holy Grail is precisely sized to sit directly over the iPhone's glass touchscreen, only slightly undersized around the outer edge, I was able to use it with my Magpul Executive Field Case and the fit was perfect.
Conclusion
I liked the Sir Lancelot's Armor Holy Grail Glass Screen Protector.  It was easier to install than any of the previous plastic film-type screen protectors I'd used in the past, and easy to remove and reposition.  There were no bubbles, wrinkles, distortion or reduction in functionality including no loss of sensitivity of the touchscreen.  After installing it, I literally didn't even perceive that it was there.  It is more expensive than a film-type screen protector, but I think the benefits outweigh the additional cost.  I'm quite happy with it all around.
Updates 04/09/15
I was fairly happy with this screen protector for a while, until I started to notice that it seemed to decrease my iPhone's touchscreen sensitivity. When I eventually tried to remove it, it cracked into a million pieces. Thankfully neither me nor my iPhone was damaged.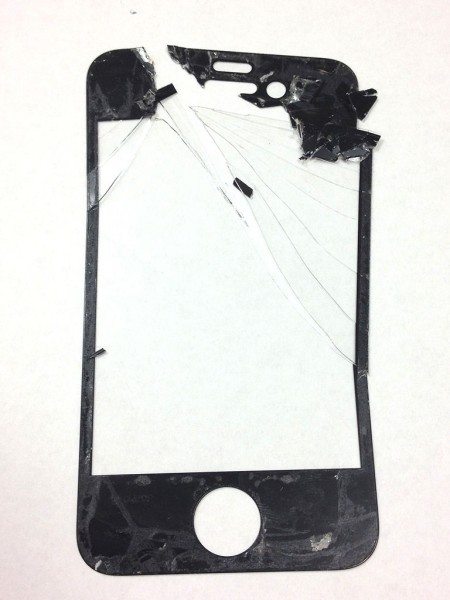 Source: The sample for this review was provided by Sir Lancelot's Armor. Please visit their site for more info.
Product Information
Price:
$39.99
Manufacturer:
Sir Lancelot's Armor
Requirements:

iPhone 4/4S (others available)

Pros:

+ Easy to install & reposition
+ Hard, smooth surface unlike plastic film type
+ No bubbles, warping or distortion
+ No degradation of capacitive touch input

Cons:

- More expensive than plastic film type