We use affiliate links. If you buy something through the links on this page, we may earn a commission at no cost to you. Learn more.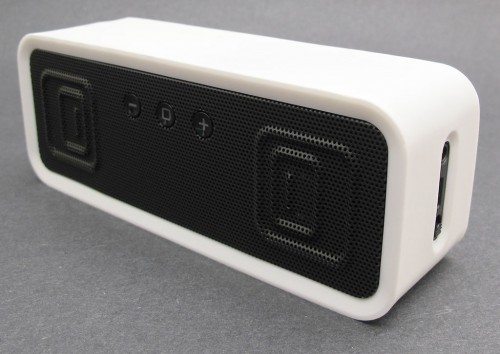 The popularity of portable Bluetooth speakers is pretty obvious if you've been keeping track of all the reviews we've been doing for the past year or two. Guess what? We have another one for you today. It's the S113BT from Arctic. What makes this speaker any different from all the others on the market? This one has a new feature that has only just recently started appearing in speakers. Want to learn more? Then keep reading.
Note: Images can be clicked to view a larger size.
Specifications
Bluetooth Version: V4.0 + EDR (Class 2)
Speakers: 2 x 1.5" Full range Drivers + 2x 1.5" Bass Radiators
Microphone Sensitivity: -44 ±3dB
Battery: Rechargeable 1,200mAh Lithium Polymer Battery
Product Dimensions (L x W x H): 58mm x 46mm x 157mm
Playback Time: 8h
Frequency Response: 30Hz – 20kHz
Impedance: 4Ω
Output Power (RMS): 2 x 3W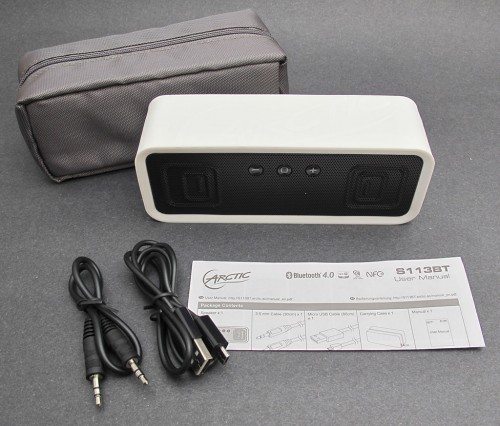 Package Contents
S113 BT Speaker
3.5 mm Cable
Micro USB Cable
Travel Pouch
Manual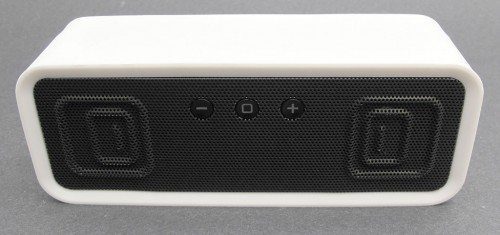 Available in 6 colors: white, black, blue, green, pink and orange, the S113BT is one of the smaller speakers I've had the opportunity to try. It will have no problem finding a place in a medium or even a smaller gear bag. The outer covering is made of thick rubber or silicone and should provide a decent amount of drop protection.
The front of the speaker has a thin metal grill with 3 control buttons positioned between the two speakers. The – and + buttons pull double duty as volume adjusters and prev / next track navigators. The center button also has multiple functions. It is used for pairing as well as call answering / hangup and a  play/pause toggle for audio.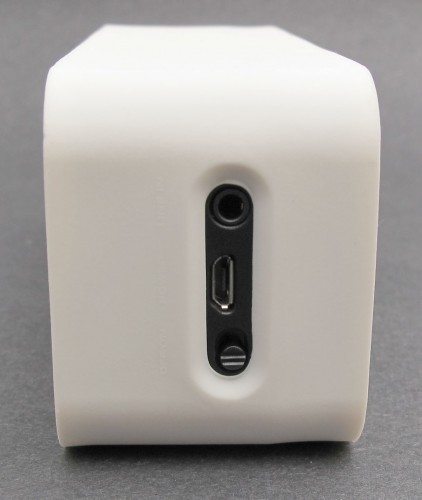 The right side has a 3.5 mm auxiliary input, micro USB charge port and a power switch.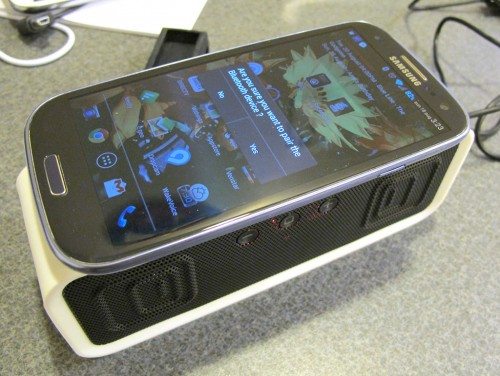 The most unique feature of the Arctic S113BT speaker is the NFC pairing feature. If you're not familiar with NFC, it stands for Near Field Communication and is built into newer Android and other phones / devices – except for the current models of iPhone/iPads. In the past NFC was used to send little snippets of information like contact info, web addresses, etc. Then people started using it to perform tasks using special tags. Now we're starting to see it built into speakers where it's used to make Bluetooth pairing easier.
What happens is that you make sure NFC is enabled on your device and then set that device on top of the S113BT. Communication will be established and will initiate Bluetooth pairing without you having to go into your device's settings to scan or enter passcodes. If Bluetooth was turned off, it also toggles it on. During my testing this method of pairing didn't seem to work any better than manually pairing. And I had some trouble pairing this way till I realized that only one device could be paired to the speaker at any one time. Try to pair another and it fails even though it tries to make a connection. But after the speaker and the device are paired once, you don't have to repeat the process because they will automatically pair just like any other two Bluetooth devices. So the NFC feature really only saves you a few seconds vs. pairing manually.
I tested the S113BT with my Samsung Galaxy S3 and my Samsung Galaxy Note 2. Audio quality playing music was only ok and didn't impress me. But what can you really expect from such a small speaker? What the speaker offers in good volume and clarity, it completely misses with warmth and rich tones that make music more enjoyable.
However, as a speaker phone it worked very well. Music automatically paused when a call would come into the phone. At that point pressing the middle button on the speaker would answer the call and would then be used to end the call. After the call would end, music would resume where it left off. Audio on both sides of the conversation was better than some Bluetooth speakerphones I've tried in the past even when I was testing it in my basement where I usually only have 1-2 bars signal strength on my phone.
I haven't tried playing music through the speaker for more than 30 – 60 minutes at a time, but I'm still on my initial charge after several days of testing it. So battery life is pretty good. It doesn't appear that the speaker has an auto shutdown feature, so you have to remember to switch it off after using it.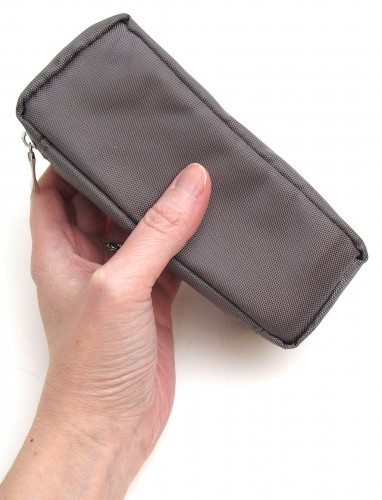 The S115BT even has its own zippered padded carrying case which is a nice touch that most speaker manufacturer's skip.
When it's all said and done, the Arctic S113BT Portable Bluetooth Speaker is an average performing speaker. It offers ok sound for music playback, good speakerphone performance, a small size and a zippered pouch. The only thing that really makes this speaker unique is the NFC pairing feature which I'm not fully convinced is really all that useful. I was excited about trying a speaker with this feature and now that I have, I'm sorta left feeling a little meh.
Product Information
Price:
$79.99
Manufacturer:
Arctic
Pros:

Nice size
NFC makes pairing slightly quicker than doing it manually
Good speakerphone
Zippered pouch

Cons:

Can only pair with one device at a time
Audio quality playing music is only average