We use affiliate links. If you buy something through the links on this page, we may earn a commission at no cost to you. Learn more.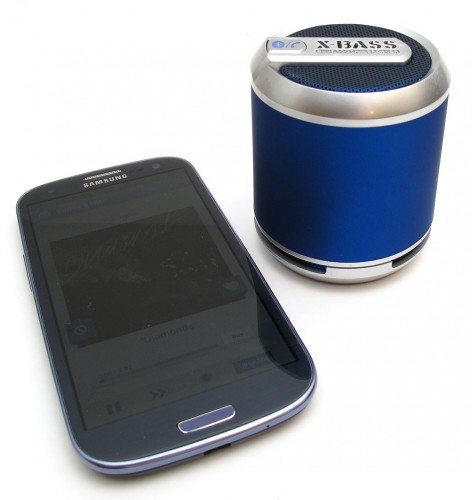 The Divoom Bluetune-solo is a portable Bluetooth speaker that will let you enjoy your tunes wirelessly, while also providing speakerphone capability, all in a package that is half the size of a can of soda. There are a lot of portable Bluetooth speakers on the market right now, let's see if this one is worthy of your consideration.
Note: Images can be clicked to view a larger size.
Hardware specs
Output Power: 4 Watts
Total Peak Power: 6Watts at <10% THD
Driver Size: 50mm micro speaker, 4Ohm
Signal-to-noise: 80dB
Frequency response: 60Hz-20 kHz
Charging Voltage: USB or AC/DC adaptor 5V
Bluetooth compliant: V2.1 +EDR
Bluetooth profile support: A2DP Stereo
Dimensions: 60R x 73H(mm)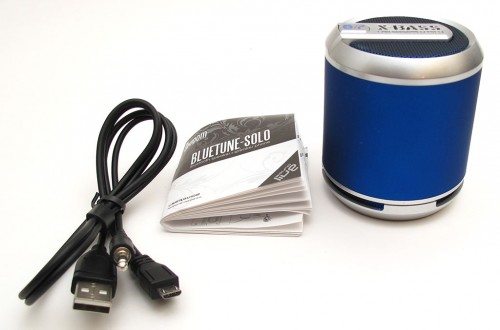 What's in the box
Bluetune-solo speaker
2-in-1 USB audio cable
User manual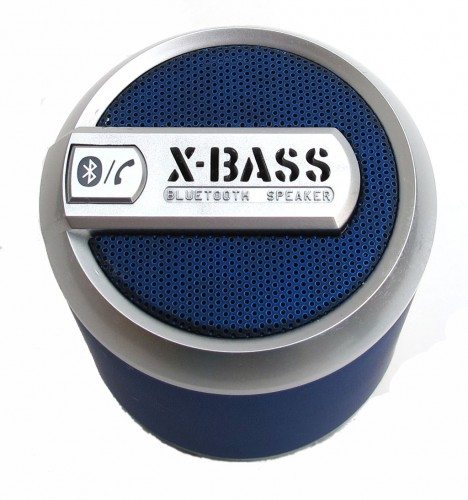 Available in Matte White, Matte Orange, Matte Red, Matte Blue and Matte Slate, Divoom sent me the Matte Blue version to review. Like I mentioned above, this speaker is about half the size of a regular can of soda. It's so small that it will easily fit on any table, shelf or in a gear bag.
The casing is made of Grey plastic with rubberized Blue sides.
There is a multi-function button on the top of the speaker that is used to pair, pause music and answer/end calls.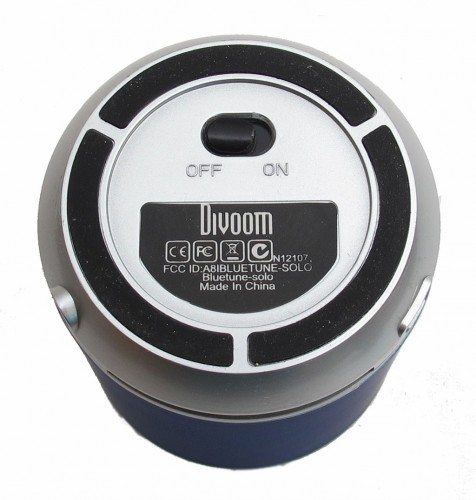 On the bottom of the speaker you'll find the on/off switch and rubber feet that will prevent the Bluetune-solo from sliding around on your desk.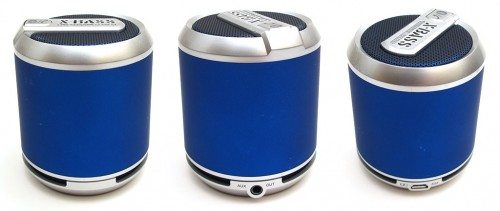 There are two connections around the base of the speaker. One is a micro USB connector that is used to charge the battery which can last for up to 8 hours per charge. This port also turns the speaker into a Bluetooth adapter that can be used to turn a wired speaker into a Bluetooth speaker. I tried this with my Onkyo AV receiver by plugging into the line-in jack. I didn't think it was working until I turned the volume all the way to max. Then I could hear the music coming out of the speakers connected to the Onkyo. When using the speaker as an adapter, it's important to note that music will play through the Bluetune-solo and the connected speakers at the same time.
There is also a 3.5mm Aux Out jack that can be used to daisy-chain multiple Bluetune-solos.
A few seconds after you turn on the speaker, it will issue a tone that it is connecting to the paired Bluetooth device. At that point, you can begin listening to music. The Bluetune-solo features the X-Bass sound system that has patented PO-Bass Technology to provide deep bass in a compact package. At least that's what the Divoom website says. In real world use, this little speaker does provide a surprisingly thumpy bass and the ability to fill even larger rooms with crisp, clear sound at normal to even higher volume levels. I did notice that when music is paused, that you can hear some white noise coming out of the speaker. You have to put your ear close to hear it though.
One other added benefit of the Bluetune-solo is the built in microphone for hands-free calls. If someone calls you while you're listening to music, you can just press the multi-function button on the top to answer the call. It actually works quite well.
The Divoom Bluetune-solo is the smallest Bluetooth speaker that I've reviewed so far. It has above average audio quality, with very good bass. Add in the speakerphone feature and sub $50 price tag and you have a worthy portable Bluetooth speaker. I give it a thumbs up.
What is your favorite portable Bluetooth speaker?
Product Information
Price:
$49.99
Manufacturer:
Divoom
Pros:

Can be used as a speaker phone
Functions as a Bluetooth adapter
Good bass

Cons:

Power button on the bottom