We use affiliate links. If you buy something through the links on this page, we may earn a commission at no cost to you. Learn more.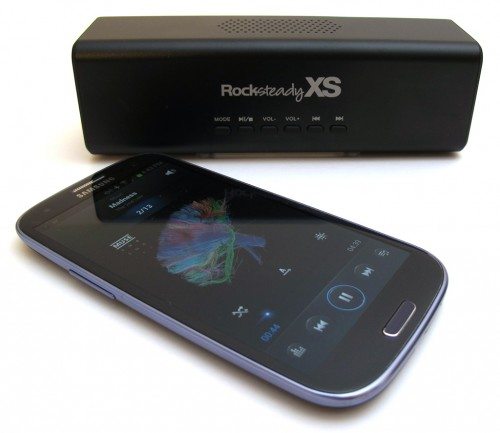 Update: This review has been updated to reflect the 1.5 version of the hardware. See notes below.
Full sized speakers will almost always sound better than smaller speakers, but sometimes smaller can be the way to go when space is a premium or portability is required. That's why we're seeing so many Bluetooth speakers popping up lately. Their popularity is obvious because they are small, easily portable and wireless. But what about their sound quality? Small speakers = small sound, right? That's what I thought, until Killer Concepts sent me their RocksteadyXS Bluetooth Speaker to review. Let's turn it up and give it a try.
Note: Images can be clicked to view a larger size.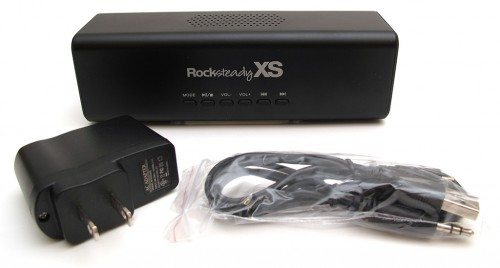 Included in the box
RocksteadyXS Rechargeable Stereo Speaker
User Manual
Li-ion Battery
Line-in Cable
Micro USB Wall Charger and Cable
Specifications
Bluetooth 3.0
Rechargeable/replaceable battery with over 10 hours runtime
100dB

The RocksteadyXS has an aluminum shell with a 6.5 x 2 inch footprint. The front of the speaker has the RocketsteadyXS logo with a set of control buttons below it.

On the backside of the speaker you will find a full sized USB host connector, microUSB connector, 3.5mm line-in jack and a power switch. The microUSB port is for charging, while the USB host connector will allow you to play MP3s stored on a USB flash drive.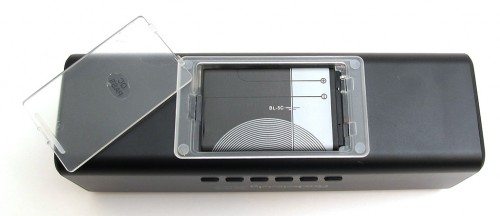 Flip the speaker over and you'll find the battery compartment with a removable / replaceable BL-5C battery. This is a common battery used in Nokia phones. Replacements can be found for around $5 on Amazon. Just make sure you get the 1050 mAH version.
The translucent plastic base glows Blue when the speaker is turned on, Red while charging, and Purple when charging while also powered on. The speaker doesn't have an auto-off feature, so you'll need to remember to flip the power switch to off when you're finished using it.
The RocksteadyXS has an added benefit of being able to charge another device using the USB port port on the back. For example, I can use it to charge my Samsung Galaxy S3 by plugging a microUSB cable into the full-sized USB port (same port used to play music from a USB flash drive) and the microUSB end of the cable into my SGS3. Note, you do have to turn on the speaker for this feature to work…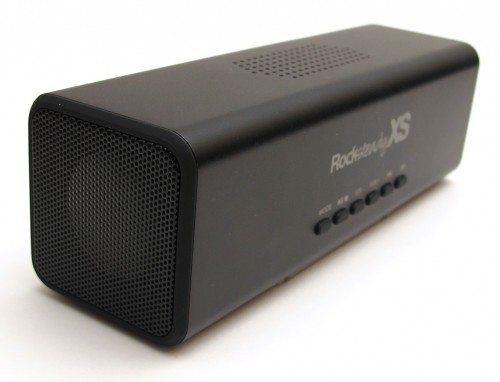 Pairing with your Bluetooth device is easy as it doesn't require entering PIN numbers or codes. By default, the speaker powers on in line-in mode. So you have to press the mode button once to go into Bluetooth mode every time you toggle power. Seems to me that Bluetooth should be the default mode… v1.5 fixes this. Bluetooth is the default mode when the speaker is powered on.
One other problem is that the speaker can only pair with one device at a time. This might be an issue for people with multiple Bluetooth devices. – Can now pair with 2 devices at one time and up to 4 devices can be paired with this speaker.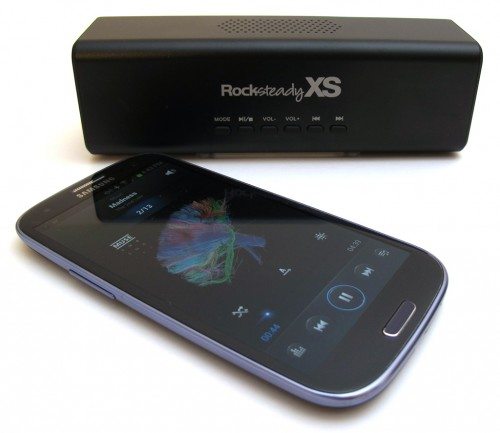 I tested all the modes of the RocksteadyXS using my Samsung Galaxy S3, an iPod Classic and a USB flash drive with folders of MP3 files. Playing music through a Bluetooth connection from my phone sounded great as long as I kept the two devices within 12 feet of each other. Any farther than that and the audio started to stutter and cut out.
I was happy to find that the volume could be controlled through the phone or speaker buttons when connected via Bluetooth. The play/pause and prev/next track buttons also work as intended with my SGS3. I was surprised…
The only downside to the RocksteadyXS as far as Bluetooth, is that it doesn't have a microphone, so it can't be used as a speakerphone. However, music will pause when a call comes through… A speaker phone is now built into the RockSteady XS. Music pauses when a call comes in and you can either answer the call through your phone or by pressing the call answer / end button on the speaker. Once the call ends, music will resume playing.
Playing music using a line-in cable with my iPod Classic worked as expected. No complaints.
Playing music from a USB flash drive is a cool feature, but it does have some issues that you'll want to be aware of. First of all, the volume resets every time you plug in a USB drive or toggle power with a USB drive plugged in. The tunes will start playing immediately in what I consider much louder than necessary. Another problem with playing music from a USB drive is that you'll need to have all your music in one folder. I tried copying multiple folders to the drive, but only the music from the first folder would play. Pressing the Next track button would just cycle through the music in the first copied folder and there was no way to get into the 2nd folder.
Even though the RocketsteadyXS has a few quirks, the sound quality makes up for it. This speaker should have no problem filling a medium to large room with music. Even with the volume turned up, music doesn't distort. And when paused, you don't  hear an annoying hiss like with some speakers. Highs are crisp and you can actually feel the thump of the bass. I really like this little speaker. It's earned a spot on my desk here at Gadgeteer HQ. It takes up hardly any space and the battery seems to last forever.
You can find the RocksteadyXS on various online retailers like Buy.com, Overstock.com and Amazon for $89.99 – $99.99.
Update 6/22/13
Killer Concepts sent me the Rocksteady XS v1.5 that addresses a couple of the issues I mentioned in this review.

The new RocksteadyXS 1.5 adds a built in speakerphone, default Bluetooth connection, smaller wall charger, low battery warning notification, allows phone pickup/hangup directly from the unit, and ability to connect two devices simultaneously.
The original and v1.5 speakers look identical except for the addition of the silkscreened answer/hangup icons below the play/pause/stop button on the front. Harder to see in the image above is the speaker hole which is between and below the volume buttons.
The updates make an already nice Bluetooth speaker even better. Now if they can fix the volume reset prob when you toggle power with a USB stick full of music plugged into the back USB port. The Rocksteady XS remains my favorite ultra portable Bluetooth speaker.
Product Information
Price:
$99.95
Manufacturer:
Killer Concepts
Retailer:
Amazon.com
Pros:

Lots of volume and very good bass
Replaceable battery
Can play MP3s stored on a USB flash drive
Can be used as a charger for other devices

Cons:

Can only pair with one Bluetooth device at a time (no long true with v1.5)
By default it starts in line-in mode instead of Bluetooth (no long true with v1.5)
Can not be used as a speakerphone (no long true with v1.5)