We use affiliate links. If you buy something through the links on this page, we may earn a commission at no cost to you. Learn more.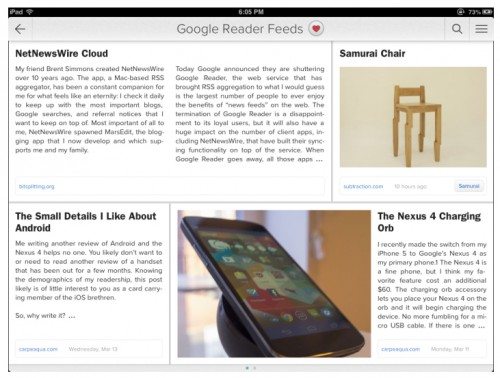 A lot of people were upset by yesterday's surprise announcement of Google Reader's imminent demise.  In response, Zite spent a few hours making some changes to incorporate your Google Reader feeds into their apps – that doesn't rely on Google's infrastructure.  Zite is an app available for mobile devices – Android, iPhone/iPad, and WP7.  It scours the web looking for articles in a multitude of fields and interests and uses the results to create a "magazine" with stories of interest to you.  In their own words:  "Zite evaluates millions of new stories every day, looking at the type of article, its key attributes and how it is shared across the web. Zite uses this information to match stories to your personal interests and then delivers them automatically to your" mobile device.  It seems Google Reader was always a part of Zite; you were able to link your Google Reader account to Zite, but those articles wouldn't have their own, separate category.
Now, you can have a separate category just for your Google Reader feeds in Zite's Quicklist.  It's quick and easy to add; just visit Zite's Blog to learn how to get it set up.  Zite is free, and it's available in the Apple App Store (universal app), in Google Play, and in the Windows Phone store.  Because of their quick conversion efforts, Zite is aware of some limitations for this new feed.  At the moment, it's a basic feed reader,  but they are working to add functionality even as you read this.  Zite says they are eager to add features that you and the other displaced Google Readers want and need.  They have an email (found in the blog entry) where you can send your ideas of what you need in a reader.
Go read the blog entry and get started!