We use affiliate links. If you buy something through the links on this page, we may earn a commission at no cost to you. Learn more.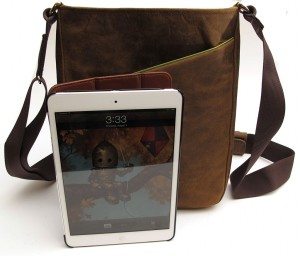 If you've been looking for a small shoulder bag which is roomy enough to carry your iPad or Android tablet along with a few other essentials, the WaterField Design Indy bag should tick all the necessary check boxes on most people's shopping lists.
✔ Looks great
✔ Well made
✔ Not bulky
✔ Comfortable
✔ Room for accessories
WaterField offers the Indy bag in a size for the regular iPad and a Mini Indy that can hold smaller tablets such as the iPad mini and Nexus 7. Want to learn more about the Indy? Then please keep reading…
Note: Images can be clicked to view a larger size.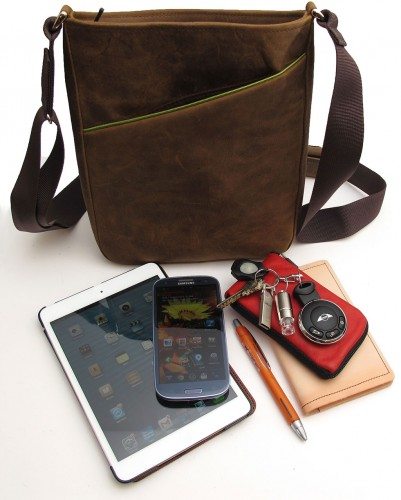 I was sent the Mini Indy bag which is sized to hold an iPad Mini or comparably sized tablet. The Indy isn't meant to be a carry-everything-you-need-for-the-whole-day kind of bag. It isn't skimpy, but I think it performs best when you stick to just the necessities like you see above.
The Indy is made of gorgeous soft distressed leather that will only look better with age and wear. It has a zippered tote bag type of design, which means it doesn't have a flap.
There are a few customization options: the main bag can be made of grizzly brown leather or black leather, there are 6 color choices for the slash pocket trim color, and the hardware color can be nickel or matte black. I went with grizzly, green trim and nickel hardware.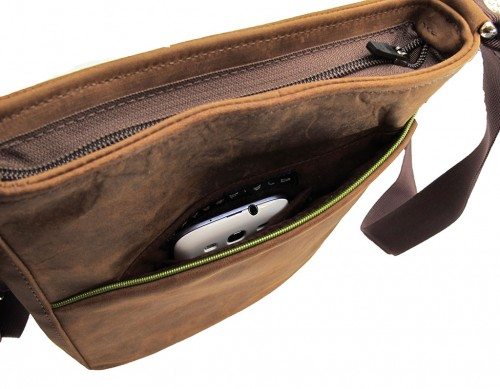 The front slash pocket has a smaller pocket inside it that is lined in a soft ultrasuede material. It's the perfect size to hold your phone and is even big enough for a Samsung Galaxy Note 2.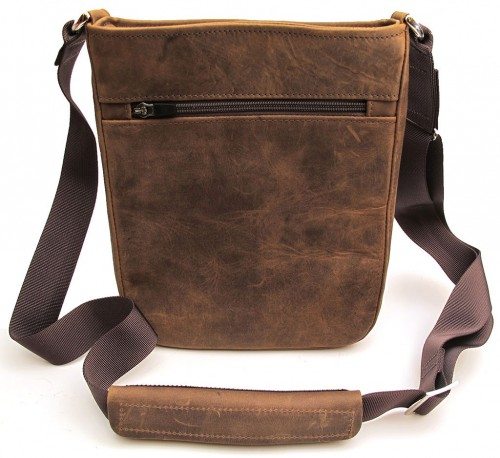 The other side of the Indy has a flat zippered pocket.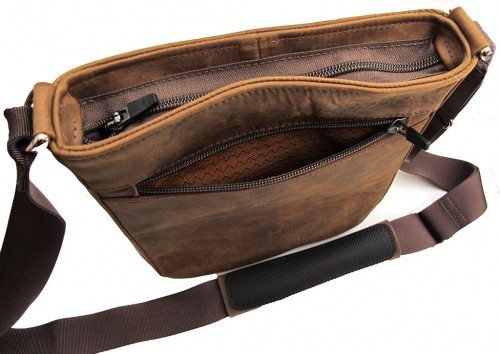 Unzipping it reveals WaterField's signature orange liner which allows easier visibility of the pocket's contents.
You'll also notice that the adjustable shoulder strap has a removable leather shoulder pad which has a grippy rubber side that will help keep the strap in place when you're wearing it on your shoulder.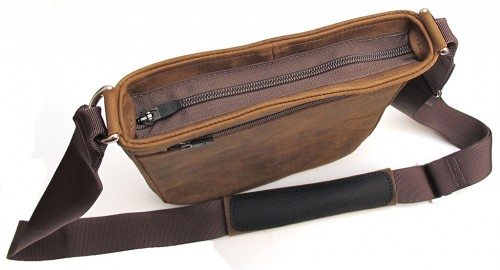 The main compartment is secured with a locking zipper across the top. The zipper has smooth action and does not require a lot of effort to use.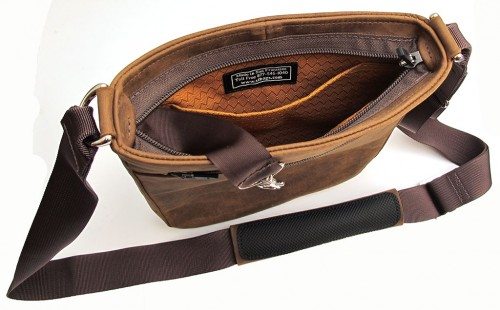 Inside the main part of the bag you'll be greeted with the orange lining. You'll also find a spring keyclip attached to a ribbon. Does anyone use these to hold their keys? I don't 😉
There's a small open topped pocket on one side of the bag that can hold small items like a notebook, wallet and pen. The main compartment is roomy enough to hold an iPad Mini in a case or protective sleeve.
I have been carrying the WaterField Design Personal Muzetto bag for the last few years, but I'm finding that I like the Mini Indy bag better because I don't have to deal with a flap. I also love the distressed leather look and the easy access to my phone in the protective ultrasuede pocket. The bag is the perfect size for shopping / walking around because it's not bulky or heavy. The strap is comfortable even after wearing the bag for hours.
The product description on the WaterField Design site says this bag is:
Made of soft, distressed leather, it combines the well-worn, outdoorsy look with the sophistication of the man-about-town.
I don't think the bag looks manly. I think it is gender neutral and would be great for anyone looking for a casual comfortable gear bag.
This bag is made extremely well made and with normal use, it should last for years and years. The only downside is the price. Many people can't afford to spend over $100 for a small shoulder bag. But if you like the style and have the means to purchase it, I think you'll be very happy with the WaterField Design Indy bag for years to come.
Product Information
Price:
$169 - $179
Manufacturer:
WaterField Design
Pros:

Causal style
Holds iPad and more
Small soft pocket perfect for a phone

Cons: