We use affiliate links. If you buy something through the links on this page, we may earn a commission at no cost to you. Learn more.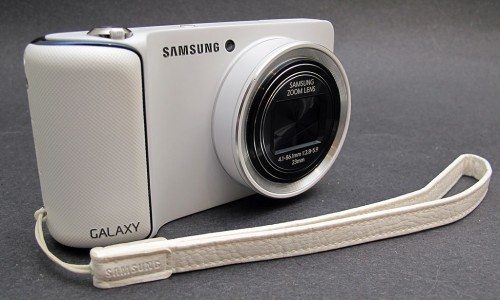 If you own a smartphone, it's likely that you no longer carry around a point and shoot camera too. Not only are p&s cameras just another item that will take up space in your gear bag, but they really aren't needed for casual snapshots now that the cameras built into our smartphones have gotten so good.   Don't get me wrong, there will always be a need for stand alone cameras, but for everyday snapshots that you want to share with your friends via email, Facebook, etc, smartphone cameras are perfect. Well, except for one thing… smartphone cameras don't have an optical zoom to let you get closer to your subject. But what if you could combine most of the great features of a smartphone with a real point and shoot camera? The Samsung Galaxy Camera combines 4G connectivity and the Android operating system with a camera that has a 16MP sensor and a 23mm wide-angle auto-focus lens with an impressive 21x optical zoom.  Verizon Wireless sent me one to try for a few days, so it's time to smile and say cheese.
Note: Images can be clicked to view a larger size.
Hardware Specifications
Processor: 1.4GHz Quad–Core Processor and 1GB RAM
Operating System: Android 4.1 Jelly Bean
Network: 4G LTE (Band 13 only)
Memory: 8GB internal (actual formatted capacity is less), microSD Card support, up to 64GB (sold separately)
Display: 4.8" HD Super Clear LCD Screen, 1280×720
Camera: 16MP BSI CMOS Sensor, 21x Zoom (23mm˜483mm), Aperture F2.8 ˜ F5.9 Lens Optical Image Stabilization, Guide Number 5 Xenon Flash
Wifi: 802.11 a/b/g/n
Bluetooth 4.0
Headset: 3.5mm Audio Jack
Battery: 1650mAh, usage time up to 2hrs, standby time up to 12 days
Dimensions: 2.79 (H) x 5.07 (W) x .75 (D) inches
Weight: 10.76 oz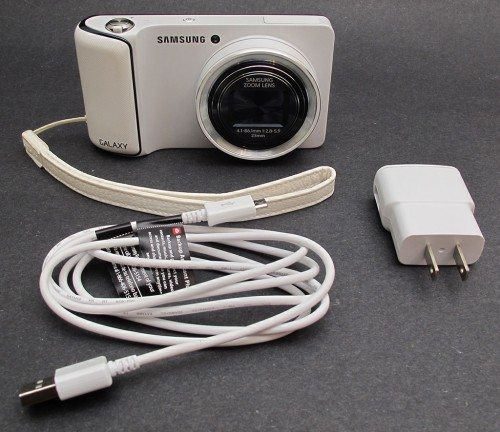 Included in the box
Samsung Galaxy Camera
Wall/USB Charger
Quick Start Guide
Standard Lithium Ion Battery
Product Safety & Warranty Brochure
Quick Reference Guide
Wrist Strap
This camera is available in black or white and in 3 connectivity versions. One for Verizon Wireless, one for AT&T and a WiFi only version. The WiFi version won't require a monthly data charge, but the Verizon and AT&T versions do. The Verizon version adds a $5 monthly charge to your already existing Share Everything plan. There's no 2yr commitment or anything like that though, it's a month-to-month deal.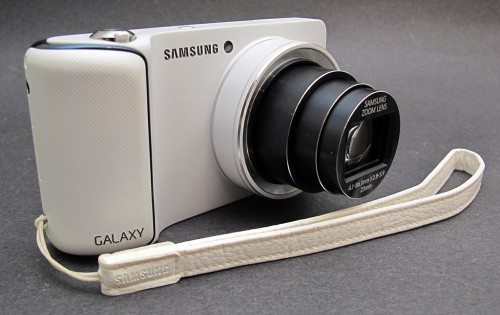 At first glance, the Samsung Galaxy Camera could be mistaken for any number of higher end point and shoot cameras. It has a chunky and  bulky design that may or may not fit in your pocket. It will fit in some of my side cargo pants pockets, but just barely. I was sent the white version, which has a nice smooth matte finish on the case and a textured soft plastic grip. The grip allows a secure hold on the camera while also allowing you to operate the shutter button and zoom capabilities with one hand.
The camera feels very solid and doesn't have any problems passing my trademark gadgeteer squeeze tests. It feels like it's built like a tank…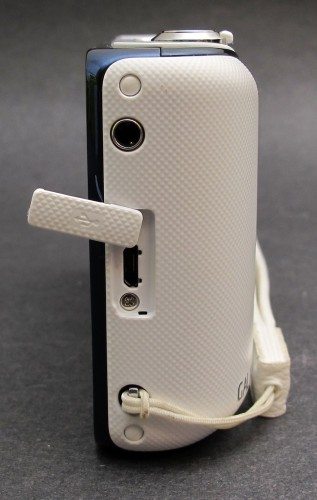 On the grip side of the camera you will find a covered USB port for syncing and charging tasks. There is also a 3.5mm headphone jack and a hand strap eyelet.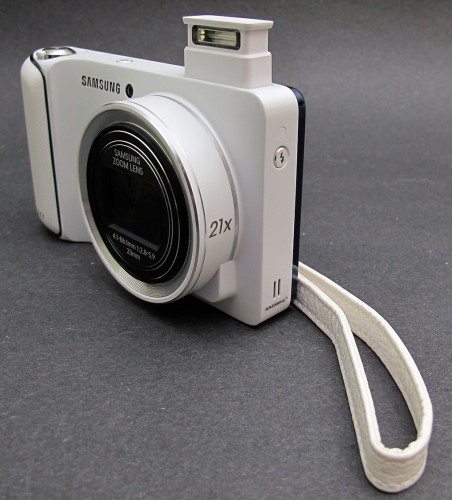 The speaker is located on the other side of the camera along with a button that pops up the flash. You are required to manually extend the flash with this button, whenever you need to use it. Unfortunately, it will not automatically popup when needed for dim shots.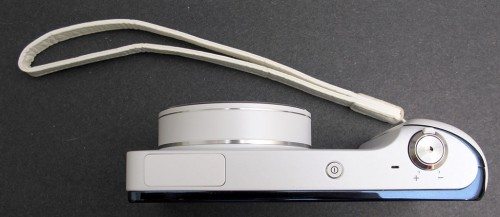 Looking at the top of the camera, you'll see the power button and the shutter/zoom button which doubles as volume up/down button when you're not in camera mode. This button has good tactile feedback and feels exactly how you would expect a shutter/zoom button to feel on a camera.

On the bottom you'll find a threaded tripod socket and the battery compartment cover.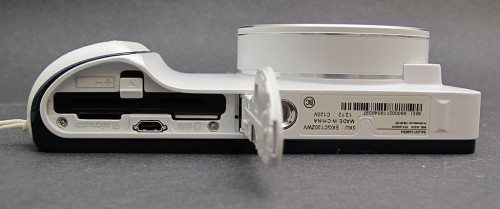 The battery slot is located under the cover along with a microSD card slot, LTE sim card slot and a micro HDMI port which can be also  accessed when the battery cover is closed. Note: A micro HDMI cable is not included with the camera and if you're wondering, even though this camera has an LTE sim card, it does not make phones calls. The LTE feature is strictly used for non-telephony connectivity.
The 1650mAh battery is supposed to have enough juice to enable you to take up to 350 pictures per charge. There's an auto power off feature that defaults to 1hr, but can be set to 2hrs, 3hrs, 4hrs or not at all. I found the battery life to be pretty decent. I only needed to charge it every few days.
Start up time when the camera has been powered off is about 30 seconds from long pressing the power button, until it is ready to snap a picture. That's a very long time when you're trying to capture a subject that might be moving. When the camera is just idle, pressing the power button will wake up the camera for instant shooting in about 3 seconds. However, the device will wake up in the last mode it was in. So if you're in an app or screen other than the camera app, it will wake up there. Pressing the shutter button while in another app will switch you to the camera app and extend the lens so you're ready to snap a picture.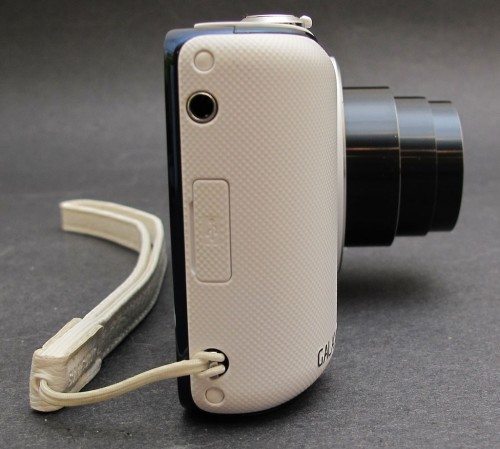 Speaking of the lens, it's pretty impressive with its 21x zoom capability. That's equivalent to 23mm~483mm. When you power up the camera the lens extends like you see above.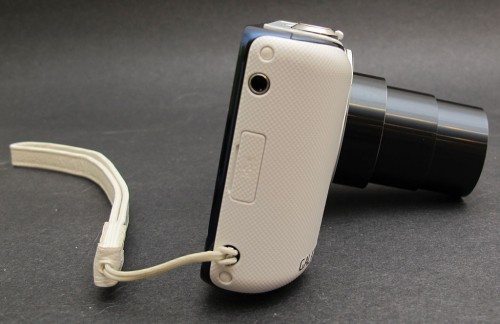 And here it is zoomed all the way to 21x. The lens is so long that it makes the camera top heavy when placed on a flat surface.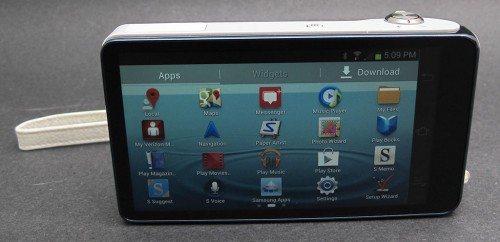 The back of the Samsung Galaxy Camera is all display with no physical buttons. The screen looks great indoors and in the shade, but sometimes I found it to be a little difficult to view in full sun. This is a problem because there's no optical viewfinder for this camera. That said, it does have a very good anti-smudge coating, so you don't notice smeary fingerprints.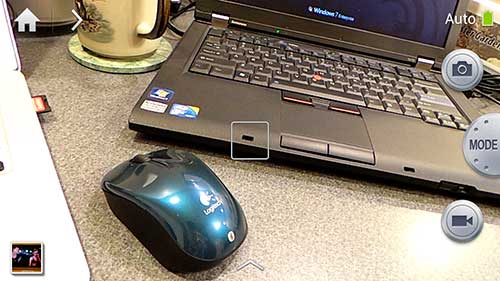 The touchscreen display is your viewfinder. If you take a lot of shots outdoors in full sun, this will be something to consider if you're interested in buying this camera. The viewfinder is uncluttered, with the main controls on the right side. The focusing square can be moved around just by tapping it.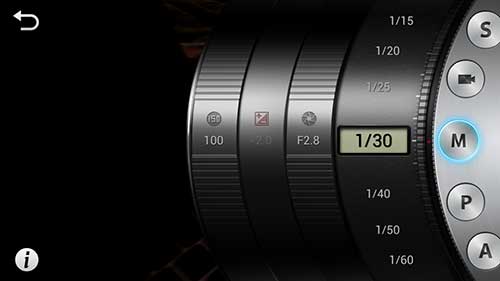 While it is geared towards the point and shoot crowd and offers fully automatic settings, you can also go fully manual if you like. Like most cameras you can set it to aperture or shutter priority as well.  In addition, it has a really cool feature called Samsung S Voice where you can control the camera with your voice. It will respond to commands like "smile," "record video" and "zoom in."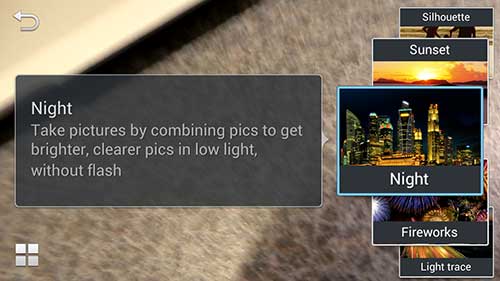 There are multiple shooting modes too: Beauty face, Best photo, Continuous shot, Best face, Landscape, Macro, Action Freeze, Rich Tone, Panorama, Waterfall, Silhouette, Sunset, Night, Fireworks and Light trace.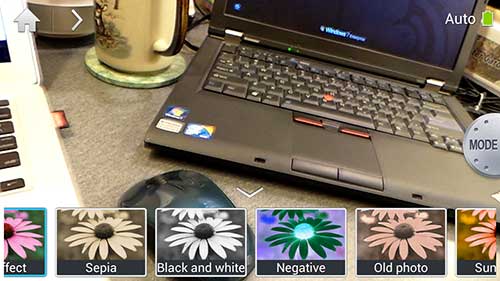 If you want even more control, you can apply real time filters like Sepia, Black and white, and more.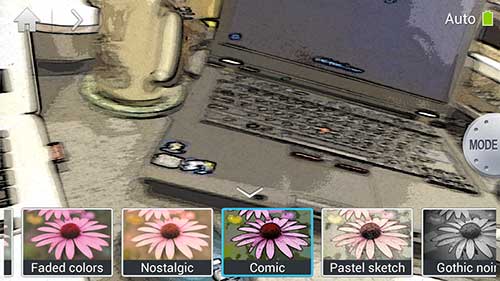 What is neat is that these filters aren't applied after the image has been captured, it's applied so you can see it in real time as you are composing your shot.
Filters are fun to play with, but I prefer to apply them to the image after is captured. The bad thing about real time filters is that you can't undo them once you snap the pic…
Image samples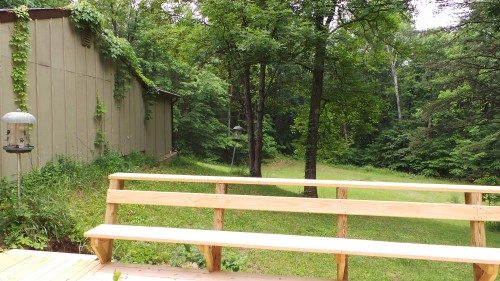 This progression of pictures gives you an idea of what the 21x zoom can do for you. I'm pointing at the tree in the center of the frame. I'm not zoomed at all on this shot.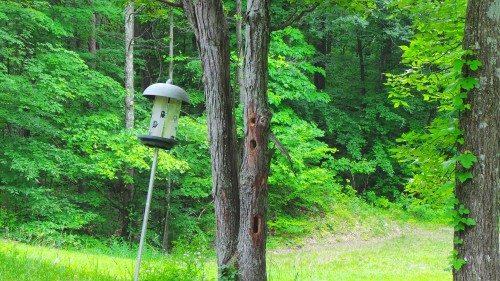 Here is the same shot using 5x zoom…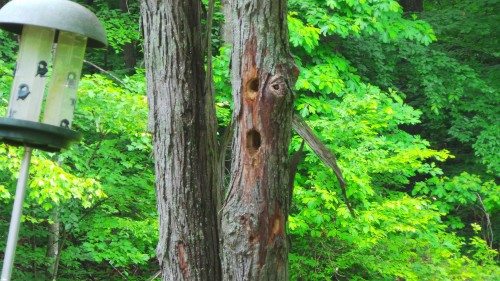 10x zoom…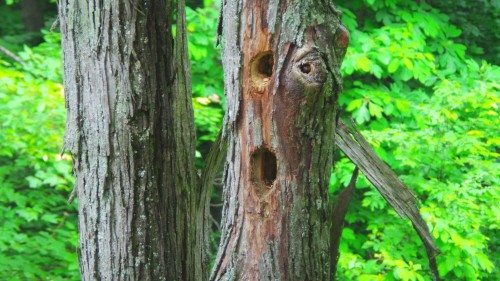 All the way to 21x zoom. I think I was shooting in the "rich tone" mode for the last three shots. That's why the colors are so saturated.
More outdoor shots.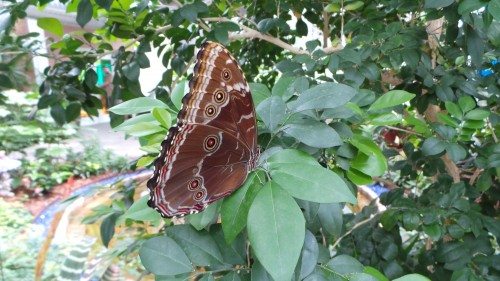 Butterfly.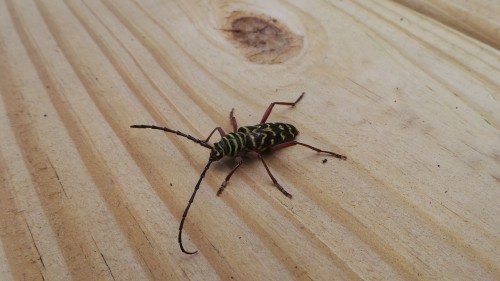 Weird bug on my deck.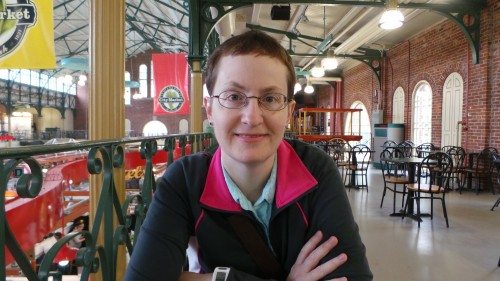 Me 🙂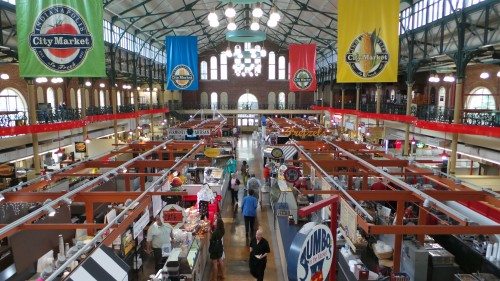 City Market in Indianapolis.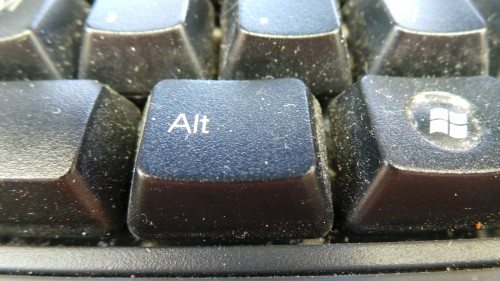 Macro shot… yuck, look at that dust!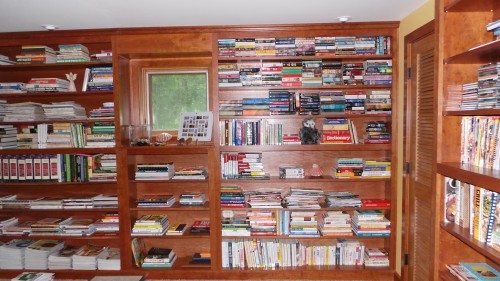 Using the flash my basement living room.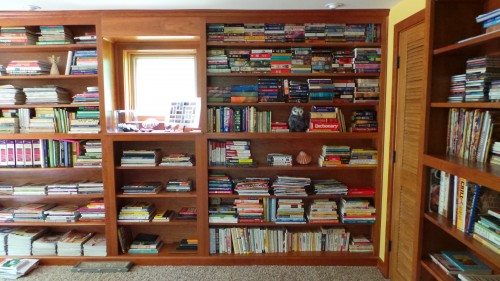 Same room using Indoor mode with no flash.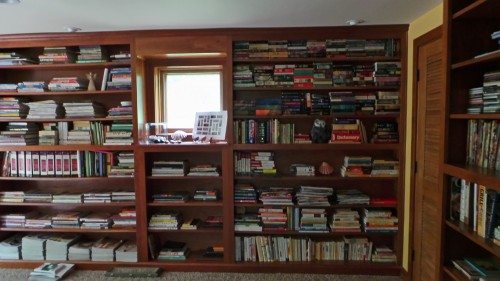 Night mode with no flash. This mode takes multiple images and combines them into one.
After several days shooting with this camera, I didn't notice the pictures being any better (or worse) than the pictures I take with my Samsung Galaxy S3 smartphone, other than the wonderful zoom capability.
Performance and software
I found the Galaxy Camera to be snappy in all regards except the startup time mentioned above. Loading and flipping between apps is fast and smooth.
In addition to the camera app, the Samsung Galaxy Camera has all the normal Android apps that you're used to having on your smartphones and tablets like: Calculator, Calendar, Clock (Alarm, World clock, Stopwatch, Timer, Desk clock). Also included are a few others: AllShare Play, Group Cast, Share Shot, Face Unlock, S Suggest, Video Player, Instagram, S Voice, Photo Wizard and Video Editor.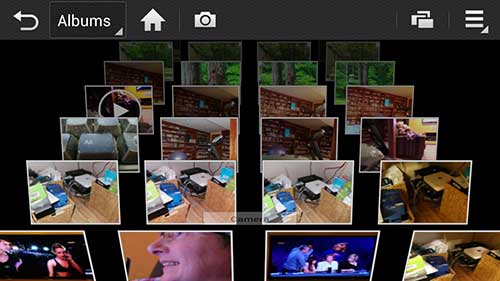 The gallery app offers a couple new ways to view your shots that I don't have on my Samsung Galaxy S3 phone. There's this 3D scrolling mode.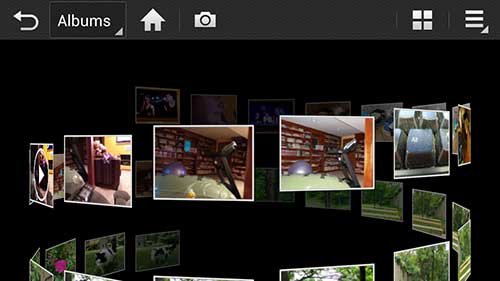 Swirl gallery anyone? Don't worry, it also has the normal way to view them too.
Bottom line
For me, there are four things about this camera that keep me from loving it and two things that make me sad that I had to send it back. Let's start with price. At $549.99, this is an expensive point and shoot camera. It feels overpriced for what it can do photography-wise. The non-automatic popup flash, the slow start up time and size/bulk are the other three reasons why I'm not in love with this device. On the flip side, the advantage of having 4G connectivity built into a camera, is that you can upload your images to Facebook, Dropbox, Instagram and any number of other social media and cloud storage services immediately after taking them . There's no waiting, no copying from flash cards when you get back to your hotel room, etc. There's a lot to be said for instant gratification like that and I can appreciate that aspect of this device. For people who don't already have a smartphone with a decide built-in camera, the Samsung Galaxy Camera is an attractive gadget. But if you do already have a smartphone, I'd make sure you go to a Verizon store and play with the Galaxy Camera a bit before spending your money on one.
Product Information
Price:
$549.99
Manufacturer:
Samsung
Retailer:
Verizon Wireless
Pros:

21x zoom
Automatically upload pictures to various online sites like Facebook and Dropbox
Built-in GPS

Cons:

Expensive
Bulky
No optical viewfinder
4G but no telephony capability
Startup time from power off is 30 seconds