We use affiliate links. If you buy something through the links on this page, we may earn a commission at no cost to you. Learn more.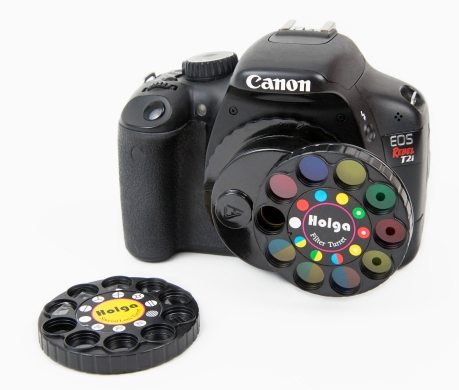 This Holga lens with built-in filters and prisms will let you play around with filter effects without having to break the bank.  Granted, this lens kit isn't going to be professional quality, but it will work with digital or film SLR cameras with Canon EF or EF-S mounts or Nikon F mounts.  You just mount it on the camera body like any other lens then snap on either the filter or prism lens.
Filter effects are solid red, blue, or yellow;  color surround in red, green, or yellow; and split blue/red, green/yellow, or blue/yellow.  Prism effects are double vision, three-way split, four-way split, five image starburst, triple vision, bug-eye kaleidoscope, 250mm, 120, or 60 macro lens.
The DSLR Wheel of Filters is available in a Canon model or a Nikon model for $40 from Photojojo.