We use affiliate links. If you buy something through the links on this page, we may earn a commission at no cost to you. Learn more.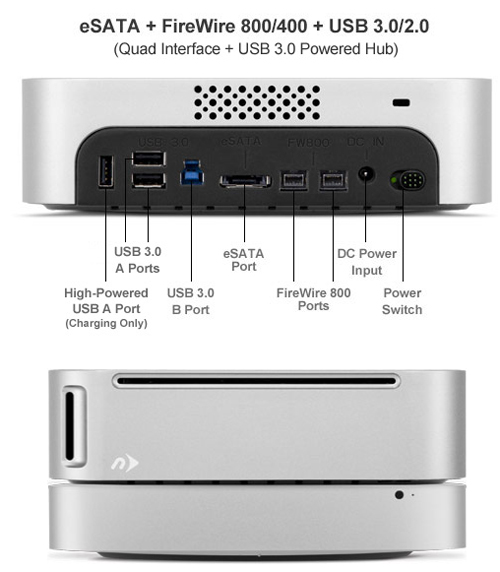 Man, I wish I hadn't recently bought the Apple USB SuperDrive for my Mac mini.  In this "I coulda had a V-8" moment, I realize I could have added an external drive, SD card reader, one charging-only USB-A port, 2 USB 3.0 A ports, one USB 3.0 B port, eSATA port, 2 Firewire 800 ports, and an optical drive with DVD/CD read/write capabilities plus either Blu-ray read-only or read/write capabilities in a single, sleek aluminum case.  The NewerTechnology miniStack Max combines all these features into a case that measures only 1.4″ x 7.7″ x 7.7″ and matches the footprint of the 2010 and newer Mac mini computers. (That's it sitting on top of a Mac mini in the bottom image.)  Never fear, Windows users, because the miniStack Max also works with PCs.
The miniStack Max is available in a variety of configurations with Blu-ray readers, Blu-ray read/write drives, and even in configurations that allow you to add your own optical or HDD or SSD drive.  I found the miniStack Max at Other World Computing.  A bare kit with no drives starts at $149.99; a DVD/CD with no Blu-ray capabilities and a 1TB hard drive is $249.99 ;a Blu-ray reader with 1TB hard drive is $279.99; and a Blu-ray read/write drive with 1TB hard drive is $319.99.  There are many other configurations available.
This is what I really want for Mother's Day!