We use affiliate links. If you buy something through the links on this page, we may earn a commission at no cost to you. Learn more.

The S-9 SD Sound Bar System from Sherwood is a full featured, multipurpose sound bar that aims to provide rich "surround" sound for small to medium sized rooms. It supports a wide range of input devices (3 HDMI, one optical, and one stereo analog input, 1 HDMI out, Bluetooth, FM radio, and USB for MP3 and WMA audio files), has decent sound levels and quality, 150 watts (6×25 watt amps) of power, support for a powered external sub-woofer, and "OPSODIS Surround Mode" (digital processing which gives the illusion of rear channel with all front mounted speakers) – all for a price ($399 list, discounted online under $350) that's on par with a midrange 5.1 Home Theater In a Box. Can it deliver similar sound? If not, is it close enough given the convenience and clean install of a sound bar? Let's see.
Unboxed

In the box is the sound bar itself, weighing a hefty 6.1kg (or a bit under 13.5 pounds) at 40.75″ long x 5.1″ high x 4.2″ deep. Also included is a thin remote, an HDMI cable (nice touch), an FM antenna, and a power brick. There's also a user manual.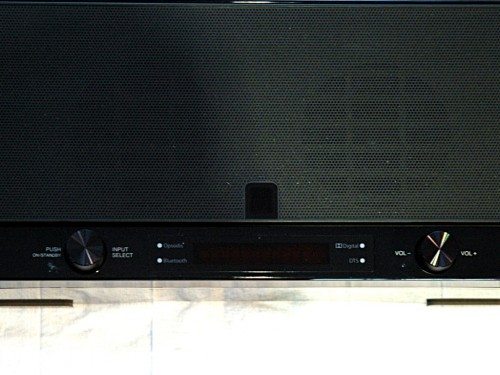 Dead center on the front is the display/controls.  The left knob presses on/off for power and turns to cycle through the inputs. The center top is the IR receiver window; below it is a blue LCD info panel with 4 LEDs flanking it indicating that the OPSODIS sound processing is enabled, Bluetooth link is established, and if the source is Dolby Digital or DTS. The right knob is for volume control.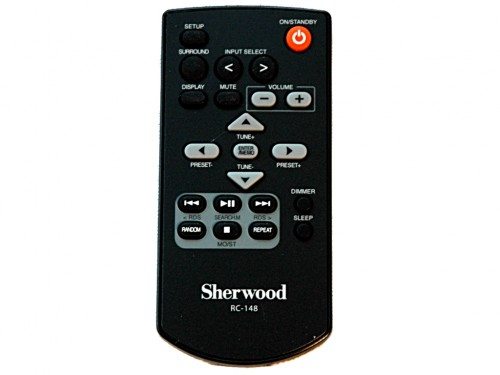 The remote covers all the functions of the soundbar well enough, although the volume buttons are pretty awkwardly placed. Sherwood uses similar RF codes across their line of products, and the S9 should be fairly easy to drive with any decent universal remote.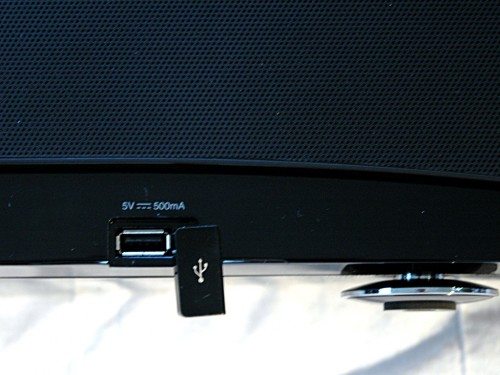 Off to the right side behind a door is a 5v/.5A USB port. You can use this to play MP3 or WMA files on a USB stick or USB disk.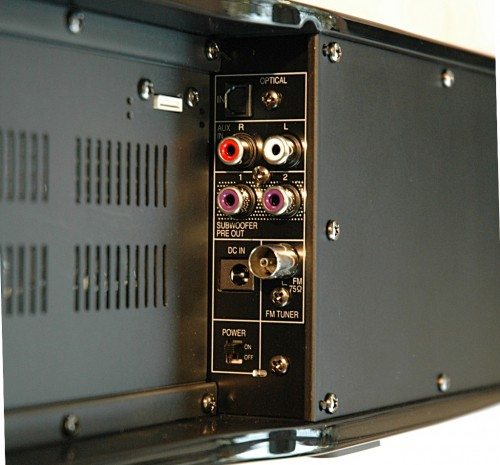 On the back, in a recessed bay, are all the connectors.  The recess allows for mounting the S-9 flush on a wall below your HDTV. On the right side is the Optical and Stereo inputs, subwoofer preamp out, DC in (from the power brick,) and antenna connection. There is a master on/off power switch here as well.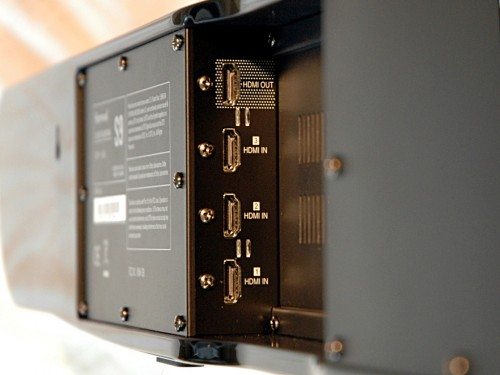 On the left side are three HDMI inputs and one HDMI output. The S-9 will switch the selected HDMI input to its output port;  it's a 3:1 HDMI switch.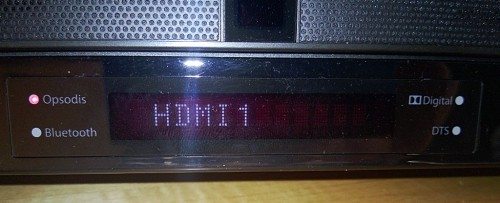 The front panel offers three brightness levels, and it always displays the current input plus the LED for whatever of the four features with LEDs is currently being used/detected.
Test Environment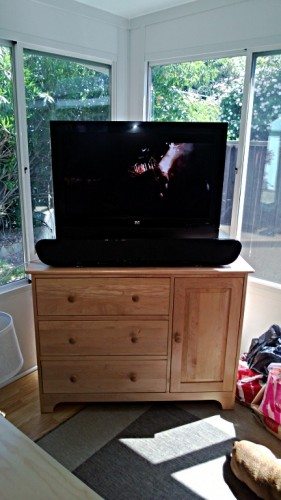 I set up a 32″ 720p LCD TV (with pretty sub-par sound via its bottom-mounted speakers) in the corner of a 12′ X 20′ room. This would be a fairly large room for the S-9, but the corner placement and the relatively "bright" room – it's mostly glass, hardwood floors, and not much in the way of soft absorptive materials – meant the S-9 had no trouble filling the space with sound. The sweet spot in this setup is roughly where I shot this photo – about 10′ back from the bar.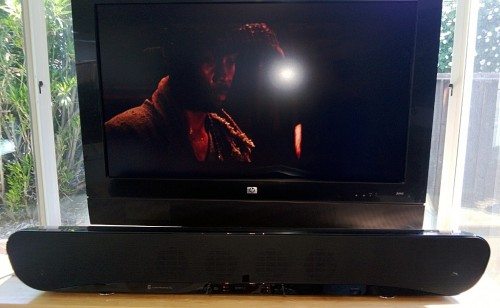 You can see in the shot above that a soundbar works great if your display sits five or more inches above the surface it's sitting on. In my test setup, the old HP LCD comes with a 4″ stand, and then has a couple of inches of speaker grill on the bottom, so the full display and the IR receiver of the display is well above the top of the soundbar. More recent HD TVs/ Monitors with small or non-existent bezels, no speakers, and short stands might be partially obscured by the S-9 (or any other sound bar) when used on a stand.
I used DVD material (Dolby 5.1 surround) as well as drove the S-9 from a Macbook Pro via HDMI-out using several trailers from http://www.demo-world.eu/trailers/high-definition-trailers.php to compare the experience of Dolby 5.1, DTS, and stereo output with and without the OPSODIS 3D surround sound processing enabled.
Input Modes and Display
The display gives you feedback about the current state of the S-9, the presence of Dolby or DTS material, FM RDS information, Bluetooth device/pairing feedback, and USB media information. I've captured a representative set of displays as I put the S-9 through its paces.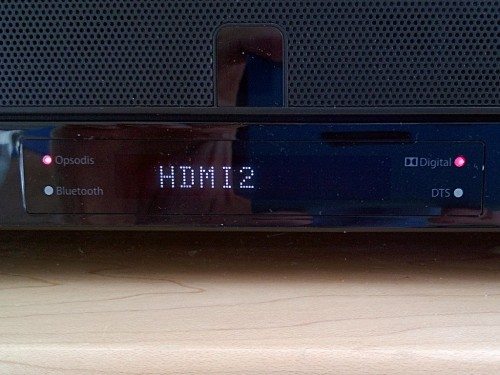 This is a HDMI source, Dolby 5.1 surround, OPSODIS enabled.

And this is playing back a trailer that uses DTS.

Volume goes way past 11. The arbitrary numbering for volume is from 1 to 30.

In every input you can press the Display button on the remote to cycle through some informational displays on the LCD. These usually just represent the same information as the LEDs are already telling you, but the LCD is easier to read from 10′ back.

This display says that OPSDIS actually means 3D-Surround. Yep.

This is telling you that Bluetooth, without OPSDIS, is in Stereo.

And here we find that the Dolby Digital LED means this source is supplying us with Dolby Digital.

When you've paired a device, you get the device Bluetooth name displayed when it's connected.

FM Radio modes. When you tune, you'll see the frequency displayed.

Presets (you can have 30 of them) show with a PXX after the channel frequency. Stations that broadcast RDS information will show the station name instead of the frequency.

And the RDS display of the currently playing song is available as well.
HDMI Sources With Surround
This is the most important feature for any home theater system, and one that the S-9 delivers well on. It supports the two common audio encodings and can switch between three HDMI sources. This should be sufficient for most "starter" home entertainment systems, where you'd likely have some form of HDTV (Cable/Satellite) receiver, a DVD or Blu-ray player, and a Game/Media player. The HDMI switching worked well, the S-9 was able to quickly switch between sources.
The spatial imaging in Stereo was as you would expect from a system where the speakers were a mere 3.5′ apart – good for close listening, less interesting further back. Ten feet +/-2  was perfect dead center, and an acceptable a couch width in either direction. With OPSDIS on, the field became much wider, even with stereo sources. Dolby 5.1 and DTS sources very often succeeded in convincing my brain that surround sounds were coming from behind me. The effect wasn't quite as good as the actual surround system I have with actual rear speakers, but it was good enough to give you the "sounds from off screen, behind you" immersion into a movie.
Bluetooth Audio
Like everything else from here on out, I consider these extra modes to be pure bonus capabilities. Bluetooth is an awesome capability given just about every device you have supports it. Want to use the S-9 for audio from Spotify? Pair up your laptop or smartphone and you're good to go. The S-9 can pair with 10 devices, and it's a few clicks of the remote to put it in pairing mode. Once paired up you just select the Sherwood S-9 from your device to play to it. The S-9 supports Bluetooth 2.1/+EDR, giving it a fairly high-quality data stream to work with; your audio won't suffer from excessive compression. The range was good out to 30′ or so – certainly from a room away it was free of dropouts.
USB Audio
This feature is the most oddball of the bunch. You can, if you want, load up a bunch of songs on a USB key, shove it in the port, and play them back on the S-9. You'll be stuck with skipping forward/backward or shuffle play. Perhaps make a party mix and put it on random shuffle? It works. It doesn't sound a whole lot different from streaming via Bluetooth, which would give you full control over your media playback.
FM Radio
Back in the day, we used to have "receivers" which were the hub of our entertainment universe. They were called receivers because they received radio signals. If you want to relive the bygone days of gathering 'round the wireless, fear not. The S-9 has a capable FM tuner built in, and (again with a little tedious remote work) you can tune in and store up to 30 presets. Most stations use RDS to broadcast the current song and their station name, which the S-9 will display for you.
Put The Soundbar On Stun
Power. Bone Shaking Power. This is not what the S-9 will give you. It will give you sound levels that are high enough to drive your dog out of the room – or at least they drove mine out when I was testing the limits of the system. At near the upper end of the amp range (27+, or at 90%+ volume), you'll start to get some audible distortion, but at that point it's pretty darn loud already. I would bet (but did not test) the addition of a powered subwoofer would free the S-9 from trying to cover the low end and give it even more clean volume range. Even without a subwoofer, it did a passable job covering the low end. Dialog was clear in movies with various things blowing up while people were talking/yelling/running.
Conclusion
If you're looking to get surround sound in a small-to-medium sized room, and you're not interested in dragging wires around, the S-9 will give you very nearly the same experience as a similarly priced Home Theater In A Box, and other budget/midrange soundbars. It will do it in a stylish package, and tosses in several goodies like Bluetooth and FM radio support to boot. It's not going to beat an audiophile system, and it could benefit from the addition of a powered subwoofer (which would add at least $200 to the total system), but even without the sub it's a significant (and easy) audio upgrade to your TV setup.

Product Information
Price:
$399
Manufacturer:
Sherwood
Requirements:

HDMI, Optical, RCA Stereo wired or Bluetooth-enabled sources

Pros:

Stylish
3:1 HDMI switching
Decent surround imaging
Good volume levels.

Cons:

USB "feature" less useful than an iPod dock.