We use affiliate links. If you buy something through the links on this page, we may earn a commission at no cost to you. Learn more.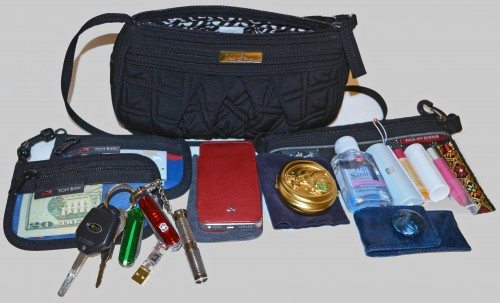 I don't have a 9-5 job.  I work from home, and I don't have to carry a huge gear bag with me everywhere I go.  In the past, I've used just a Dooney & Bourke Multi-Function wallet to carry my ID, a couple of cards, and my phone as my go-to-lunch wallet.  I recently decided I'd rather have a small bag that would hold my keys and fit a few other things in, which you see above.  That's fine for most days, but sometimes I want to take along my iPad mini.  Other times I want to take along my 11″ MacBook Air and maybe my iPad mini, too.  I have three bags that I use depending on what I need for any given day.  Let's start with my daily bag.
Click any image for an enlarged view.
The top picture shows my daily bag.  It's a Vera Bradley Frannie in Classic Black.  The bag has an adjustable shoulder strap that's long enough to wear it as a crossbody bag to keep my hands free.  It's small (for a purse), but it fits quite a bit inside.  Starting from the left, I have two Tom Bihn pouches clipped together.  The frontmost one is the Mini Clear Organizer Pouch that I use for cash and coins.  In the back is the Clear Organizer Wallet that I keep my ID and cards in.  My keyring has my car keys, house key, and two Victorinox Swiss Army Knives.  The green one is a Classic SD in translucent green that I've had for years; the other is a discontinued Flash model with a 16GB flash drive, pen, and LED flaslight in it.   I also have a Titanium Innovations IlluminaTi CA1-Ti LED 3-mode, 115-lumens flashlight on there.  Next is my iPhone 5 in its Vaja Nuova Pelle case; its gray dustbag is underneath.
Finally, I have an Eagle Creek X-small Pack-It Sac that I stuff with toiletries.  Everything else you see in the picture fits in the sack.  I have a mirrored compact in a velvet pouch, hand sanitizer, Estee Lauder compact, Burt's Bees lip balm, a tube with ibuprofen, a Clinique tinted lip balm, and a Fisher Space Pen in a ribbon sleeve that I made for it.  The blue leather case up front is a small, discontinued manicure set from Zamberg.
Everything fits into the Frannie bag with a little room to spare for folded papers, cards, or other small things I pick up as I run errands.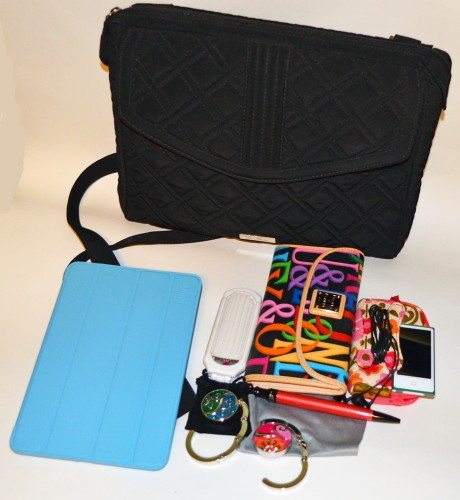 Sometimes I want to take along my iPad mini, and I don't want to carry it in my hand or use a separate bag for it.  In those occasions, I transfer the contents of my Frannie bag into a bigger bag.  This one is also from Vera Bradley; it's the Tablet Hipster in Classic Black.  (They are no longer showing the black version I have, but they do have the bag in the colorful cotton prints they are best known for.)  The Tablet Hipster has a dedicated tablet pouch under the flap that's designed for the full-sized iPad, so it's more than big enough to hold my iPad mini in its Khomo Super Slim Smart Cover.  This bag also has an adjustable strap that's long enough to wear the bag crossbody.  I always keep a large Dooney & Bourke wallet (with the rest of my cards and my checkbook) in the bag.  There's also a collapsible hairbrush (the white thing to the left of the wallet), two purse hangers in a velvet pouch, a microfiber cleaning cloth, and a Monteverde One-Touch Stylus Pen.  Finally, I keep both my iPod nano and a pair of NOCS NS200 Aluminum earbuds in a Vera Bradley Tune In earbuds organizer.  There's still plenty of room to hold the contents of my daily bag, too, but not a lot more.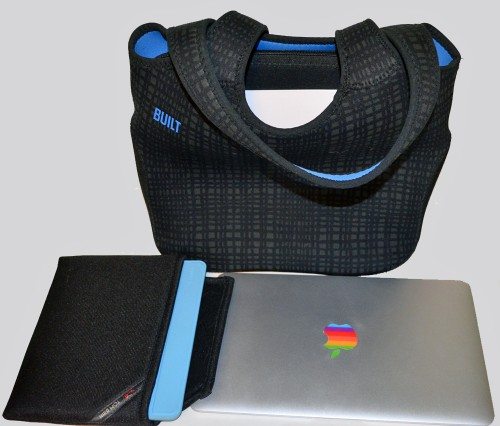 Finally, on days when I need to take my 11″ MacBook Air along with me, I use my Built Neoprene Tote Bag.  It was designed for the 13″ MacBook Pro that I no longer have, but I use it with my 11″ MBA.  This is my favorite laptop bag ever, because it has the most comfortable shoulder straps I've ever used.  The bag has an open front compartment, a middle zippered compartment for the laptop, and an open back compartment with a zippered pocket.  I keep the charger for my Air (not shown) in the little zippered pocket.
I keep my iPad mini in a Tom Bihn Cache for iPad mini in the front compartment.  There's room for other things – papers, magazines, etc – in the front compartment, too.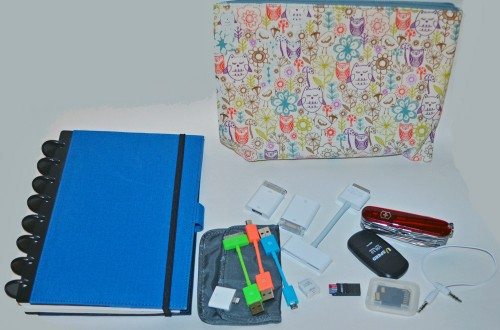 In the back open compartment, I keep a junior-sized Circa Bookcloth Notebook from Levenger in case I need to take some notes on paper.  I also have a large pouch I picked up at Barnes & Noble that I carry cables and small stuff in.  I have an Incase USB Mini Cable Kit and an Apple Lightning adapter in the Incase carry pouch.  I also have the Apple iPad Camera Connection Kit and 30-pin Digital AV Adapter cable.  I have various microSD cards and a couple of SD card adapters and a card reader.  I have a 3.5mm-to-3.5mm audio cable, and another Swiss Army knife.  (I'm no longer sure what model this one is, but it has screwdrivers, saw blades, a magnifying glass, various knife blades and can openers, and the biggest SA scissors and tweezers I've ever seen.)
There's enough room in the laptop bag that I could throw the contents of my daily bag in, but I never do that.  Other than the zippered laptop compartment, the Built tote is open at the top.  I don't want my wallet and phone left in an open compartment, so I usually throw my daily bag on crossbody-style and put the laptop tote on my shoulder.
So there you have it – my collection of everyday carry kits for every situation.  And I thought I was a minimalist!