We use affiliate links. If you buy something through the links on this page, we may earn a commission at no cost to you. Learn more.

Back in the day, all touchscreen devices came with a tiny little stylus that was hard to hold and easy to lose.  Eventually capacitive touchscreens that respond to the touch of your fingers evolved, and most people rejoiced.  Not everybody, though, because some people like using a stylus because they don't want to smear their screen, or they have long nails, or just because they got used to them in the days of resistive screens.  And then there are people who wear gloves in the winter and find they can't answer their phones without taking off a glove.  Monteverde, a maker of fine writing implements, decided to combine one of their pens with a capacitive-screen stylus.  I posted a news item about the One Touch Stylus Pen a couple of months ago.  Although I have resigned myself to smudged screens, I would like to answer my phone next winter without giving up my favorite fleece gloves.  I decided I'd buy myself one of the Monteverde One Touch Stylus pens – and of course, I knew some of you would be interesting in learning more about them, too.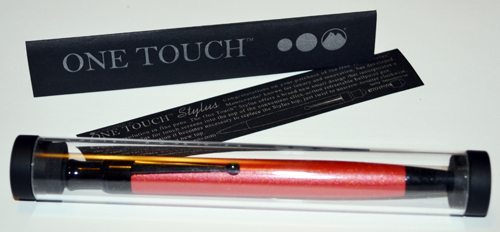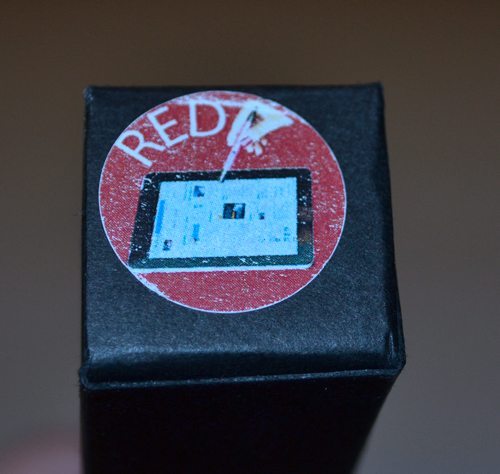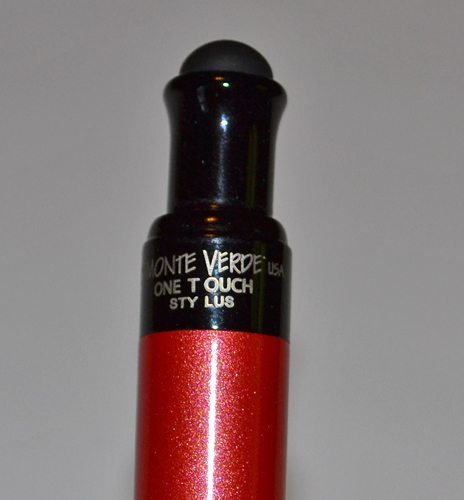 Just like the traditional Monteverde pens I own, the One Touch Stylus is a substantial pen.  It weighs 1.2 oz on my digital scale;  that doesn't sound heavy, but it is very heavy when compared to some of those plastic disposable pens.  It's 5.25" long, and the barrel has a 5/8" diameter.  All the parts of the pen itself seem to be made of metal.  It's available in black, gray, white, pink, and red;  all colors have a black tip, pocket clip, top, and "clicker" with stylus.  I ordered the red, and the box identifies the one I received as red.  To me, the pen is not red at all, but more of a rosy pink.  (I don't think I somehow received the pink, though.  That color seems to be neon, bubblegum pink.)  The body of the pen has a metallic sheen to it, because of all the tiny sparkles embedded in the applied color.  The only branding is on the top of the pen, opposite the pocket clip.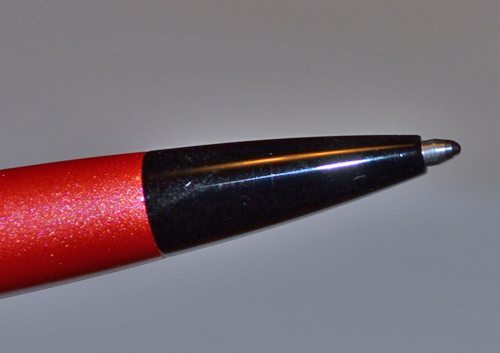 The pen point retracts inside the barrel when you don't need it, so there are no caps to lose.  Simply "click" the top of the pen to extend the point.  Unlike clicker pens I've used before, the One Touch Stylus pen doesn't make a clicking sound.  It's not silent, but it doesn't make that characteristic sound I'm used to – more of a squeaky sound.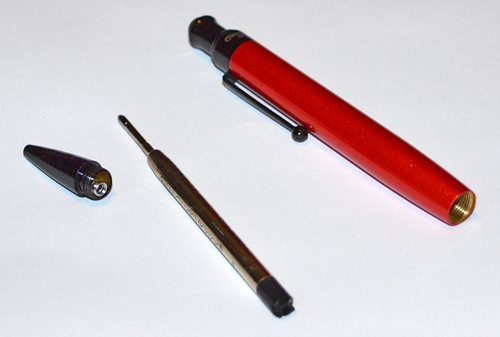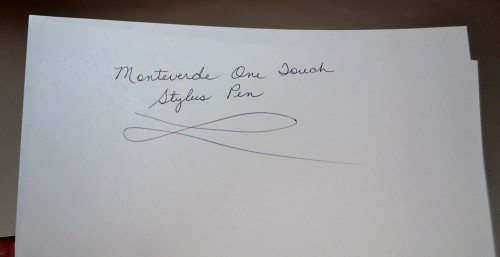 The pen comes with a Monteverde Soft Roll refill installed, which writes like a rollerball.  The pen can be used with refills for a standard ballpoint, standard gel ballpoint, or a liquid ink ballpoint.  Ink color in the one I received is black.  Just as I expected, the One Touch Stylus writes very well.  The size and weight of the pen makes it comfortable to hold.  The ink flows very smoothly, with no skips, blobs, or leaks so far.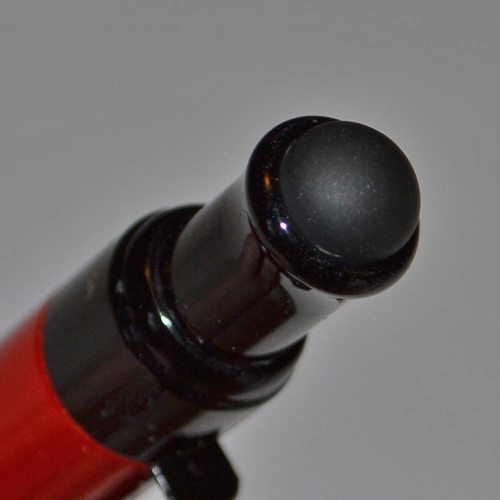 The capacitive stylus is in the clicker top.  The stylus is a rounded rubber tip, about 0.25" in diameter that rises about 1/8" above the clicker top.  It's very smooth and "solid", unlike some styluses that seem to be made of a piece of sponge.  It is soft and can be compressed very easily.  Just like most capacitive styluses I've seen, it has a much broader point than the resistive styluses I remember.
I first tried the One Touch Stylus with my iPad 2, thinking that the broader point would be better suited to the bigger screen.  I started out holding it like a pen and putting the stylus to the screen at an angle, just as if I were writing on a piece of paper.  I quickly found that I got much better results when I held the stylus more perpendicular to the screen.  When I use my finger, I use a very light touch – sometimes I wonder if I actually made contact with the screen.  With the One Touch, I found that I needed to press firmly enough to slightly deform the soft stylus.  After a short learning curve, I found that I could very easily type on the on-screen keyboard with the stylus.  It was slower than normal, because I was using only one "finger" as it were, instead of using two fingers or my thumbs to type.
Typing is one thing, but what about swiping and sliding?  After all, if you can't slide, you can't get out of the lock screen for iPad 2 or the iPhone.  I found that I could easily move the slider on the lock screen with the stylus, and I could easily slide it up and down the screen to navigate around screens.  I was able to click on links and buttons very accurately.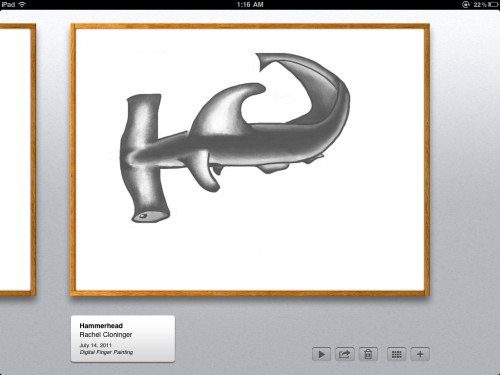 I decided that drawing a picture in the Brushes app would be a real test for the stylus, but unfortunately I can't draw at all.  I asked my daughter to use the stylus to draw a quick picture for me in Brushes.  Bear in mind that Rachel hates peripheral input devices; she typically refuses to use mice, styluses, and the like.  I thought she'd do a 3-minute drawing just because I asked nicely.  She had my iPad 2 and the stylus for about 3 hours while she drew and played around in Brushes – all the while using the stylus.  She said it worked very well for drawing.  I think it felt enough like a paintbrush or a pencil that she normally uses so that she forgot that she was using a stylus.  I've included a screen shot of the hammerhead shark she drew for me last night.
So it works on the iPad 2's big screen, but that's not going to help me answer my phone this winter.  Because the iPhone 4 is so small, I feel like I should use a stylus as small as the one I had for my Handspring Visor years ago.  That doesn't make sense, of course, because a human fingertip isn't as small as those styluses.  I found that I could very easily type, slide, swipe, and tap on the iPhone 4's screen with the One Touch Stylus.  I'll just keep the Monteverde stylus clipped near the purse pocket I keep my iPhone in, and I'll be able to use my iPhone 4 this winter without getting frostbitten fingers.
Of course, no stylus – that I know about, anyway – is going to let you do multi-touch gestures, like pinching or multi-finger tapping.
I had my husband also try out the One Touch Stylus.  Both he and Rachel asked if they could have a stylus of their own.  Good thing they come in multiple colors and discounted prices at Amazon.
I love the Monteverde One Touch Stylus Pen.  It looks great and feels comfortable to use.  I've added it to the daily-use gear in my purse to use for writing checks and notes.  It will be convenient when I need to use it with my iPhone 4 this winter, and I'll always know where it is if I need it for my iPad 2.  If you need a stylus, you can't go wrong with the One Touch – why not get a pen and a stylus for less than the cost of some capacitive styluses alone?

Product Information
Price:
$30.00 MSRP; Amazon has them for about $19 to $28, depending on color
Manufacturer:
Monteverde
Retailer:
Amazon
Pros:

Capacitive stylus works well on smartphone and tablet screens
Works well to type, tap, slide, and swipe
Pen writes very smoothly
A variety of standard pen refills will work

Cons:

For lovers of red or haters of pink - the red pen is actually a rose pink color