We use affiliate links. If you buy something through the links on this page, we may earn a commission at no cost to you. Learn more.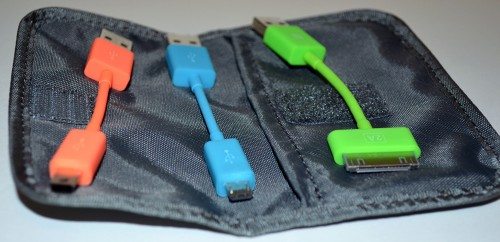 When you think of pocket gear, you probably think of multitools or even small flashlights that you can add to your keyring.  You probably don't think of USB cables, but the USB Cable Kit from Incase is small enough to qualify as pocket gear.  I recently purchased this cable set to keep in my purse, and I thought I'd do a small review for this small set.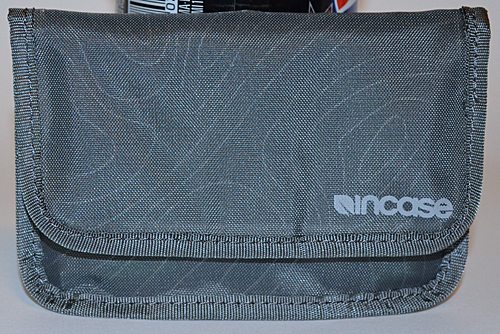 The Incase USB Mini Cable Kit also comes in a Grey color choice, but I bought the Fluorescent option.  All the cables are stored in a little travel pouch with a Velcro closure.  The pouch measures 4.6″ long X 3″ tall X about 0.25″ thick with the cables inside.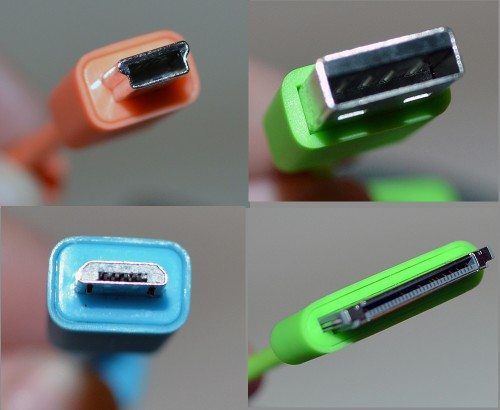 Incase states the cables are 4″ long, but mine actually measured about 3.75″ each, tip to tip.
The cables are color-coded so you can easily grab the one you need:  orange miniUSB, blue microUSB, and green Apple 30-pin connector.  Of course, each cable has a standard USB plug on the other end.  These cables have flexible reinforcement sleeves at the plug junctures and a soft-touch, rubbery coating over the cables and plastic ends.
The cable is thin, only about 1/8th of an inch in diameter, and they are stiff and resistant to easy bending.  The cables are short enough that they certainly don't need to be wrapped for storage, and they lay flat inside the travel pouch.  Hopefully they'll last a long while.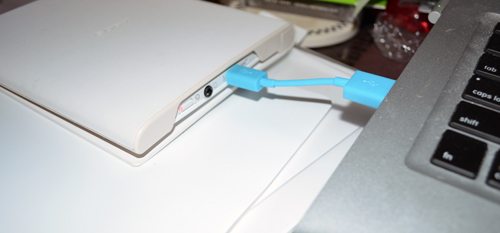 Although the cables are short, you can see I could easily use them to charge/sync my iPhone (Apple cable) and my Sony PRS-T1 (microUSB).  I don't currently have any device that uses a miniUSB cable, so I couldn't test that one.  Both the other cables worked fine.
I needed room beside my MacBook Pro to rest the devices on while charging, which is fine while I'm at home.  When I'm traveling, I might not have that much room, so I purchased a 1-meter AmazonBasics USB 2.0 A-Male to A-Female Extension Cable ($5) to use with these little cables.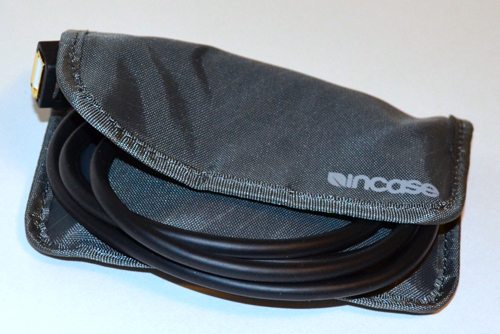 It didn't fit inside the pouch with the other cables, but I could easily roll up the extension cable and use the Velcro to hold it with the travel pouch.
The travel pouch and three Mini cables weighed 0.95 ounce on my digital kitchen scale.  With the extension cable, my little kit weighed 2.7 ounces.  I can drop it in my Tom Bihn Little Swift bag that I use as my daily purse and not even notice anything extra is in there.  I'll be glad it's there if I need a cable, because I'll know I have anything I could need with me at all times.  You could fit them in your pocket, but it would probably be better to keep the kit in a shirt pocket instead of pants pockets, where they'd be more subject to bending.  I know, they're a bit expensive, but they are convenient, more compact, and cost less than buying 3 individual cables.
Product Information
Price:
$24.95 from Incase; less at Amazon
Manufacturer:
Incase
Pros:

Very small and compact
Very lightweight
Includes the three most common USB connectors

Cons: