We use affiliate links. If you buy something through the links on this page, we may earn a commission at no cost to you. Learn more.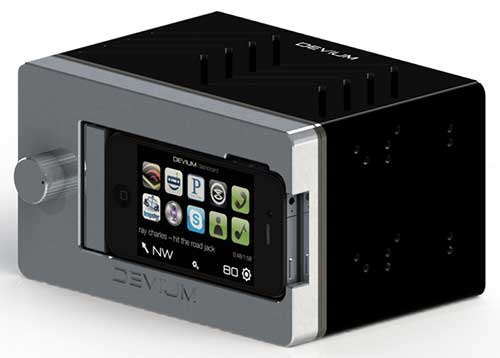 The Devium Dash is an interesting concept in car stereos. It's a two component system that consists of a faceplate and a body. The body (shown above in Black) is installed in your dash in the spot where your current car stereo resides. It interfaces with your vehicle's speakers. The faceplate connects to the body with magnets. It's designed to hold (and charge) an iPhone 4/4S. Once installed, you can use your favorite music apps, calls, GPS, etc through your car's speakers and you won't be required to learn a brand new interface.
It's a cool idea, but I am skeptical about the longevity of the product. Devium claims "No matter how frequently you update phones, Dash will be there ready to support you. Our innovative interchangeable faceplate design allows you to keep your phone at the center of your car." That remains to be seen. I don't believe that they will create a faceplate for every phone that comes on the market. Their iPhone 4/4S version is available for pre-order at $289. I have been looking for a replacement for my Mazda's stereo, but I don't think this one will be it.
[Via Gear Journal]