We use affiliate links. If you buy something through the links on this page, we may earn a commission at no cost to you. Learn more.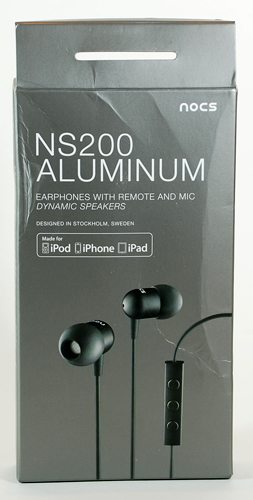 I love music.  I used to listen to music every waking hour, but I find that I don't listen as much any more.  We have a small house, so my loud music can interfere with someone else watching TV or doing something that needs concentration.  I find most earphones uncomfortable, so I just don't listen much now.  I always hope to find some comfortable earbuds, so I'm always interested in trying new ones.  When NOCS, a Swedish company formed in 2008 to produce headphones that could "match Apple products in terms of design and performance," offered The Gadgeteer some earbuds, I asked Julie if I could give them a try.  I was sent the NS200 Aluminum Earphones in black with black anodized aluminum; they are also available in white with natural aluminum.  (The package got a bit damaged in shipping, but the earbuds are in great shape.)
Specifications
Speaker: 8.6 mm dynamic
Sensitivity: 95 dB SPL @ 1 kHz
Impedance: 16 Ohm @ 1 kHz
Frequency: 20 Hz – 20 kHz
Housing: Aluminum
Sleeves: Silicone
Cable length: about 45"
Earbud cable length above the Y-split:  about 14"
Y-Split:  Thermoplastic Elastomers – TPE
Cords: Kevlar, Copper, TPE
Cord holder: TPE
Strain Reliefs: TPE
Audio plug: 3.5mm
1 year replacement warranty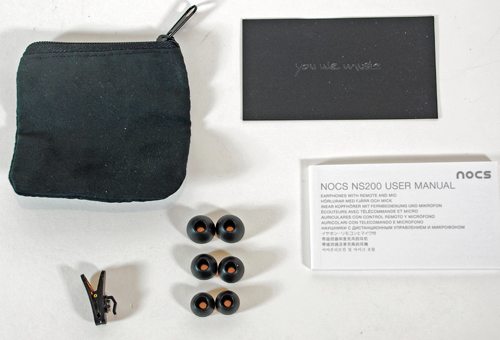 In the Box:
NS200 earphones with remote and mic
Silicone sleeves (Large, Small, and 2 pairs of Medium)
Zippered storage pouch
Cable clip
User manual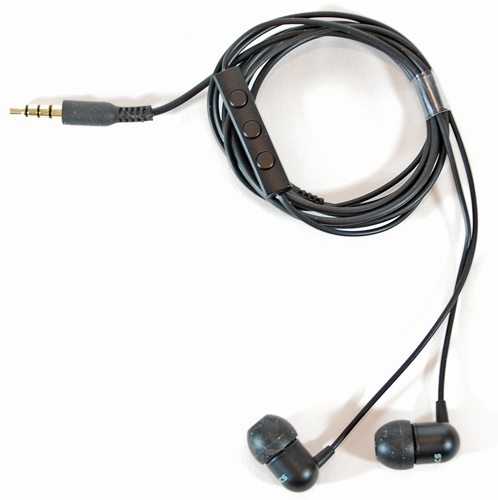 People who loved all things Apple and wanted headphones that were worthy of the Apple products started NOCS.  The NS200 Aluminum earphones have an aluminum housing, as you'd expect.  The copper cables are Kevlar-reinforced for strength and are coated in TPE.  The Y-split and strain reliefs are made of TPE, too.  NOCS built the NS200 earphones to last.

Their earbuds are designed to work with all versions of the iPod, the iPhone, and iPad.  The audio function will work with all versions of Apple products.  The shuffle (3rd gen and later) can also use the remote functions.  The iPod nano (4th generation and later), iPod classic (120GB, 160GB), iPod touch (2nd generation and later), iPhone 3GS, iPhone 4, iPad and iPad 2 can use the remote and mic functions.
If you have an iPhone, the remote can also answer/disconnect calls.  I don't have an iPhone, so I couldn't test that.  I did try the NS200s with my LG enV3 phone; I had to use a 3.5mm to 2.5mm adapter to connect the earbuds to my phone.  The audio worked well and sounded good with my phone for listening to voice messages.  The microphone did not work with my enV3, so I won't be able to use the NS200 earphones for making calls with my LG phone.
The NS200 earphones came with a set of silicone ear tips – or sleeves, as NOCS calls them – already installed.  There were three other sets of ear tips included.  The installed set matches the medium ear tips.  The medium tips were the most comfortable to me.  Normally I can't stand even the most comfortable in-ear earbuds for more than an hour, but I wore the earphones for about 5 hours at one point.  I actually forgot they were in my ears.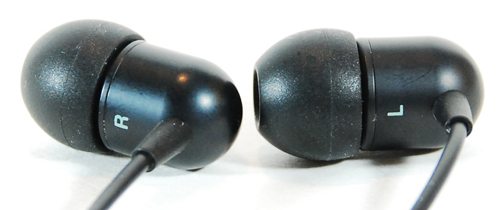 I found that I could use the small size tips and fit the earbuds further into the ear canal.  When I did that, I got a more resonate bass – I could even feel slight vibrations from the bass.  I won't use those ear tips for normal use, though.  I prefer having the earbuds fit more in the outer ear area, and the mediums worked great for that.  They were snug and secure, and I could still hear a bit of ambient noise – no missed phone calls from my daughter at school!
I'm not an audiophile, so I can't use all those fancy terms to describe the sound produced by the NS200 Aluminum Earphones.  I'll just tell you that the music sounded clear and "full".  It was never tinny, but I could hear high notes very clearly.  I could tell that Boston needs a cymbal-ectomy, for example, and I could hear the triangle and the synthesizer fade-out at the end of And You and I by Yes to the last note.  I could hear the music well at low volumes, and I could turn the volume high enough to be painful without introducing any noise or distortion.
The bass could be heard, but it wasn't head shaking.  (As I mentioned, using the smaller ear tips did increase the bottom end.)  Chris Squire's bass guitar tour de force, Fish (Schindleria Praematurus), was appropriately fishy.  Of course, stereo separation was great, and the panning in the beginning of Art Garfunkel's I Only Have Eyes almost made me dizzy.
Voices sounded great.  Sound reproduction was clean enough and the background quiet enough that I could hear Steve Howe breathing while performing Mood for a Day, and I could hear Israel Kamakawiwo'ole breathing in Somewhere Over the Rainbow.
There's a plastic clip included that can be used to control the cord and prevent it from flopping around.  I didn't use that clip, but I didn't hear any noise from the cable movement.
Although I couldn't try the phone-answering abilities, I could use the remote to control music playback.  The remote is attached to the right ear cord, about half way to the ear.  This placement makes the remote hard to see, but the controls are simple and you'll be quickly able to use it by touch.  The top button increases the volume, and the bottom reduces the volume.  The middle button is multi-function.  One press of the middle button will stop music playback and answer the phone; another single press disconnects the call and resumes playback.  I found on my iPods, a single press will mute sound and another single press resumes playback.  A double-press of the middle button advances to the next song.  A triple-press returns to the beginning of the song that's playing, or it will return to the previous song if you are at the very beginning of a new song.
Of course my iPad 2 has a built-in microphone, but neither my iPod nano nor iPod touch have microphones.  Both the iPods have voice memo apps, though, and I found the NS200's microphone worked great.  I've included a file that I recorded on my iPod touch.  When I made the recording, I was wearing the earbuds in my ears and the microphone/remote was hanging below my ear.[audio:https://the-gadgeteer.com/wp-content/uploads/2011/05/nocs-ns200-earbuds.mp3|titles=nocs-ns200-earbuds]
The NS200 Aluminum Earphones do their job well.  Sound is clear, and the bass response is good and the higher end is great.  The ear tips are comfortable, and the remote makes it easy to control music playback.  They are a good deal for $69.00.