We use affiliate links. If you buy something through the links on this page, we may earn a commission at no cost to you. Learn more.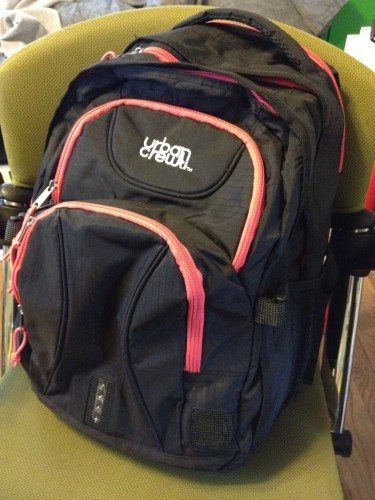 Most of us have alarms to make us feel protected in our house, our cars, and we have seen or heard them in public places, such as a mall or store. What about the times that you are walking in a new area that is unfamiliar?  Or have a child that is walking to and from school? This is where the alarmed backbacks from iSafe Bags can come into good use.  I received their iSafe Urban Crew Backpack for review.  This particular backpack sports a built-in alarm that is triggered by pulling a cord in the shoulder strap.  Once armed, a LOUD blare – 2 alternating alarm sounds – rings constantly.  A few video samples are shown on iSafe's website.
I used this backpack as my main work bag for a couple weeks.
Note:  Images can be clicked on to view a larger size.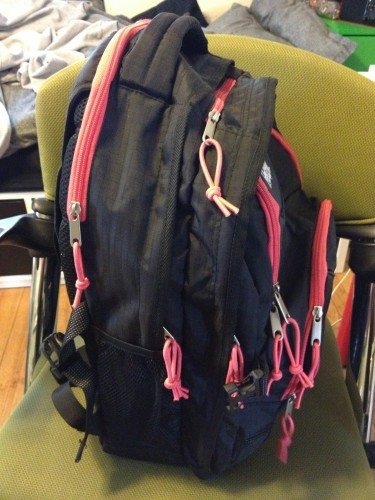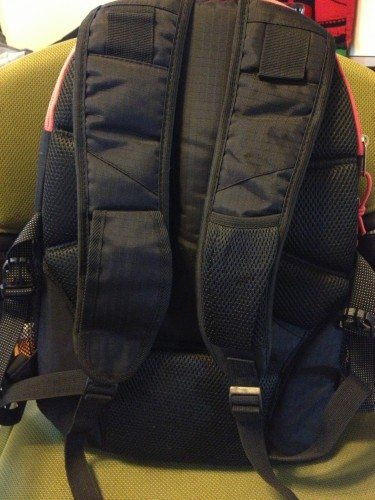 The first thing I noticed was how roomy the bag was. I'm a computer technician, so always need a lot of gear when I go on-site to a customer's office. I was able to fit all of my work gear plus some, with a lot of room to spare! A list of my items include:
Lenovo Thinkpad t400 w/power cord
iPad 4th gen with thick Otterbox case
11.6″ Acer netbook w/power cord
Portable hard drive
Paper notebooks
Eyeglasses
Multiple thumb drives
Screwdrivers
Wallet
Keys
Various smaller objects, such as pens, etc.
I was impressed with the amount of pockets on this bag! There are two mesh pockets on either side that can be used for a water bottle or two as well.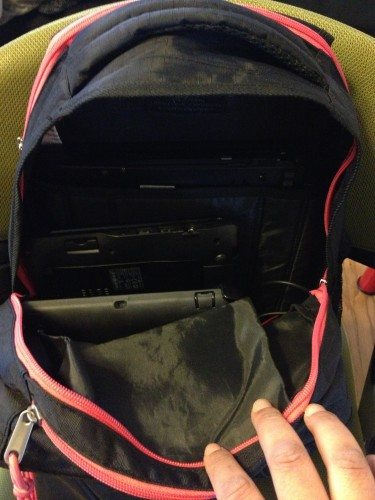 From the front zipper, I can access my laptop, netbook, and iPad in its Otterbox.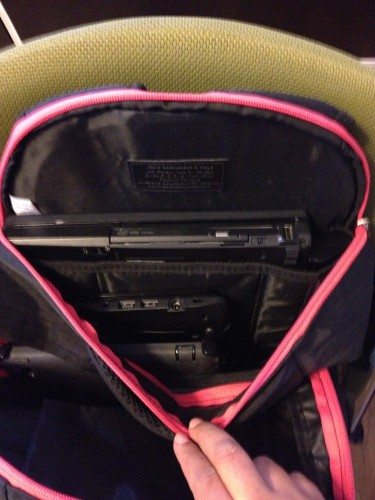 Here's the access from the back pocket.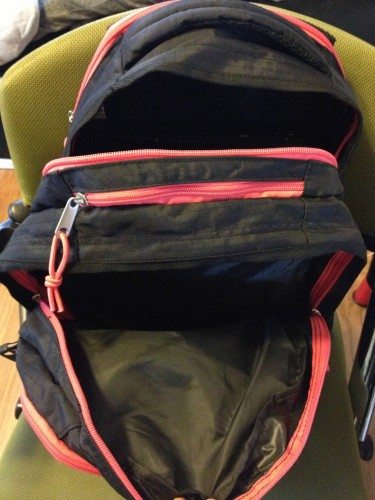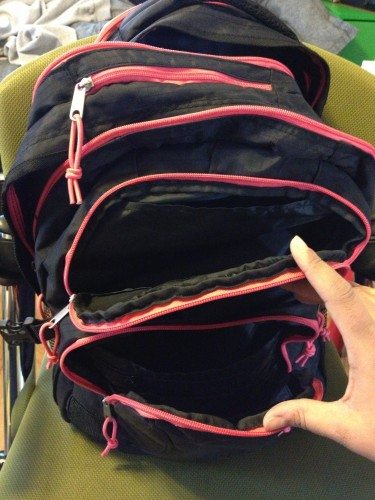 So many zippers and pockets!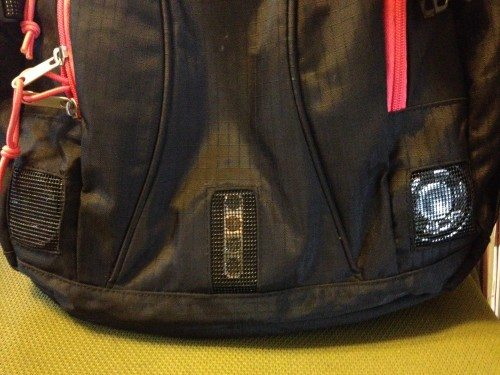 As I mentioned earlier, what distinguishes the bag from others is the fact that it comes with a built-in alarm system.  You can see the strobe light and speakers built into the bottom of the bag's left, middle and right.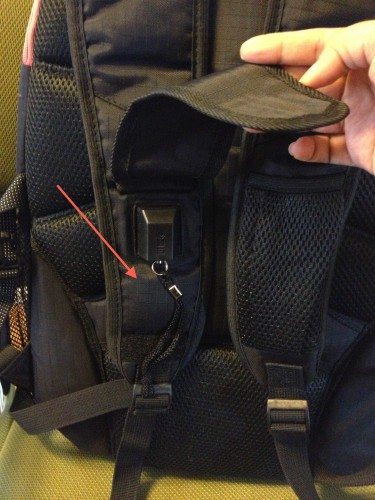 The way to make the alarm go off is to pull a cord on the right shoulder strap.  There is a small flap that covers the cord; it's secured with Velcro to project it from accidental pulls.  Once you yank the cord from the small box it's in, a very unpleasant and LOUD blare keeps going until you put the pin back into the box.  There is also a bright light that flashes rapidly with the sound.  The alarm is certainly loud enough to make people aware that something wrong is happening – it's almost deafening!
The best use I can see for this is when you are alone in an area and want to notify someone that you need help, whether it be an adult or child.  There are a few videos on the website that demonstrate this as a good use for children who are walking to school, or who are being bullied to scare the bullies away.  Another thought I had was if someone was walking or hiking in the woods, and somehow got lost or hurt, the alarm would attract attention and hopefully get help to that person.
In summary, I like the sturdiness and roominess of this bag. The nylon material felt good, the padding on the shoulder straps and back felt comfortable, the zippers were strong, and the pockets are plentiful. The bad thing about it was that it was quite heavy to begin with (three pounds because of two 9V batteries), so as soon as a laptop and other items were added, it could add up to fifteen pounds or more for a techie like myself. I also don't know if the person using the backpack would remember that they have an alarm at their disposal in an emergency.  You would have to walk around with your hand right next to the pull cord to be very aware and ready to yank it to sound the alarm.  Either way, I'd recommend this bag for teens or adults who can be responsible with it.
Many models of the iSafe bag are available on their website.  The Urban Crew backpack that I reviewed is available for $89.99 on their website as well as at Walgreens and Amazon.
Product Information
Price:
$89.99
Manufacturer:
iSafe Bags
Pros:

Durable
Roomy
Very loud alarm and bright flasher

Cons: