We use affiliate links. If you buy something through the links on this page, we may earn a commission at no cost to you. Learn more.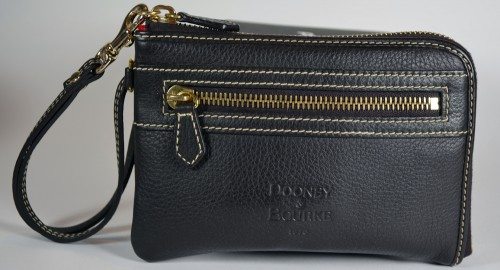 Julie has used a WaterField Design Wallet (see related posts at the bottom) for a few years now that she says is big enough to carry her ID and cards, some cash, and even her phone.  She says it's her go-to-lunch bag that she can just stick in her pocket.  I wanted a wallet like that, but I don't always have pockets.  I didn't want to have to carry a wallet in my hand; I preferred a wallet with a wrist strap.  After some looking around, I found the Multi Function Zip Around Wallet from Dooney & Bourke that was exactly what I was looking for.
Some pictures in this review, including the top picture, can be clicked for a larger view.
The wallet isn't available in as many styles and materials as it once was, but Dooney still offers it in a sturdy all-leather construction.  The leather has a grained texture and is available in black or brown.  Stitching for both colors uses a cream colored thread.  The stitching is even and straight.  The wallet measures 6.5″ long X 4.5″ tall X 0.5″ thick.  This is bigger than most non-checkbook wallets, but it still easily fits in my purse.
There's a front zipper pocket for coins or other small items.  The zipper is brass-colored metal with a leather tab pull.  A Dooney & Bourke logo is embossed into the leather just under the front zipper.  (See top picture.)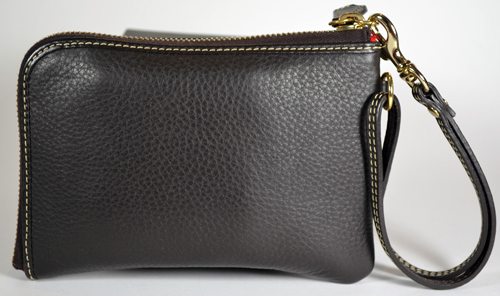 The back is plain.  Another metal zipper extends across the top and down one side, and this zipper also has a leather tab pull.  There's also a metal ring attached to the zipper head, and a wrist strap attaches to the ring with a dog leash-type metal clip.  The other end of the wrist strap is permanently attached to a metal ring that is sewn into the side seam of the Zip Around Wallet.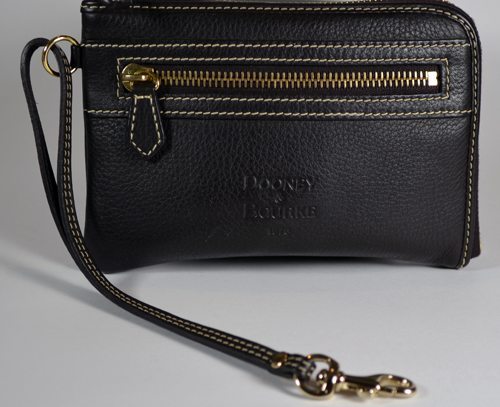 The strap is perfect for wearing on your wrist, and the way it's attached to the bag helps ensure that the zipper stays closed while you're wearing the bag.  You can also clip the wrist strap around a belt loop or a purse, laptop, or gear bag strap when you don't want to carry it.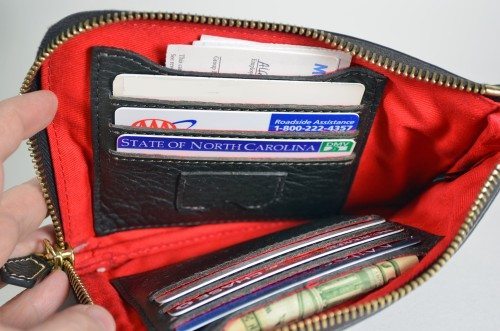 Unzipping the wallet on two sides allows you easy access to the contents.  The interior is lined with a red twill fabric, and the bright color helps you see what's inside.  Each side has three credit card slots.  There's also a deep pocket behind the credit card slots on each side.  You can see I have more cards behind one of the set of card slots and some bills (folded in half) in the large pocket behind the other set of slots.  There's plenty of room for my most important cards in this bag – driver's license, insurance cards, a couple of credit cards.  You'll notice a funny little pocket just under my driver's license.  It's open across the top, and there's an opening at the center bottom of that pocket.  You can slide a spare house key in there.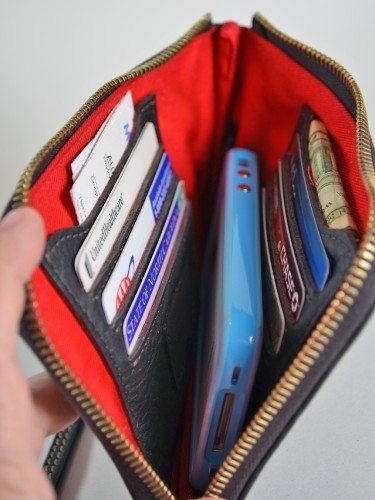 The Zip Around Wallet is more than big enough to also accommodate my iPhone 4 in its Bumper Case.  If my keychain was a bit smaller, and if I didn't mind my keys possibly scratching my iPhone, I could fit my keys in there, too.
The normal price for the Multi Function Zip Around Wallet is $90, but it's $67.50 right now.  I don't know if this is a temporary sale price, or if Dooney is clearing out these wallets.  I'm thinking about ordering a brown one just in case they are clearing them out.  This wallet could be just the perfect gift, but you'd better hurry.

Product Information
Price:
$90 normally; on sale now for $67.50
Manufacturer:
Dooney & Bourke
Pros:

Sturdy leather
Big enough to hold several cards and cash
Room for a phone inside
Wrist strap is handy when you don't have any pockets
Still small enough to fit into your purse

Cons: