We use affiliate links. If you buy something through the links on this page, we may earn a commission at no cost to you. Learn more.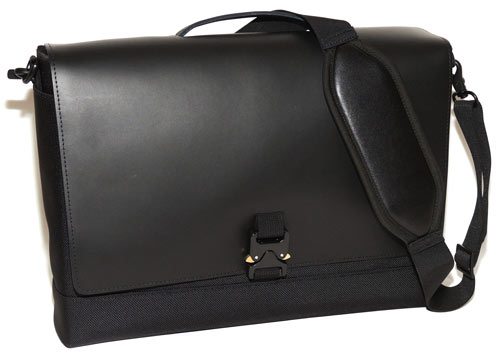 Not often do manufacturers design a laptop bag with one specific brand or even model in mind. I am not talking about a form-fitted case or sleeve, but an actual bag created and/or named to hold a certain device. But the folks at WaterField Designs have done just that; the HardCase is aimed specifically at Apple's 13″ or 15″ MacBook laptops – Air, Pro, and Pro with Retina display. IMO, this is a relatively bold move, and I am hopeful they have created a bag that lives up to WaterField's excellent reputation and Apple's flagship laptops.

The HardCase has a simple, classic design. It falls between a chic messenger bag and professional briefcase, especially the all-black one. In addition to its stylish look, the Waterfield HardCase is very well constructed with high quality materials, making it a top-end gear bag without a doubt.

The body of the WaterField HardCase is made from thick, rugged ballistic nylon with impact protective plastic inserts, closed cell foam, and a soft padded liner.  The closure flap is constructed of high quality, well-finished leather inside and out. The solid metal components are smartly integrated into the bag, giving the shoulder strap and front flap closure secure hardpoints to connect to. It all adds up to not only a very professional looking gear bag, but a highly protective one at that.
On the front of the main body of the bag are pockets on both the inside and out for storing thinner items such as papers, portable hard/thumb drives, smartphone, etc. The main notebook compartment is heavily padded with a soft fabric that has rigid plastic within for even greater protection. You can tell WaterField truly designed the main slot for the MacBook Pro with Retina display; it slides in with little wiggle room, and the laptop compartment fits the laptop like a glove. The classic, non-Retina display MacBook Pro is a tiny bit thicker, but it will fit inside the HardCase as well.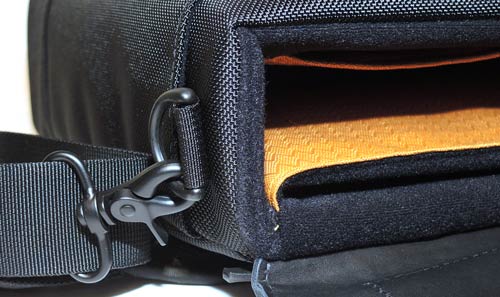 WaterField's attention to detail throughout the HardCase is definitely a step above most other nylon bags I have reviewed. The stitching and alignment of materials is very well done throughout the many seams holding together the various layers of leather, thick nylon, and padding. The exterior nylon appears that it will hold up very well to a good amount of abuse and the test of time. The nylon material does get dirty and dusty relatively easily . The soft felt interior collects not only dust, but lint as well. That said, the bag cleans up reasonably well.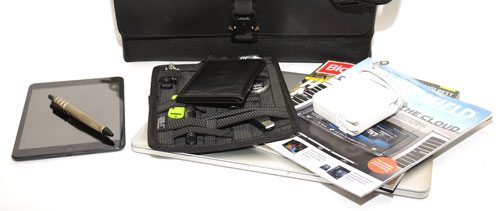 While a bit cramped, the HardCase is able to carry a decent amount of gear. In addition to my Retina display Pro, I was able to fit the laptop's power brick, iPad Mini, SureFire Pen III, smartphone, credentials, Grid-It organizer, a sunglasses case, and a few magazines.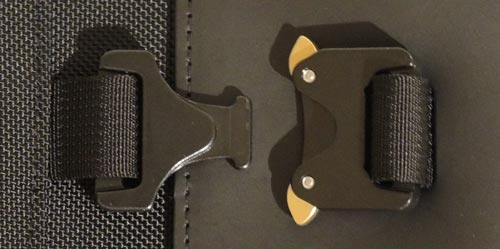 The bag is held closed by a dual-sided leather flap and a unique, nicely engineered fastener called a 'paragliding buckle'. You have a choice of hardware color (black or nickel) and underside leather flap color.

The underside leather flap colors are: black, kiwi, orange, camel, cardinal, chocolate, and grizzly.
Here is a good video of Gary from WaterField Designs showing off the features of the HardCase. If you are considering/interested in the HardCase, it's well worth the 2 minutes of time to watch the video.
The HardCase is available in two sizes:
13″ MacBook Pro/Retina  $239 / 14.5″ x 11″ x 3.75″ / 2.5 lb.
15″ MacBook Pro/Retina  $249 / 15.5″ x 11.5″ x 3.75″ / 2.8 lb.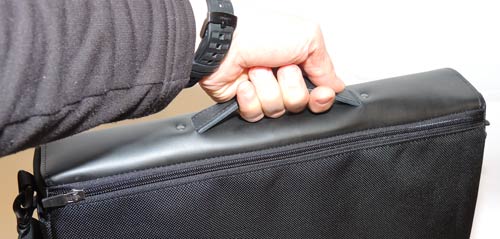 I have somewhat large hands, and the handle is a little tight, at least for me. I am sure it would be more comfortable for smaller hands. The leather handle has no padding, but is reenforced on both sides. The nylon shoulder strap is padded and has metal clips that attach securely to the HardCase's reinforced D-rings.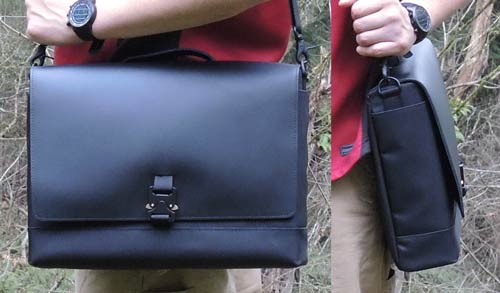 Weighing in at under three pounds, the bag itself is relatively light (especially compared to the likes of Col. Littleton's Navigator bag, which weighs nearly twice as much) and rides comfortably on my shoulder.
The HardCase is a very well-made and thought-out gear bag designed with Apple's MacBooks in mind. WaterField uses excellent materials and adds strength/re-enforcement plus a good amount padding to provide your expensive laptop solid protection from bumps and drops. While not the least expensive gear bag on the market, you are without a doubt getting what you pay for.
Product Information
Price:
$249 for 15
Manufacturer:
WaterField
Requirements:

13" or 15" MacBook Pro, Pro with Retina display, or Air

Pros:

- Very well made
- Professional looking
- Nice materials and hardware
- Perfectly fitted for the MacBook Pro
- Provides excellent protection

Cons:

- Handle does not fit large hands well