The Gadgeteer is supported by readers like you! If you buy something through links on our site, we may earn an affiliate commission. Thank you! Learn more.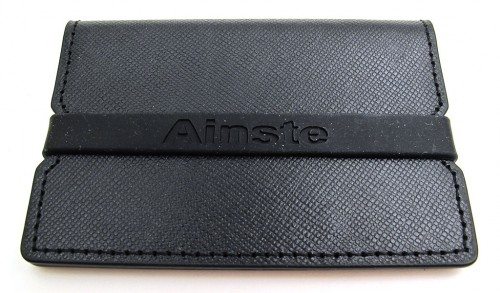 The Ainste Evan wallet was a Kickstarter project which was successfully funded earlier this year. Their company name "Ainste" was created from a combination of Amazon, Einstein and Steve Jobs and their first product is a minimalist's wallet designed to hold only your absolute bare essentials. Let me show  you more about it.
Note: Images can be clicked to view a larger size.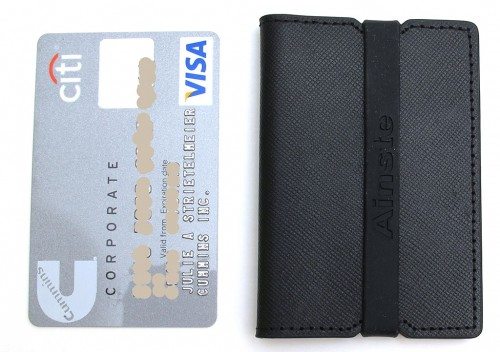 The Evan wallet is comes in small and regular sizes as well as either regular black leather or saffiano leather. I had never heard of saffiano leather, but a quick google provided this info:
High resistant, very elegant leather. Commonly used in high leather producers for handbags such as Prada, Ferragamo, Pierotucci and many other important fashion designer. The distinctive markings on this leather is a series of diagonal lines, in fact indications are that the Saffiano leather was invented by Mario Prada himself. In any case this design creates a highly scratch resistant surface.
The Evan is a simple, but classy looking wallet made of  one folded piece of leather that ends up being slightly larger than a standard credit card. The edges are burnished and the decorative stitching are very well done. A thick black rubber band holds the sides together.

The band provides the friction needed to hold your cards and cash in place between the folded leather. Here you see 3 plastic credit cards and 8 double folded bills inside the wallet.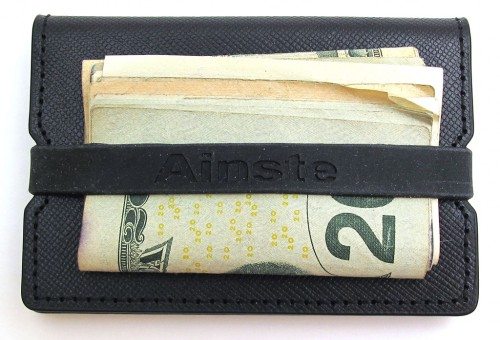 If you don't want to stuff your bills inside, you can use the band like a money clip and put your cash on the outside as shown above. You could even put your most used credit card on the outside as well, for easy access.

Once inserted, the bills and cards will not slide out on their own even if you throw the Evan across the room, drop it on the floor or shake it vigorously. Replacement bands can be purchased for $7 each.
Minimalists wallets aren't for everyone because… well… they are minimalist. You can't stuff them (very much) full of cards, cash, receipts, etc because they just won't hold much. And of course that's the whole point.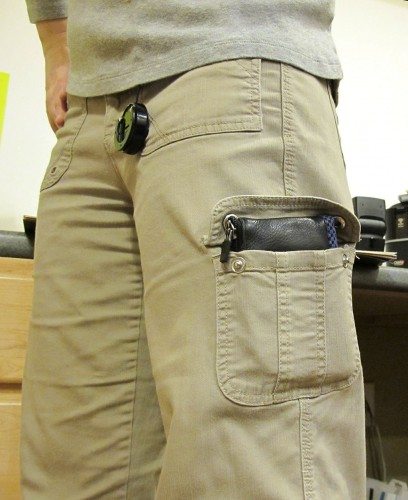 My daily wallet is the Waterfield Designs Wallet, which I've been using the same one I reviewed for the last 7 years. I like it because it can hold as much or as little as I like and has a zipper to keep the contents secure. It's not all that pocket friendly though, as you can see here. The Waterfield sticks out about an inch or so out of my side cargo pants pocket. I wouldn't want to carry it around like this for fear of it some out falling out or getting snatched…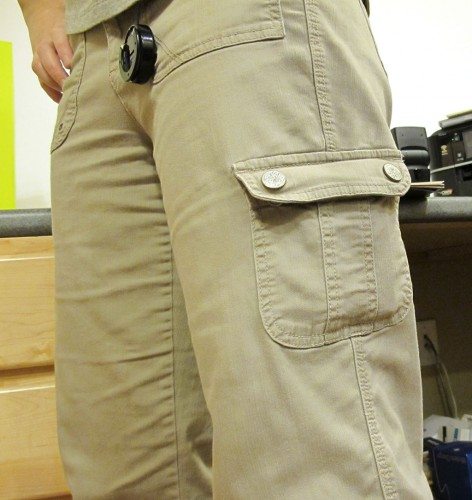 The Ainste Evan on the other hand, pretty much vanishes in the same pocket. I couldn't even tell it was there. For that reason, it makes a perfect skinny wallet for those times when you only need to carry a small amount of cash and a few credit cards. The main issue I have with most of the minimal wallets that I've seen and tried is that it can be a little difficult to remove just one card because the wallet is so tight. I wouldn't personally use the Ainste Evan as my everyday wallet just because I like to carry more with me. But I would use it for those times when I don't want to carry my regular wallet in my jacket pocket or a bag.
Minimalists wallets are super popular right now and the Ainste is a nicely made one. If this style wallet is something you've been searching for, check this one out and let me know what you think.
Support The Gadgeteer
:
The Gadgeteer is supported by readers like you! If you buy something through the links on our site, we may earn a small affiliate commission. Thank you! Learn more.
Product Information
| | |
| --- | --- |
| Price: | $37.00 |
| Manufacturer: | Ainste |
| Pros: | |
| Cons: | Can be tedious to access cards |