We use affiliate links. If you buy something through the links on this page, we may earn a commission at no cost to you. Learn more.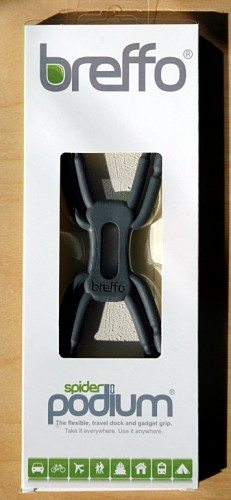 The Spiderpodium from Breffo is, um, well… it's this spider-shaped thing you can use to hold smartphone-sized objects in a variety of ways. It comes in black, blue, graphite (the review unit color), green, pink, purple, or white.  Let's give it a look.
So where were the spiders?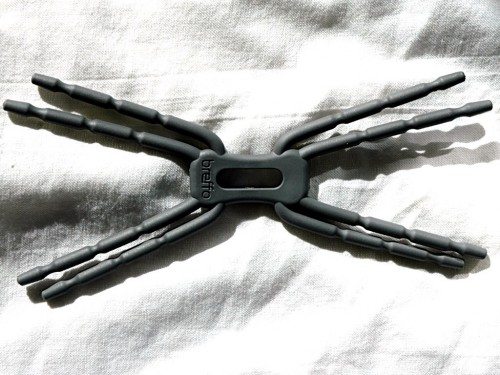 Inside the box is the Spiderpodium in its resting position. Like Gumby (dear lord, I am dating myself), the Spiderpodium has an inner core consisting of steel wires and is covered in a soft rubber material. It has 8 legs as all good arachnids do, with a central hub that's large enough to act as a shelf in some configurations.
Bend me, shape me anyway you want me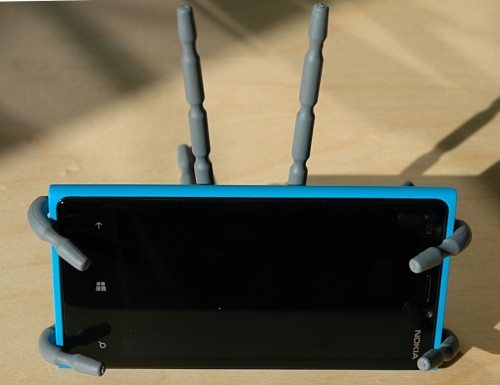 The Spiderpodium is your Zen garden. Bored? try bending up some oddball combo that is both funny and secure.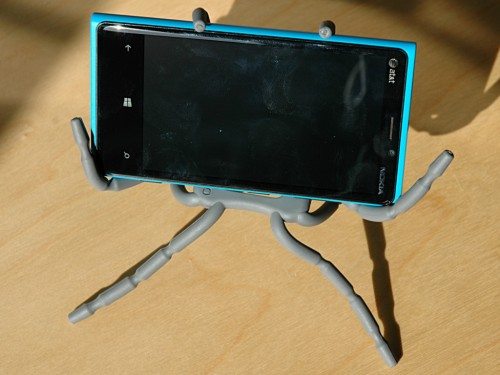 Feeling anthropomorphic? Make it look like a person.Note the use of the center as a shelf.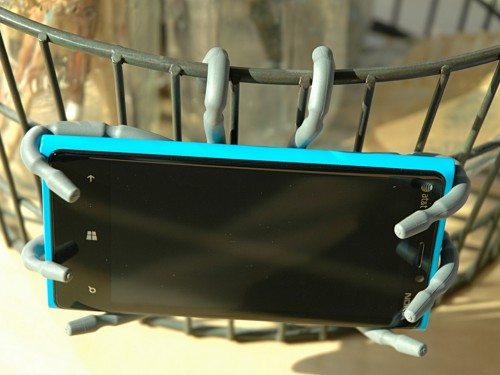 Need to hang your phone somewhere? Use a couple of the legs as hooks.
Conclusion? Already?
How many ways can you say "you can bend it into a lot of shapes?" Apparently I can only think of three ways. In all seriousness, this is a pretty cute idea and an actually useful gadget bag addition. It weighs next to nothing, takes up nearly no space, and can even be used as a tablet stand in a pinch. The 8 legs are plentiful for gripping devices so long as they're not too big. If you're going to hang the spiderpodium while its gripping something, its easy enough to check if the grip is going to hold – just give it a bit of a shake into your palm or over something soft to make sure the grip is good. The rubber keeps it from marring the device it's gripping and also keeps it from sliding on whatever surface you put it on. Pretty much it does what you'd think. And it is oddly satisfying to bend it into different shapes.

Product Information
Price:
£14.95 ($19.99 in the US, via Amazon)
Manufacturer:
Breffo
Requirements:

Ability to bend wire
Device no bigger than ~5 X 3 inches

Pros:
Cons: