We use affiliate links. If you buy something through the links on this page, we may earn a commission at no cost to you. Learn more.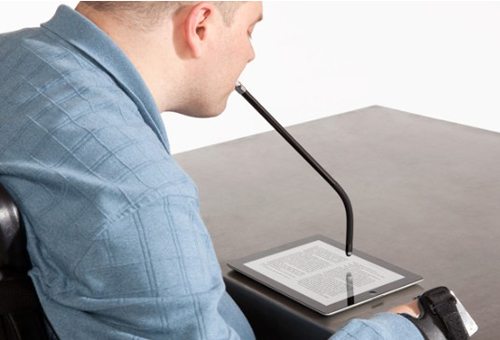 I love hearing about how differently-abled people are able to use and benefit from iPads and other tablets.  My own family found how useful the iPad was after one of my relatives had a stroke (see related posts).  My relative had partial movement in his left arm and full use of his right, so he could use the iPad pretty easily.  But what about those who have little or no movement in their arms?  The Mouth Stick Stylus from Griffin makes it possible for people with manual disabilities to interact with the screen and to push buttons on their tablets.  Griffin says:
"Compatible with touchscreen interfaces, laptop keyboards, and Apple's Magic Trackpad, the Griffin MouthStick Stylus enables individuals lacking fine motor skills easy access and control to touch-technology. The well-balanced design allows the stick to be held comfortably in the mouth without causing strain or discomfort. Griffin's MouthStick Stylus comprises four parts: the food-grade stainless steel mouthpiece, BPA- and latex-free silicone rubber mouthpiece sleeves, a conductive silicone rubber tip, and an adjustable aluminum gooseneck shaft."
Griffin is showing the Mouth Stick Stylus and their other healthcare solutions at the HIMSS13 in New Orleans.  It will be available for purchase in Q2 for $29.99 at Griffin.