We use affiliate links. If you buy something through the links on this page, we may earn a commission at no cost to you. Learn more.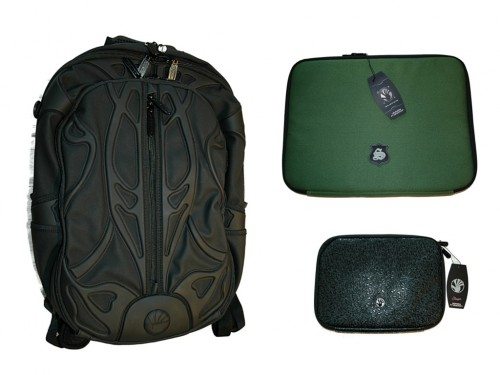 This review covers three bags from SLAPPA – the Velocity SPYDER PRO 15.4″ laptop backpack, the Manalishi 15.4″ laptop sleeve, and the Damask 10″ sleeve. They are a representative sample of the wide range of styles and sizes SLAPPA offers. The 15.4″ sleeve isn't too distinctive, but the other two show SLAPPA's focus on unique styling coupled with durability, functionality, and protective features. If Batman was going to wear a backpack, he could send Alfred to SLAPPA to pick one out.
Velocity SPYDER PRO 15.4″ laptop Backpack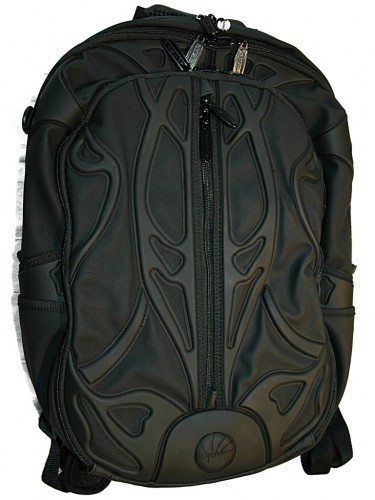 The Velocity SPYDER PRO laptop Backpack comes in a larger 17″ size as well as the 15.4″ size reviewed here. The 15.4″ is fairly large as is, coming in at 13″ X 21″ and (when fully stuffed) about 8″ deep. Due to the leather construction, it weighs in at a somewhat hefty 3.5 pounds empty. Speaking of the materials, the non-raised bits you see in the photo are "water repellent & tear resistant BuckBlast suede", which feels and looks very nice. The raised bits are what SLAPPA calls the "EXO-skeleton" – it provides a semi-rigid exterior, adding protection to the contents. It's made of molded rubber. The overall effect gives a unique look (and solid heft) to the bag.
What does it have in its pocketses?
As you would expect from a largish laptop bag, the SPYDER provides ample storage via a plethora of pockets and compartments. All of the interior is padded (3mm) and uses a "plush tricot lining" – a soft material that doesn't transfer fuzz everywhere but does protect against scratches. As shown in the first photo (above), the front of the bag has a vertical zippered compartment, which opens the entire front flap for stuffing things you need to get at quickly.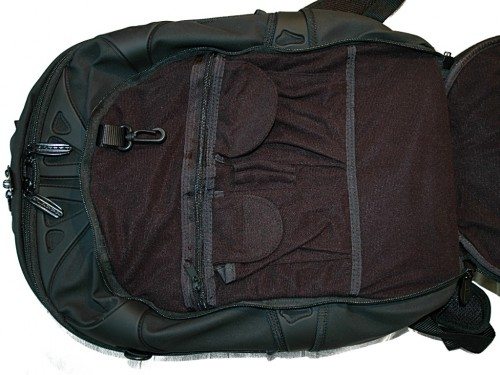 The front flap fully unzips, revealing the "small gadgets go here" section with a couple of Velcro-flapped pockets, a larger, tablet-sized zippered pocket, a pair of pen holsters, and a clip for you keys.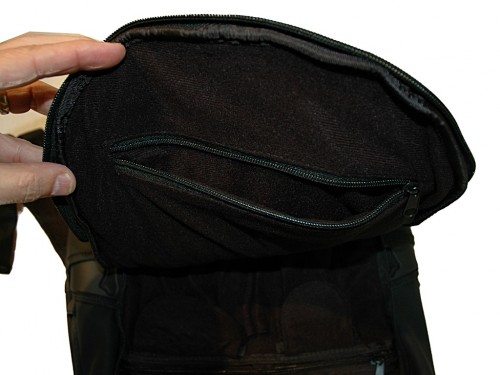 The other side of the flap also has a zippered pocket.
Here's a view into the tablet/eReader sized pocket. My kindle goes in here.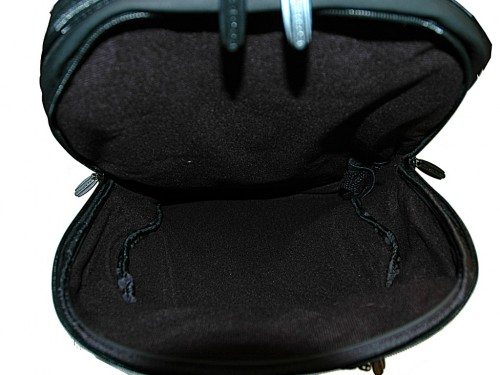 The main compartment expands up to 12″ X 19″ X 5″. If you need that much room to carry books, I feel for your back.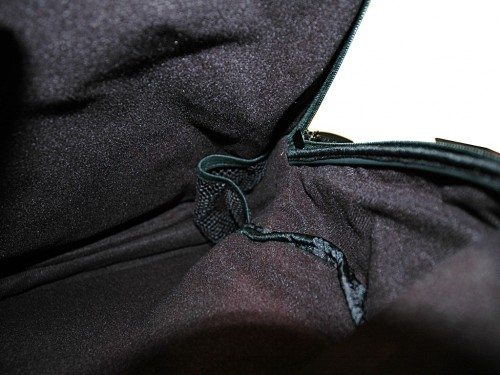 A nice touch – on the left and right sides of the main compartment are netted pouches, large enough to accommodate a water bottle or other beverage.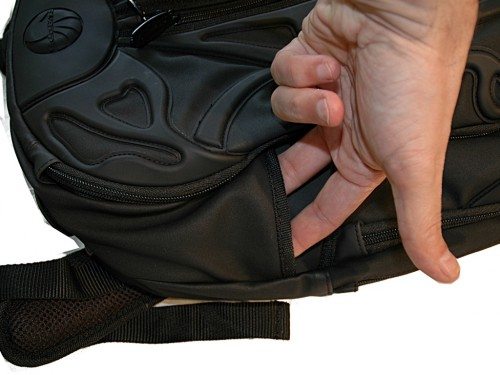 The exterior also has two smaller pouches, but these aren't going to be holding beverages – they're not very wide or deep.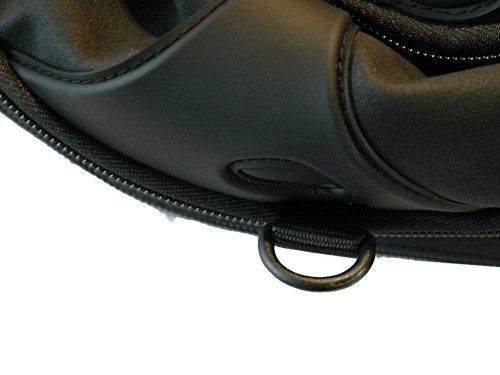 At the top left is a ring to clip on whatever you'd like.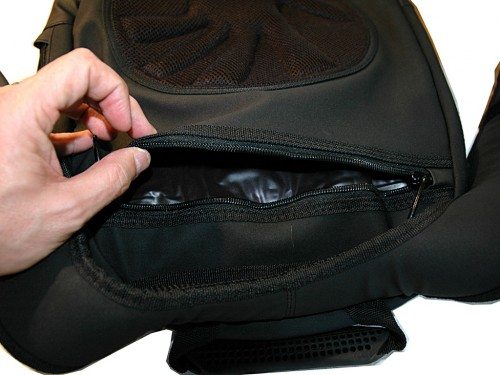 The entire back is – I kid you not – a waterproof, lined cooler pocket. For cold drinks. Because it sits behind the rear padding, you're not supposed to be able to feel the cans/bottles/whatever you've got in there when you're wearing it. Maybe I'm very sensitive – I could tell there was some roughly cylindrical lumps against my back with a fully loaded pack. Not uncomfortable, but not the same as a smooth back when just the laptop is in the bag. Neat idea though; no need for that lunch bag!
Protect This House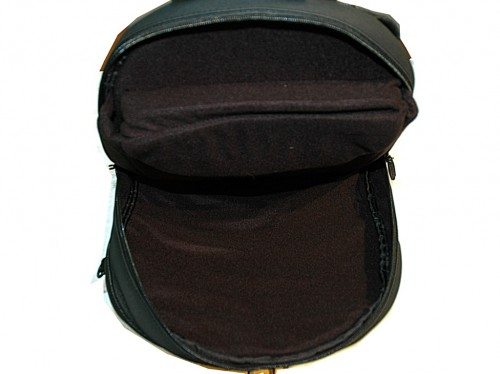 The laptop section of the bag comes in at 12″ X 15″ X 2.5″ and is filled with an inner laptop liner that (just) accepts up to an old, large, thick 15.4″ laptop. It easily holds any modern thin laptop up to 15.4″ – a 13″ Macbook Pro practically disappears into the inner liner. The liner looks to be another fully wrapped 3mm layer of padding.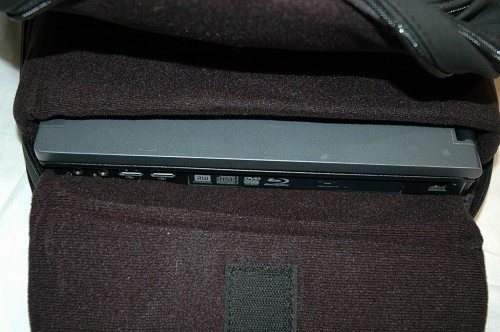 I dug up an old Compaq 15.4″ laptop, coming in at a massive 10.2″ X 14″ X 1.1″ from 2007, and shoved it in. You can see the top of the old beast poking out of the sleeve, which is double hinged to accept these relics from the past. Sure enough it fit. Barely.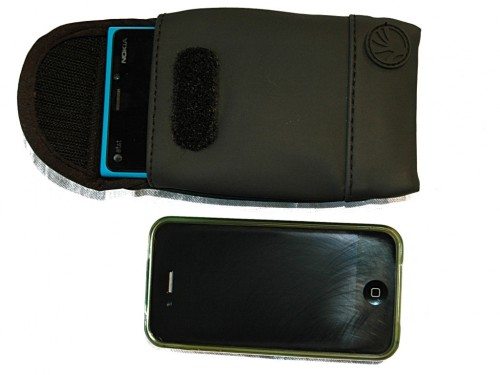 The backpack includes a clip-on gadget pouch. Good thing they don't call it a cell phone holder – because it will hold an iPhone 4s but it won't hold my Lumia 920 – or any other 4″ or larger phone! Oh well. Also absent is a dedicated "media player" pouch with punch out hole for headphones. I ended up using the pouch for that.
You've got to put it on sooner or later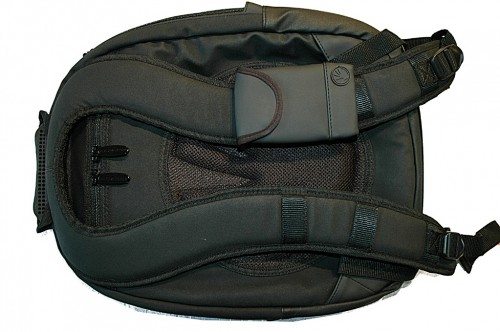 I'm not sure if I'm making this up or if this is what this style of strapping is called, but it looks for all the world like a horse collar – and operates on the same principle. The straps themselves are nicely padded but not excessive so, and the little accessory pouch can clip onto either strap for easy access.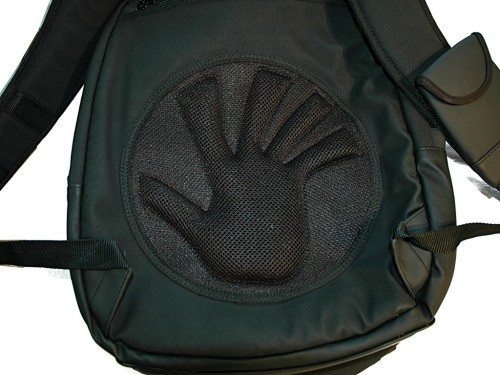 The hand is not only cool looking, it also is the added padding to keep your laptop and soft drinks from beating your back black and blue. It's nearly an inch thick of extra padding.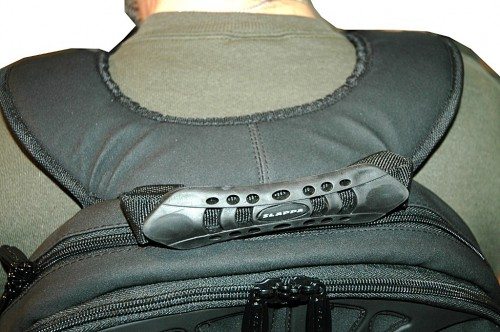 Here you can see the straps doing their job of putting the weight across your shoulders and not just on your collar bones. It makes for a comfortable ride, but doesn't work out so well when you use the "sling one strap over a shoulder" move. You can also see in this shot the reinforced handle on the top. That does work fine for grabbing and carrying the backpack in one hand.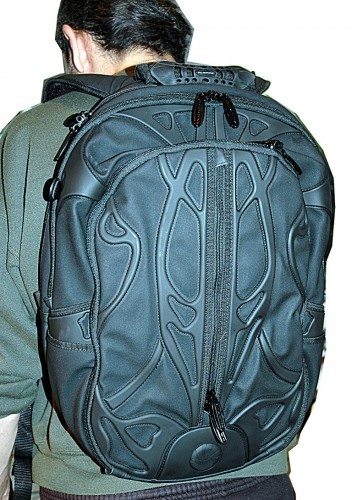 Batman? Teenage Mutant Ninja Turtle? No doubt you'll keep people guessing when styling this backpack.
It comes with a 360 day warranty.
Green Manalishi Padded 15.4″ sleeve
After the hypercool SPYDER, the 15.4″ sleeve is, well, pretty much just a big green sleeve with a cool (but obscure) name. Google it. The outer shell is made of a "textured twill nylon" that is water-repellent.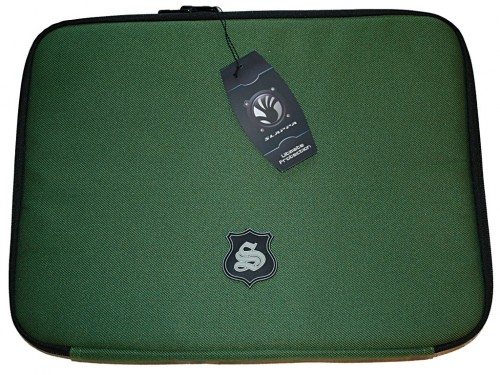 The back has a wide zippered compartment which pretty much is the entire back of the sleeve.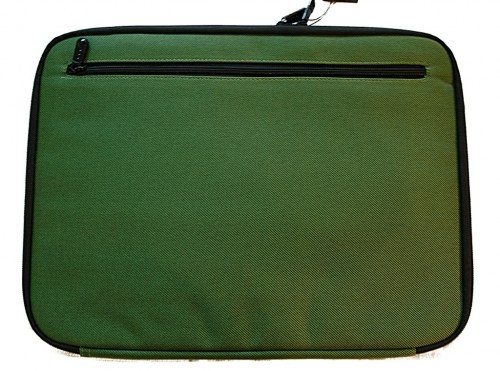 At least the lining is cool looking: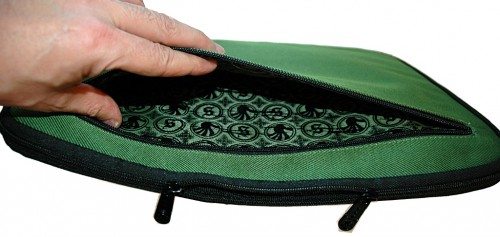 Like most sleeves, it zips fully open and has retaining straps in the corners. The lining is also a twill nylon, but it's soft to avoid scuffing your device.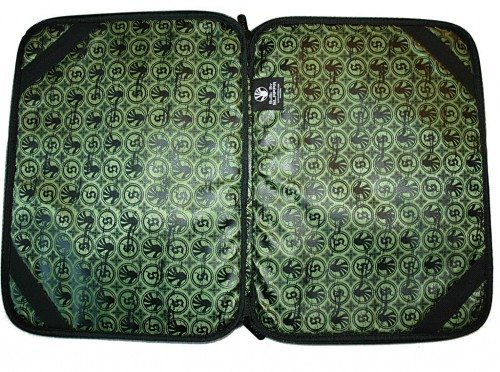 Stuffing the dinosaur 15.4″ HP laptop in, I found the fit REALLY right – mostly due to the thickness of the old beast.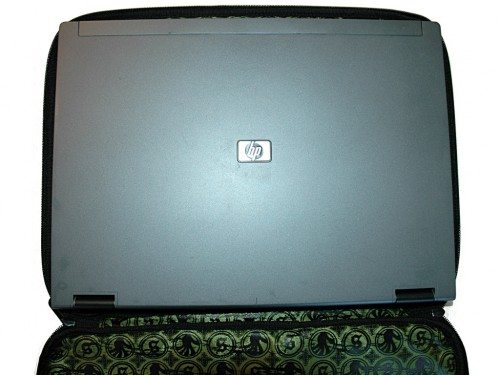 I was able to get it zipped shut, but I'd have to say if your laptop is thicker than an inch, you'll not enjoy the fit.
A more manageable sized 14″ Thinkpad fits with ease, as would up to a 15.4″ laptop that wasn't quite so darn thick.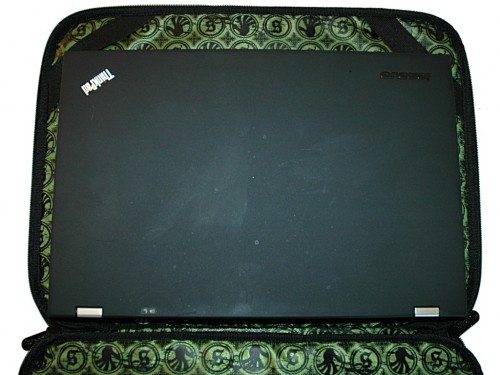 Yep, it's a sleeve
The Manalishi Padded 15.4″ sleeve is a nice sleeve with good protection and quality construction. It comes with a 180-day warranty.
Damask Black Padded 10″ Sleeve
The Damask Black sleeves provide the SLAPPA coolness styling exhibited by the SPYDER laptop backpack. The 10″ sleeve is sized for an iPad (perfectly) or a Netbook (remember those?) or other 10″ or so tablets. It just barely accepts a Surface RT tablet (at a width-busting 10.81″) but clearly it's not designed for something that wide. You'll be comfortable up to 10.5″.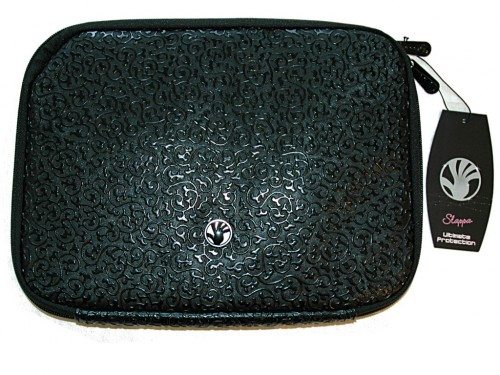 The exterior has the interesting (and functional as extra padding) raised damask pattern (hence the name), and the back has the usual full-sized pocket.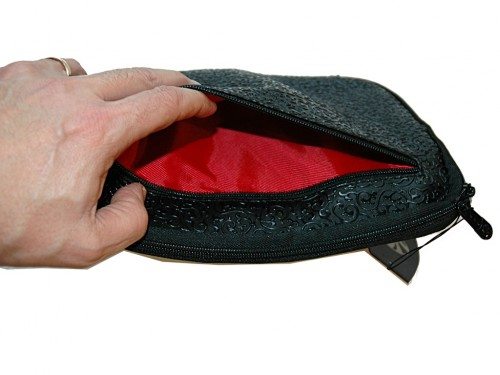 The lining material is the same soft twill nylon as in the other sleeve, this time in bold red. Which looks very nice against the black exterior.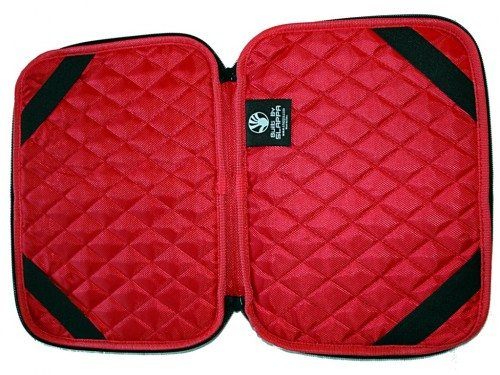 The inside adds a quilt detail to the lining. As in the other sleeve, the Damask fully unzips and includes straps in the corners.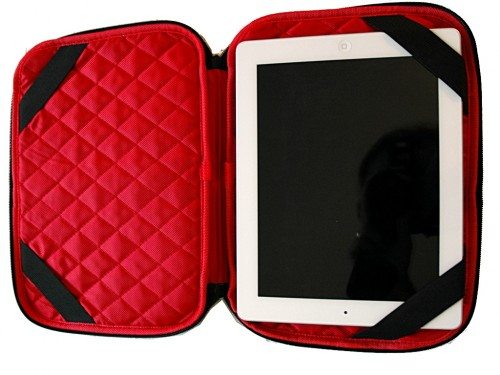 The straps keep your device inside when you unzip the sleeve.
The Damask has the same 360 day warranty as the SPYDER backpack. Why not a year? Perhaps 360 sounds cooler.
Pack It In
SLAPPA gear combines quality construction with interesting styling in their backpacks and sleeves. They're priced on par with other higher end lines, and they deliver on style.
Product Information
Price:
$89.99 backpack, $24.99 sleeves
Manufacturer:
SLAPPA
Requirements:

Opposable Thumbs
Back
Stuff in need of carrying

Pros:

Cool styling
Quality Construction

Cons:

Backpack weight
Sleeve sizes could be a tad larger for a wider range of gear at each size.