The Gadgeteer is supported by readers like you! If you buy something through links on our site, we may earn an affiliate commission. Thank you! Learn more.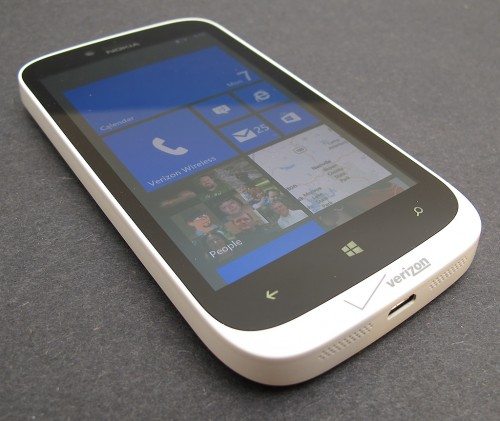 It's been so long since I reviewed a Windows phone, that they weren't even called Windows Phones back then. They were called Windows Mobile phones. So it's an understatement to say that I've been long overdue to try one. Verizon Wireless was kind enough to send me a loan of a Nokia Lumia 822 Windows Phone 8 device. Let's see if I like it enough to switch from Android and my Samsung GALAXY S3.
Note: Images can be clicked to view a larger size.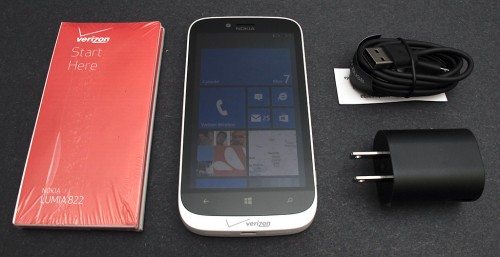 Included in the box:
Lumia 822
Standard Lithium Polymer Battery (1,800 mAh)
Wall/USB Charger
micro USB Data Cable
Quick Reference Guide
Hardware specs:
Operating System: Windows Phone 8
Network: CDMA1x/EV–DO Rev A, LTE/DO Rx diversity
Global Network: GSM (850MHz, 900MHz, 1800MHz, 1900MHz), UMTS (850MHz, 900MHz, 1900MHz, 2100MHz)
Processor: Dual core 1.5GHz processor & 1GB of RAM
Memory: 16GB internal memory, supports up to 64GB microSD card (sold separately)
Display: 4.3″, WVGA, Nokia ClearBlack OLED Corning® Gorilla® Glass 2 display, 800×480 resolution, 24 bit, 16M colors
Camera: Rear – 8MP, Front – 1.2MP
Wi-Fi 802.11 a/b/g/n capable
Bluetooth
NFC
Battery: 1800 mAh Li–Polymer
Dimensions: 5.03 x 2.69 x 0.42 inches
Weight: 4.99 oz
Hardware tour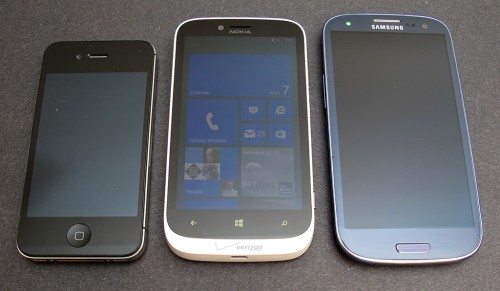 Compared to a lot of the smartphones on the market right now, the Lumia 822 looks a little chunky.

Here it is in the middle of a stack up between a Samsung GALAXY S3 on the bottom, and an iPhone 4S on the top.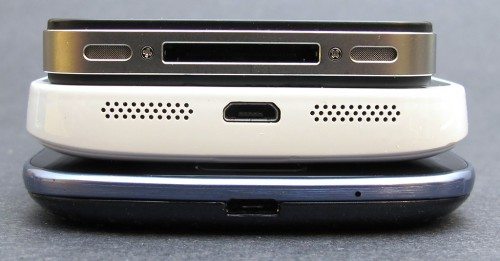 Another view showing the Lumia's thickness compared to the 2 other popular phones.
The Lumia is available in 3 colors: White, Black and Grey. As you can see, I was sent the White version. The plastic shell is shiny and slick, but it feels solid in hand and passes the Gadgeteer squeeze test without flexing or creaking. However, if you give the phone a shake, the buttons rattle a bit. The Lumia may be thicker than a lot of phones, but it is comfortable to hold. The back has smooth rounded edges that trick your hand into thinking that it is thinner than it is.
There are no physical buttons on the front of the phone. But there are 3 backlit touch buttons below the display that map to Back, Start and Search.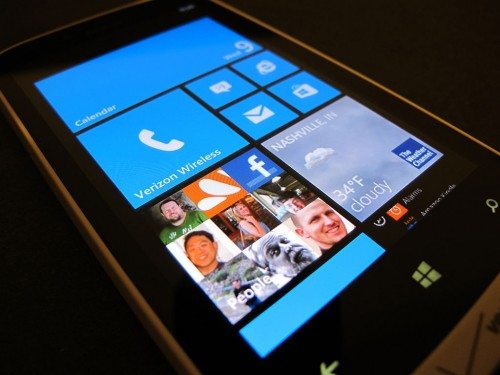 The display is crisp and bright with vibrant color. The main issue though, is that it's small and has a lower resolution (480×800 pixels) than most higher end phones. But hold on a sec, the display does offer a great feature that I hope will become a trend. You can interact with this device even with gloves on. And I'm not talking about the special capacitive gloves which we've reviewed here before. Regular ordinary gloves work just fine.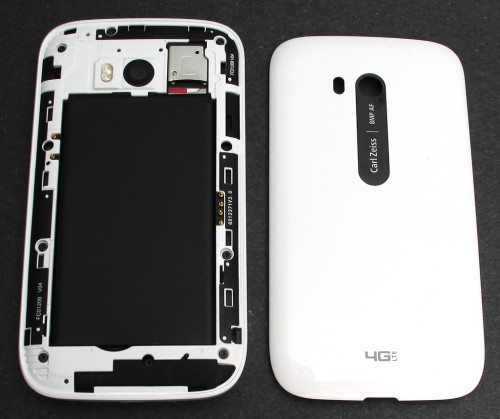 The back of the phone has the camera lens and LED flash. The back cover can be easily removed to access the battery compartment and microSD card slot. You can also buy a replacement back cover for $39.99 that will allow you to charge the Lumia wirelessly using Nokia's charging pad. You can see this pad in my HTC DROID DNA review.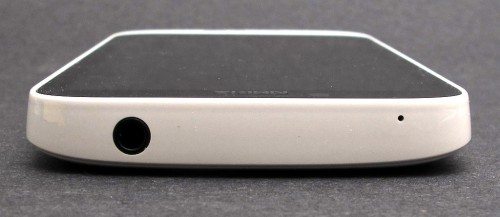 The top edge of the phone has a standard headphone jack and a microphone.

On the right side you'll find the only physical buttons on the phone. There is a one piece volume button at the top, the wake/power button below it and farther down towards the bottom edge there is a camera button. Pressing the camera button will launch the camera app even when you're in other apps. The button will also wake the phone and go straight into the camera app. I didn't think this feature worked until just a few minutes ago. I finally figured out that you have to press the button down all the way (the button has two stages like a typical camera shutter button) and HOLD it for a few seconds in order for it to wake and/or launch the app.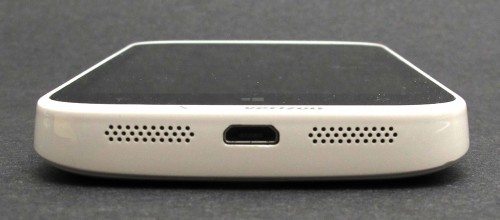 The bottom edge of the phone has a micro USB connector and speakers.
Camera
The 8MP camera with the Carl Zeiss lens takes decent pictures when you're in good light. The sample image above on the left was taken outdoors with no flash. The picture on the right was taken indoors at night with a flash. As you can see, the low light image is pretty bad…even when using the flash. Just something to be aware of for all you club kids who like to snap pics while out on the town at night.
Call quality
I made several calls with the Lumia and had no problems whatsoever. I did not experience any dropped calls or signal strength issues. Audio was clear and plenty loud enough on both sides of the conversation.
Battery life
It's usually tough to get a real sense of how well a phone's battery performs when you only have the phone for a few days. I didn't have that problem with the Lumia because the battery life was short from the get go. If you buy this phone, you're going to need to have a charger at work, one in your car and one at home. Even with light use (a couple calls, little bit of surfing, listening to music (local, not streaming), a few text messages, etc.), I barely got a day's worth of use out of the Lumia before it needed a recharge.
System performance
The Lumia is a very snappy phone. I found scrolling to be smooth and apps launched quickly. I have no real complaints about the hardware other than the short battery life.
Software
The Nokia Lumia 822 is my first experience with the Windows Phone 8 operating system. I've been a little bored with Android and iOS lately, so I have been looking forward to trying something new and different. I'm not going to go into all the details and features of Windows Phone 8, because that would take entirely too long. But I will share my thoughts and touch on a few things that stand out to me.
The simple and uncluttered lock screen is your first taste of WP8. The time, day of the week and date are displayed in large text. Notifications appear below the date to show new emails, text messages, missed calls.  Upcoming appointments, mail, messages or call info can also be shown.
The WP8 home screen is one vertically scrolling screen where you can pin tiles that launch apps. The tiles can be easily shuffled around and resized. Depending on the app, these pinned buttons can be Live Tiles. Live Tiles are like widgets which are constantly updating to show current info. When you tap them, the app launches. For example, the Weather Channel tile shows the current weather in your area, the calendar shows your upcoming appointments and the photo tile will randomly rotate the images in your camera roll. It sounds good in theory, but I noticed that my Weather channel tile continued to be stuck with the same info for days and wouldn't update till I removed it and re-pinned it.  Then there's the calendar tile which only shows the appointments coming up in the next 24hrs, which is disappointing.
If you swipe the home screen to the left, you'll get another vertically scrolling list of all your apps. Unfortunately, there's no way to organize the apps. They are just listed in alphabetical order.
Speaking of the calendar, the built in app is pretty basic. There's an agenda view, to-do view and a monthly calendar view. The monthly calendar view is useless as it has teeny tiny text in the block if you have an appointment on that date. It's impossible to read the text without tapping the day to bring up the day view.
The email app is pretty basic too. However it does allow pinch and zoom, which is helpful due to the small screen.
The Data Sense app is a utility that will show you how much data individual apps are using and allows you to set limits on your data usage.
You can create Rooms in WP8 where you are able to invite people to share calendars, notes, photos, and participate in group chats. I tested this with an iPhone person and an Android person and although I was able to add them as members to the group I had created, they couldn't see the notes, photos or chat messages I sent. It also required them to login with a Microsoft or Hotmail account. So I guess the Rooms feature only works with other WP8 users…
WP8 will also let you create a kid friendly environment for your child so they can play with your phone and only the apps you deem appropriate.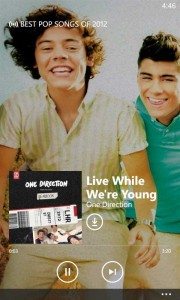 In addition to the stock WP8 apps, Nokia adds a few of their own apps which are actually pretty nice. My two favorites are the music and GPS apps. The Nokia Music app is pretty cool because it lets you stream pre-defined radio mixes using WiFi or your phone's data with no ads, no login and no sign-up required. It also allows you to download hours of music to the device for offline listening. This feature reminds me of the stand alone Slacker Radio devices from a few years ago. By the way, if you're a fan of Pandora or Spotify, you'll be disappointed that there aren't WP8 versions of these apps available in the app store. At least not at the time of this writing.
Another nice addition from Nokia is their Drive and Maps apps which offer voice guided turn-by-turn directions with offline access. US maps come preloaded on the phone with many more maps available for download. The app will even beep at you when you're driving over the speed limit. Depending on how you drive, this can become annoying after awhile… so I turned it off. 😉
Microsoft has an app store just like the Apple app store and Google Play for Android. The selection of Windows Phone 8 apps is pretty good, but doesn't rank up there with the other app markets. As I mentioned above, there's no Pandora or Spotify. There's also no Instagram and I couldn't find a few other apps that I always install on my phones like Chrome (shocker there right?), Dropcam, Venstar thermostat controller, Flipboard and Scramble with Friends.
Final thoughts
I still remember the good old days of Windows Mobile, so I found Windows Phone 8 to be a completely different experience which is both good and bad. It's good because it is simple to use, fast and optimized for touch input. But bad because it's almost too simple and a little behind the curve when it comes to application availability. I keep saying to people that I think Microsoft is too little too late when comes to the smartphone game. I don't think they will be able to grab much attention away from iOS and Android. And with all the negative talk about Windows 8 on the desktop, people may not even want to give them a chance.
Although I like the phone more than I thought I would, it probably won't shock anyone that the Nokia Lumia 822 does not make me want to switch from my SGS3. It will make me keep my eye on the Windows Phone OS and follow the updates to see how it improves over time though.
Now I want to hear from you. How many Windows Phone 8 fans are out there?
Support The Gadgeteer
:
The Gadgeteer is supported by readers like you! If you buy something through the links on our site, we may earn a small affiliate commission. Thank you! Learn more.
Product Information
Price:
$49.99 with 2yr contract ($449.99 without contract)
Manufacturer:
Nokia
Retailer:
Verizon Wireless
Pros:

Snappy performance
Physical camera button
Can use touch screen with gloves

Cons:

Short battery life
Low resolution display
Thick