We use affiliate links. If you buy something through the links on this page, we may earn a commission at no cost to you. Learn more.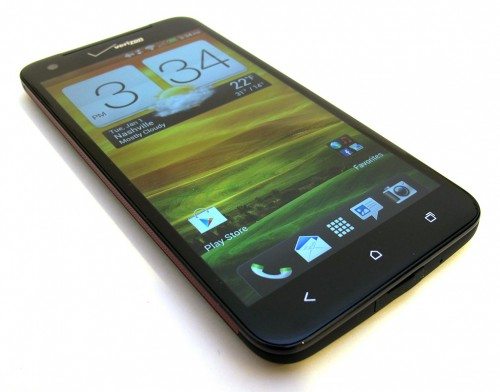 Is it just me or does it seem like every new Android smartphone looks almost exactly like the last new Android smartphone? It sure felt like deja vu all over again when I opened the box that Verizon Wireless sent me a few days ago. Inside was the HTC DROID DNA, their latest and greatest high-end Android smartphone. Is it the same as all the others, or are there a few goodies that make it stand out from the crowd? Let's see…
Note: Images can be clicked to view a larger size.
Included in the box
DROID DNA by HTC Phone
Wall/USB Charger
SIM Tray Removal Tool
Quick Start Guide
Global Support Brochure
Product Safety & Warranty Guide
Hardware Specifications
Processor: 1.5GHz quad core Qualcomm® Snapdragon™ S4 Pro processor & 2GB of DDR2 RAM
Operating System: Android 4.1 Jelly Bean
Network: CDMA1x/EV-DO Rev A, LTE/DO Rx diversity, Global Network: GSM (850MHz, 900MHz, 1800MHz, 1900MHz), UMTS (850MHz, 900MHz, 1900MHz, 2100MHz)
Memory: 16GB internal (actual formatted capacity is less)
Display: 5" 1080P Super LCD3 Corning® Gorilla® Glass 2
Camera: 8MP Auto Focus Rear–Facing camera with Single–LED Flash + HTC ImageChip
f/2.0 aperture lens on both front and rear cameras, backside sensor illumination for low light performance, and the exclusive HTC ImageChip which allows continuous shooting for up to 99 images
2.1MP 88°ultra-wide-angle front-facing with improved low light performance
Rear–Facing camcorder – HD capture up to 1080p
Front–Facing camcorder – HD capture up to 1080p
Wi-FI: 802.11 a/b/g/n (2.4 & 5 GHz) capable
Bluetooth 4.0
NFC – Tap and Share with other NFC-enabled devices
Headset: 3.5mm Audio Jack
Battery: 2020mAh Standard Li–Ion; non–removable, usage time up to 12.8hrs, standby time up to 14.7 days
Dimensions: 5.55 (H) x 2.78 (W) x 0.38 (D) inches
Weight: 5.0 oz
If your eyes glaze over reading hardware specs, mine do too. But I always include them anyway just because it's nice to be able to refer back to them when you need to compare devices. If you didn't read them this time and skipped right down to this sentence, that's perfectly fine. I'll let you know how this phone is different than the other high-end Android phones currently being offered by Verizon. But first let's take a quick tour around the device.
The DNA continues with HTC's typical shiny black top with a matte black back and red accents. There are no physical buttons on the face of the phone. Just 3 touch buttons which are mapped to Back, Home and Recent Apps. Above the gorgeous 5″ display, which goes almost to the edges of phone, is a front facing camera and a speaker (for calls). On the back side you'll find a soft touch shell with the camera lens, LED flash and a speaker at the bottom. The back of the phone doesn't come off to reveal the battery compartment or a microSD slot. Unfortunately, the battery is not user accessible and there is no memory expansion on this phone. The lack of a microSD slot is a bit of a shocker given that the phone has only 16GB of built in memory. That seems like a low amount given the high-end status.
Never miss one of our posts again. Sent MON, WED, and FRI with the latest gadget reviews and news!

The left side has what looks like a speaker grill, but it's just a style accent.

The top of the DNA has the LTE SIM card slot, power button, headphone jack and a microphone.

On the right side you'll find a volume rocker and a matching strip of red metal. At least I think it's metal. The volume buttons and the power button are almost flush with the case making it hard to locate them. But they have decent tactile feedback.

On the bottom edge of the phone is a micro USB connector and a 2nd microphone. The USB connector has a protective cover over it, which is a pain to open and close. I'd probably just rip it off if the phone was mine… or I'd buy the optional wireless charging pad and say good bye to cables forever.
The DNA feels good in my hand. It's a large phone, but I've been carrying a Samsung Galaxy S3 for months, so it doesn't feel any different as far as size. The rubberized back cover provides enough grip to keep the phone from feeling too slippery. The DNA is very solid and easily passed the Gadgeteer squeeze test with zero flexing, creaking or cracking.
What is special about the DROID DNA?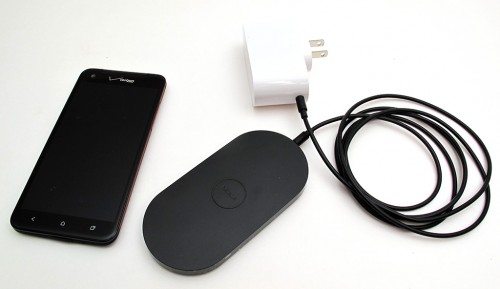 Wireless charging
This my favorite feature of the HTC DROID DNA. You would think with that type of feature built in that the phone would come with a wireless charger, but unfortunately you have to buy it separately for $49.99. The Nokia wireless charging plate is a small oval shaped plastic slab that will wireless charge the DNA (and other phones. See product page for list of compatible phones). The great thing is that you don't have to buy a special case or a replacement back for the DNA in order for it to work with this charger. You just set the phone on the plate and 2 seconds later the phone will come on to show that it's charging. It's great.
Quad core processor
Another way this phone is different than others is that it has a quad core processor. Most high-end phones have a dual core processor, so this one has 2x that… It is definitely snappier than my inferior SGS3 with its measly dual cores. That said, I only noticed the speed bump when navigating around the phone while scrolling and launching local apps that didn't rely on data access. Once an app had to dance the net for info, the DNA felt no different than my SGS3. System performance is great though, no complaints at all.
Battery life seems very good as well. Granted, I not had the opportunity to use it for an extended period of time. But in the short time I've had the phone, it seems a little better than my SGS3, giving me a day or two per charge. That's surprising given that the DNA has that 5″ high res display and a hot rod processor.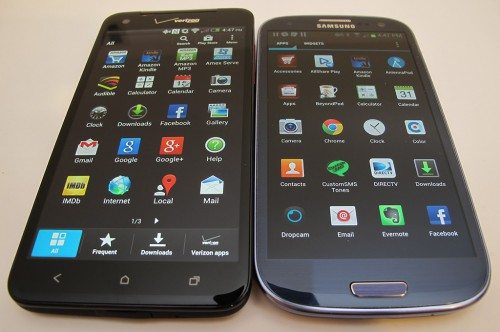 1080P display
Speaking of the display, it offers a resolution of 1920 x 1080 with a pixel density of 440ppi pixel. Apple's Retina display wishes it was that good (it's only 1136 x 640). When I compare the DNA side by side with my SGS3's 1280 x 720 resolution display, it isn't obviously better at first glance.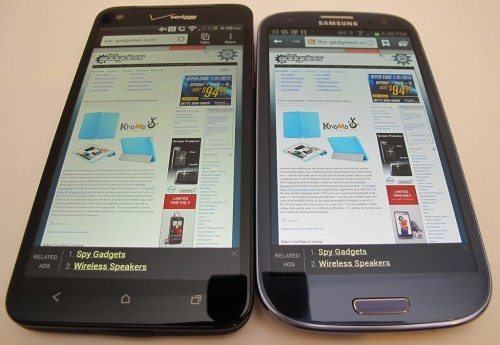 I tested both phones side by side browsing the web, scrolling through app icons, watching Youtube videos and reading ebooks through the Kindle app. I noticed little things like the color White on the DNA seems more White than on the SGS3  when both devices are set to max brightness. The image above isn't backing up what I'm saying, but trust me, White backgrounds on the DNA display look more White than the SGS3. But it wasn't until I compared text with both devices running the Kindle app, that I could see that text on the DNA looked crisper and sharper. So yes, the DNA's display is gorgeous, but so are the other high end Android smartphone displays.  If you're considering buying the DNA, I would not base your decision solely on the resolution even though it would be easy to do so.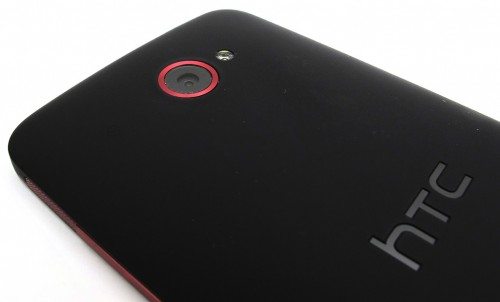 Camera features
HTC put 2 nice cameras in the DNA. They have some cool features like being able to shoot up to four photos per second with a rear–facing 8MP HD camera, the front camera has a wider angle than most phones to capture more people and background in self–portraits, you can take 1080p HD video with both cameras and you have the ability to snap still photos while capturing video.
Here are a few quick example shots. It does a good job with macro shots. The other image of my bookcases was taken to show how well it does in low light. As you can see, the image is really grainy. That was without flash. A flash version wasn't much better…
Beats audio
With stand alone audio players becoming more irrelevant all the time, having a smartphone with great audio just means one less thing to carry around with you. The DNA has Beats audio which provides a notable boost to bass. One thing to note though… this only works when you plug in headphones. Audio through the built speakers is normal.
Wireless charging, quad core processor, 1080p display, extra camera features and Beats audio, are the 5 main things that the DNA offers that other high end Android smartphones don't have. The rest of the phone is pretty much stock Android and performs the same as far as making, receiving calls, etc. The 16GB of memory is the biggest problem with this phone as far as I'm concerned. Otherwise, the DROID DNA is a really nice phone. If it had more memory and/or a microSD card slot, I'd be very tempted to buy one and switch from my SGS3.
Product Information
Price:
$199.99 with 2yr contract ($599.99 without contract)
Manufacturer:
HTC
Retailer:
Verizon Wireless
Pros:

Quad core
Built in wireless charging
1080p HD display

Cons:

Wireless charger costs extra
Battery not accessible
No microSD slot