We use affiliate links. If you buy something through the links on this page, we may earn a commission at no cost to you. Learn more.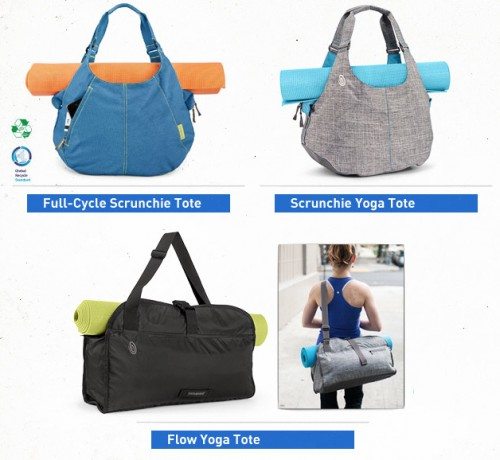 Timbuk2 has a variety of bags that are designed to tote your fitness gear.  Shown in the above image are three yoga bags that can hold your yoga mat as well as clothing and other gear.  In the top row are the Scrunchie Yoga Tote and the Full-Cycle Scrunchie (made of 100% recycled and recyclable materials).  The Scrunchie is made of nylon and has a waterproof TPU bottom; the Full-Cycle version is made of 100% recycled PET.  Both bags measure 16.1″ wide X 10″ tall X 9.3″ deep and have straps with a 12″ drop.  The bags are $89, but the Scrunchie is on sale now for $49 in two of the available colors.  The Flow Yoga Tote is "big enough to go from yoga class to hockey practice", and it has pockets inside to segregate your gear.  It measures 19.7″ wide X 12.2″ tall X 6.9″ deep.  It's available in black for $69.
Timbuk2 has a variety of other fitness bags that will meet your needs, whether you cycle, run, or swim.