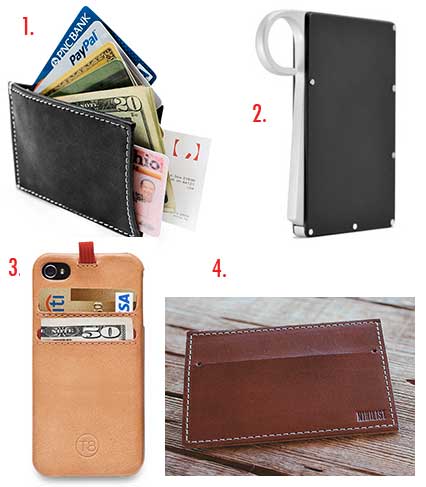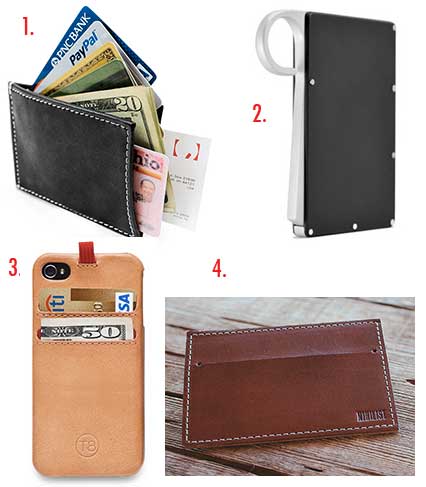 Wallets seem to be more popular than ever lately, with minimal wallets getting the bulk of the attention. While going through my inbox, I found 4 wallet related announcements that I want to share with all of you.
1. X Slimmy from Koyono – At 0.19″ (5mm) thin, this is the slimmest Slimmy ever made. It is constructed of premium, full grain, USA steer hide and features RFID theft protection. We've reviewed Slimmy wallets in the past (see related posts links below) and can vouch for their simple design and pocket slimming properties. Price: $42.00
2. The Flip n'Grip Wallet Kickstarter project – Unique thin aluminum wallet that you can twirl around on your finger and when gripped, the cards pop up for easy retrieval. Sounds a little wacky, which might be the reason why it hasn't reached the $100,000 funding goal with only 3 days to go. Interested? $99 will put you on the list, but chances don't look good.
3. Storm iPhone 5 wallet from T8 – This Italian calfskin leather wallet case adds just 3.4mm (0.13 inches) and 19 grams (0.67 ounces) to the iPhone 5 while providing two slots for credit cards and cash. There's even a lanyard option that will allow you to wear it around your neck. Who wears their phone around their neck, can I see a show of hands? I didn't think so. If you're looking for a way of combining your phone and wallet contents, this wallet should do the trick. Price: $60.00
4. Nihilist – Made in the USA from 4.5 oz American tanned Bridal leather and available in 4 colors, the Nihilist features 2 slots. One on each side. Brand new, the wallet can hold 2 cards in each slot and after a little breaking in it can hold up to 3 cards. Their website says they are out of stock, but orders will be shipped next week. Price: $79.00
What is your favorite minimalist wallet or any wallet for that matter? Share them here…
If you liked this story, be sure to read our other stories: