We use affiliate links. If you buy something through the links on this page, we may earn a commission at no cost to you. Learn more.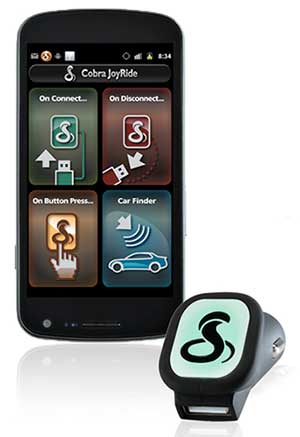 The Cobra Joyride is a 2.1 amp rapid charger that plugs into a 12V power socket in your car and helps make your phone interaction safer while driving. It automatically configures the phone for in-car usage by signaling the companion Android app when you get in and out of your car. A button built into the charge also allows for quick calls, voice commands, pause/play music and launch GPS or other favorite in-car apps.
The Cobra JoyRide application can also save the GPS position of the owner's vehicle on the Android phone to help navigate back to a parking spot and has the option to send customizable automatic responses to text messages and calls that come in while the user is driving to update the contact that the user is currently driving. The Cobra JoyRide is available for $39.99.