We use affiliate links. If you buy something through the links on this page, we may earn a commission at no cost to you. Learn more.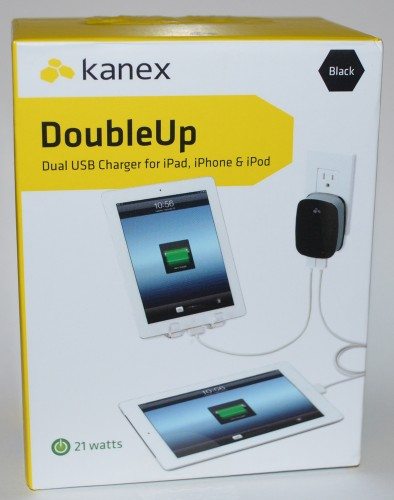 In my house, we have a lot of gadgets that need to be charged and a dearth of outlets.  Because all of us tend to have the same types of gadgets, we can usually share chargers, which minimizes how many chargers we have to have scattered around the house.  Since I now have a few Apple devices that use the new Lightning connector, I've had to try to squeeze in an extra AC charger to use for the Lightning devices.  I was interested in the DoubleUp Dual USB Charger from Kanex, because not only could it charge two devices at once, it could charge two tablets at once.  I asked if I could try it out when one was offered to The Gadgeteer.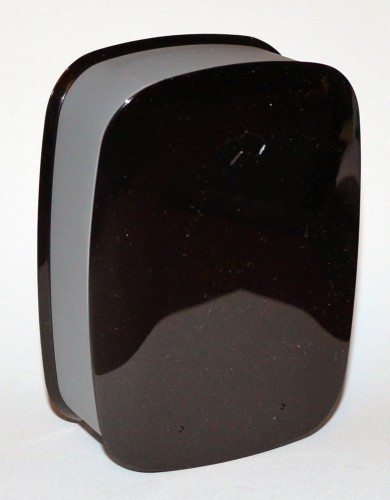 The DoubleUp charger is available in black or white.  I received the black.  It has shiny plastic surfaces with a gray, rubbery band around the sides.  It measures roughly 3″ X 2.5″ X 0.8″.  The front is plain except for an embossed logo at one end.  It's hard to see in the above photo, but the logo (three hexagons) is near the top.
Technical specifications
2 x USB Charging Ports @ 5V,  2.1 Amps
2 x LED charge status indicators
1 x 5-15P wall plug
Output Power:  21W
Peak load current:  2.5A
Built-in short circuit protection
CE, UL, and PSE certified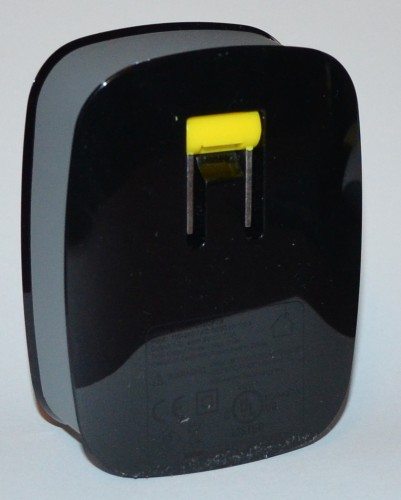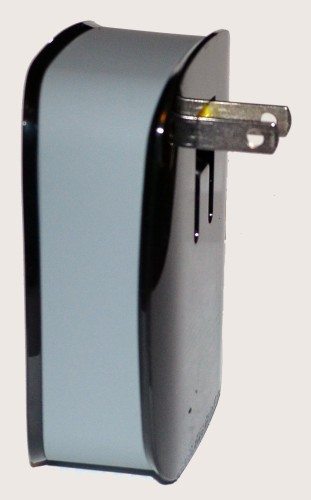 A USA-type prong folds into the back.  The prongs fit flush, so you have to use a fingernail to pry at the yellow base to flip the prongs out for use.
If you enlarge the upper photo, you'll see a line of adhesive residue along the bottom.  This was residue from the foam base the charger was sitting in inside the box.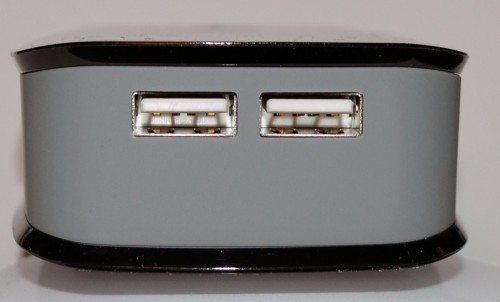 The bottom of the charger has two standard USB sockets.  Although the packaging says it's for use with iPads, iPhones, and iPods, you can use this charger with any USB-chargeable device.  Because you supply your own cables, you don't have to worry that this charger will become obsolete should someone decide to create another proprietary plug for their USB-chargeable device.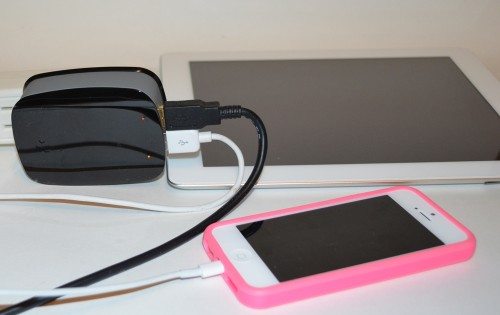 There are two LED status lights on the front of the DoubleUp charger.  If you are charging an iOS device, they'll glow orange while charging and turn green when an iPad has reached 98% and an iPhone is at 90% fully charged.  (I actually don't have anything non-Apple to try to see how the lights react.)  Here you can see I'm charging both my iPhone 5 (with the white Lightning connector plugged into the black USB extension cable, and a 3rd gen iPad plugged into the white cable.  I can charge both my iPad mini (Lightning) and my old iPad simultaneously, too.
The only problem I've had was trying to charge up an old iPad 2 before setting it up to give away.   The iPad 2's battery was completely drained, but it started charging as soon as I plugged it into the DoubleUp.  After a few minutes, the status light went out and the charging status showed as "Not Charging" on the iPad itself.  I unplugged it and replugged it, and the iPad starting charging again.  After a few minutes, I noticed the iPad 2 was showing "Not Charging" again.  I was able to charge that iPad 2 without any problems using its official Apple AC charger.  That iPad 2 has a new owner now, so it's no longer my problem.  The other devices in my house – iPhone 5, iPhone 4, iPod nano (6th and 7th generations), 3rd gen iPads, and iPad mini – all charge well using the DoubleUp.  It's freed up some room on my power strip, too.
The Kanex DoubleUp Dual USB Charger works great for setting up an at-home charging station, and it's small enough to throw in your gear bag to take along on your travels.