We use affiliate links. If you buy something through the links on this page, we may earn a commission at no cost to you. Learn more.
Power – it's what runs a Gadgeteer's digital lifestyle. Until solar power is everywhere or we discover a perpetual motion machine or invent the Mr. Fusion Home Energy Reactor that works on kitchen waste, I guess we'll just have to deal with power plugs and wall warts. So, what about those who travel to other countries on occasion? Yes, there are adapters, and most larger companies have made their power bricks world-ready, shipping a different cable in the box for different parts of the world. But should I have to travel to Europe and go to an electronics store to buy a decent charger? Not any more.
The Charger Pro 4 Rev 2 from Arctic, LTD is a 4-port USB charger that arrives complete with interchangeable plugs that will work in the US, Europe, and the UK / Ireland. The only ones I have seen that are similar are Apple's line of chargers, and their World Travel adapter kit.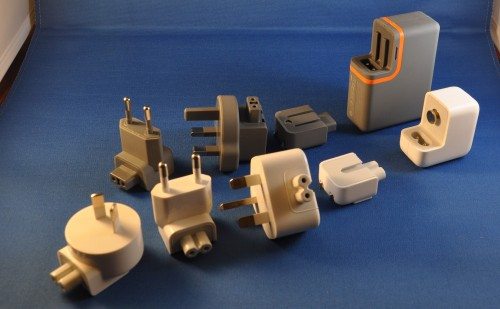 Let's take a look at this little beauty.
Packaged in a welded plastic hanging unit, the main piece is just over 3 inches by just over 2 inches – 7.8 cm x 5.7 cm. The unit is just over an inch thick (2.9 cm). It is a slate grey color, with a striking orange stripe around the socket where the power plugs are attached.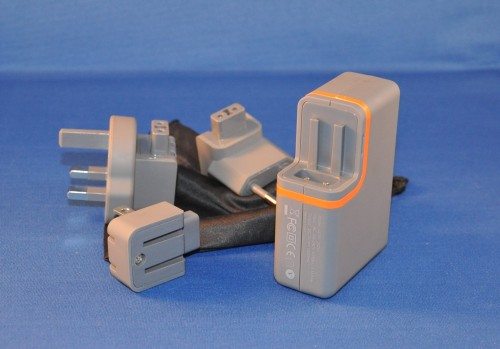 Opposite the plug socket are four USB ports stacked closely together (see top photo). The inner plastic of the top two ports are orange, indicating they are "fast-charge", designed for the higher voltages of the iPad, or to charge regular USB devices more quickly. (There is an earlier version, without the orange ports and stripe, which is not able to provide higher power for iPads.) Included in the package are the two non-US plugs and a black nylon fabric drawstring sack that will hold all pieces together in your baggage.
With the US adapter attached, the whole package is a tight, sleek rectangle. Removing the foldable US adapter and inserting either the three-prong unit for UK/Ireland or the two-pronged EU plug is simple, and the plugs all fit in with a satisfying snugness. They are not going to slide off easily!
In use, the adapter fits inline with US plugs, which may cause a problem with some power strips or outlets. The plug is far to one side, however, so you should be able to arrange things such that only one other plug, at most, is covered. The width of the unit is very narrow, so using an adjacent plug on power strips that are designed for this type use (with the plugs all parallel, rather than in a line) will be just fine. It has no more width than an iPad adapter, for comparison.
I plugged the unit in and tested with my iPhone and iPad. Both indicated connection just like the standard Apple iPad connectors, and charged in the same amount of time. The size of the unit is less than twice the size of an iPad charger, so if you have a bunch of iPads/iPhones/Android/whatever that will need power, this makes sense to be the main charger in your kit. If you're in an airport or café, it may also be the difference between getting power and having to wait until the folks there have topped up. ("Hi, I see you're using the only outlet in the place for your iPad charger. Mind if we swap to mine and both charge?" Ah, a geek pick-up line if ever there was one!)
Since it has higher power capability, the Arctic charger will also recharge your battery packs. Many of these units don't come with a charger of their own, so if you're thinking of getting one to store with your battery pack, this is the one I'd recommend.
In testing, I could find no fault with this device at all, from the function to the manufacturing. It's a great idea that is fully and elegantly engineered to deliver maximum benefit to the user, which is a rare commodity in such a crowded marketplace. Kudos, Arctic!
Five out of five stars.
Product Information
Price:
$30
Manufacturer:
Arctic, LTD. (HK)
Retailer:
various online and in stores
Requirements:

Power outlet, device that needs to be charged via USB, and cables to connect device to charger.

Pros:

Compact
World-ready (includes adapters!)
Nice nappy finish gives good grip for changing plugs

Cons:

Ports are very close together.
Not much else!