We use affiliate links. If you buy something through the links on this page, we may earn a commission at no cost to you. Learn more.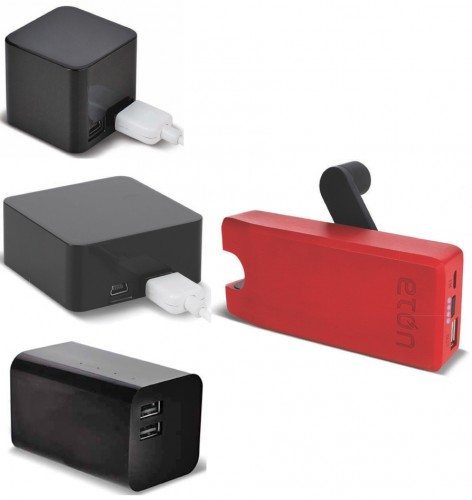 Eton Corporation produces a variety of emergency preparedness gear, and they are expanding their line with two dedicated charging solutions.  First up (right photo) is their BoostTurbine Series chargers.  The BoostTurbine2000 (2000mAh for $59) and BoostTurbine1000 (1000mAh for $49) feature a rechargeable lithium battery and a hand-turbine power generator that serves as a "back up for your back up solution", so you can still power your USB-chargeable device after the backup battery has been drained.  Three minutes of cranking generates enough power for a quick call or a couple of texts.  The 2000mAh model can fully charge a smartphone, while the 1000mAh model can give about a 50% power boost. Both BoostTurbine models are made with an aluminum body and are small enough to fit in your pocket.  The BoostTurbine1000 is available in black; the BoostTurbine2000 is available in black, white, or red.
The BoostBloc chargers have 6600mAh, 4000mAh or 2000mAh rechargeable lithium-ion batteries and one or two 1A USB ports.  The BoostBloc2000 (left, top; $39) can recharge most smartphones once, the BoostBloc4000 (left, middle; $59) can recharge a smartphone twice, and the BoostBloc6600 (left, bottom; $99) can recharge a smartphone three times and can charge a smartphone and tablet simultaneously with dual output USB ports.  All three models are available in black, white, or red, and all three have LEDs that show the battery status when you give the charger a shake.