We use affiliate links. If you buy something through the links on this page, we may earn a commission at no cost to you. Learn more.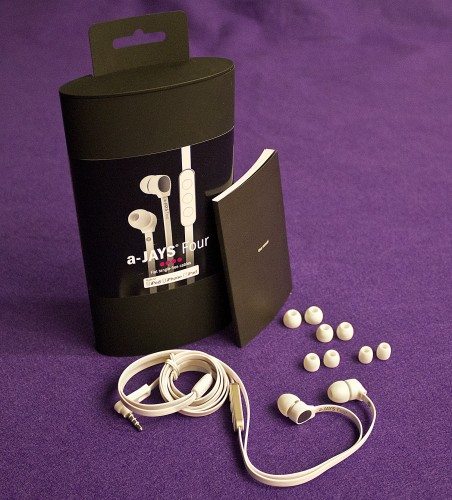 In the past several weeks, I have been reviewing speakers and headphones, but I am back doing some earphones. I had forgotten – for a short while – how important a good seal is. Unless you have a near-perfect fit, you can kiss any bass goodbye. Such is the case with the Jays a-JAYS Four earphones. After trying all five sizes of supplied tips, I just couldn't get a decent seal, thus little bass. Maybe it's my ears, who knows? So I attached my go-to tips I have used in other reviews and … voilà! Instant improvement!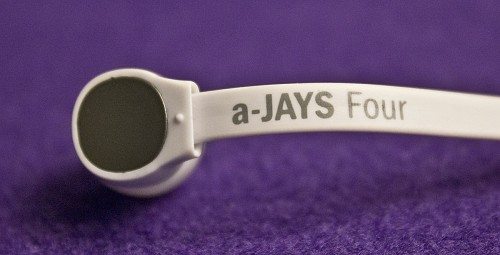 Jays is a Swedish headphone and earphones company known for their forward design, superb audio for the money and excellent build quality. The a-JAYS Four has all of that. They're certainly affordable, especially considering they include a mic and three-button remote for Apple's iPhone (Jays offers the a-JAYS One for Android users). They are offered in black or bright Apple-white.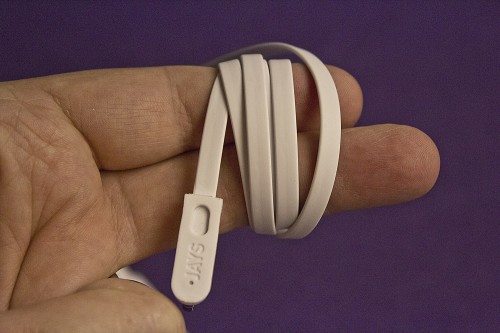 The construction is almost all plastic with brushed-metal looking plastic accents made to mimic the look of the iPhone 4/4S. The cord is wide, flat and totally tangle-free, however the width makes the cord feel noticeable all the time. It doesn't "disappear" like some thin cords can. So there are pros and cons to this approach. Also, microphonics – that scraping and thumping noise you hear when the cord is touched or tapped – can be loud. However, if you've used earphones for a while, you learn to live with it.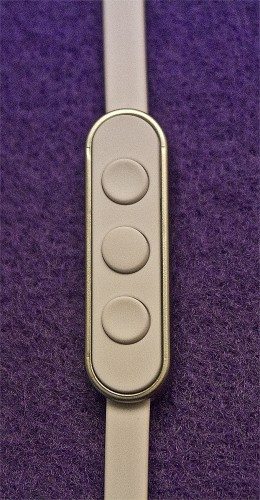 The remote has pause/skip/volume controls as well as the standard phone call features. The mic has what Jays calls "a digital, active surface-mounted MEMS silicon microphone that removes GSM/TDMA burst noise and provides wide-band RF noise suppression." Got that? It basically means your voice will sound clearer with less interference. The remote buttons work with just about any later model iPod , iPhone and Mac laptop. The slightly concave and convex buttons for easier selection is a nice, functional design feature. It works better than you might think. Despite all that plastic, the build feels solid. And the wide cord is pretty strong. The right earphone has a tiny bump on the back so you can feel right from left without looking.
A big drawback to the Jays a-JAYS Four earphones is no case. I've reviewed earphones costing less that include fairly nice cases. Plus, these are white, as in dirt-magnet white. I don't understand Jay's thinking here.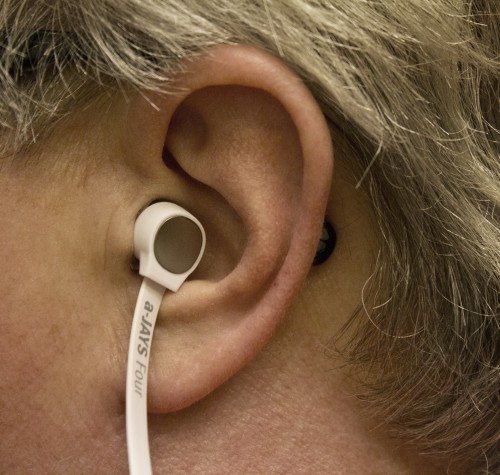 As I said earlier, I am using my ear tips and not Jays included tips for this review. Remember, you will probably have no problem with any one of the five included ear tip choices. Even though my tips gave me all the bass I wanted, it was never overpowering or intrusive. Listening to bass-heavy, more current songs didn't exhaust my ears like some earphones can. Bass is fairly tame on the a-JAYS Four, and that a real good thing. Sound isolation was also quite good. So good, that you need to be careful on public streets.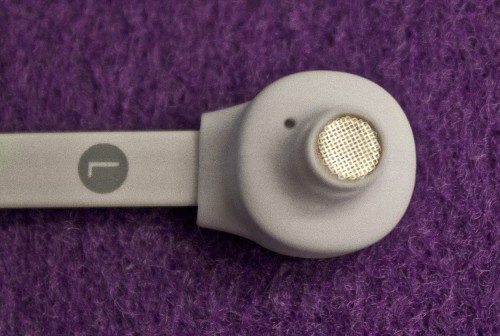 Sampling both older and more recent rock was instructive. I realized that the a-JAYS Fours give what they get. If a song is muddy or indistinct, they will sound that way. Well recorded music gives better results. That's a little unusual for a dynamic speaker type earphone, which is what the a-JAYS Fours are. Usually, dynamic speakers are very forgiving; much more so than an armature-based design. That's not to say the a-JAYS Fours are not forgiving; they are. It's just that they are more accurate than most dynamic-style earphones in this price range.
Note: Dynamic speaker earphones are like tiny speakers that look and act like regular speakers. Armatures don't look like speakers at all. They are based on hearing-aid technology.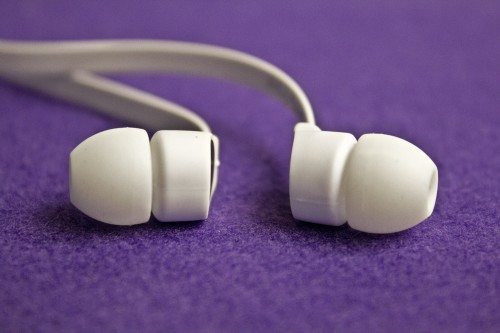 I was able to pleasantly listen to more bass heavy music with the a-JAYS Fours. A more accurate bass lets you listen longer with less fatigue, even if the bass is overdone. However, if a song uses bass at the expense of all else, the a-JAYS Fours won't make the audio cleaner, just more listenable.
"Breathe," from the group Télépopmusik, is a bass monster, but on the a-JAYS Fours, I could sit through the whole song without reaching for Excedrin. The song became fun and it was hard to keep still. Another speaker buster is David Bowie's "Heroes." No, not the original, but a remix done by Dave Guetta on the "Club Bowie" album. This mega bass dance mix tested the a-JAYS Fours at normal volume, but distortion set in when pushed beyond the pain threshold.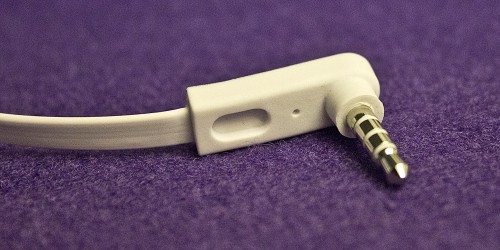 Another note: my listening was done straight from an iPod Classic and also from a Mac using an external digital audio convertor (DAC). I highly recommend a DAC if you are relying on the computer's sound card to listen to music.
The a-JAYS Fours showcased the minor-chord beauty of Boy George's "The Crying Game" in all its haunting, hair-standing wonder. The slight echo of a retro, analog-sounding guitar contrasted with digital synth creates an edge that the a-JAYS Fours did't try to smooth over as other dynamic speakers might do.
In a more classic rock vein, Neil Young's "Country Girl Medley" from the iconic Crosby, Stills, Nash and Young album "Deja Vu," is light on bass and heavy on drama. The a-JAYS Fours let you here that "fifth voice" that comes from the perfect four part harmonizing of these rock giants.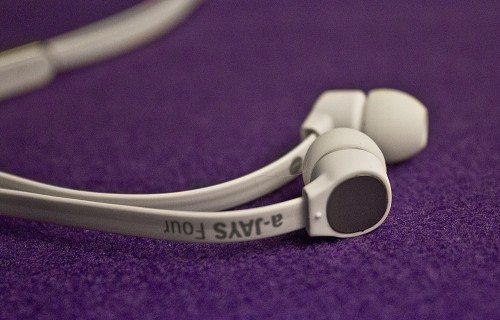 Yeah, there are better, more engaging earphones out there, if you're willing to pay for the privilege. But consider this: Jays have successfully done what many earphone makers try to do. Just make an earphone that sounds great, is durable and looks good doing it and – oh, by the way – keep the price under a hundred bucks. Done.

Product Information
Price:
$79.99 US
Manufacturer:
Jays
Requirements:
Pros:

Cool looking
Accurate bass
Sturdy

Cons:

No case included
White model is a dirt magnet
Tips did not give a good seal (for this reviewer)