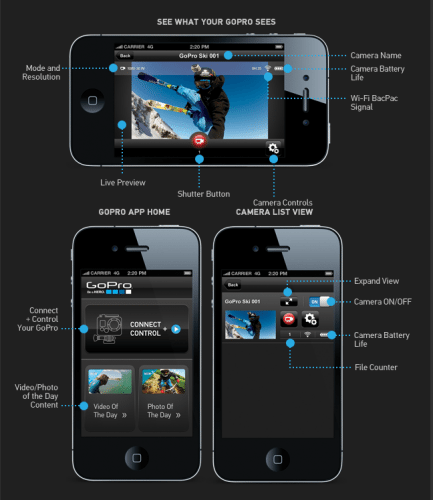 After a long wait, GoPro has finally released their app for controlling your GoPro via your smartphone or tablet with their WiFi BacPac. The current version of the app gives you full control of your camera settings and live previews. However, it's still not all picture perfect.   The additional functions – like being able to share and playback content on your smartphone or tablet, multi camera support and internet streaming which they've touted for many months – still don't exist.  To make matters worse, they've only released an iOS version at the moment, with the Android version "coming soon". The biggest issue is that the app itself has been "coming soon" for many months from when they first announced it.
While the new functionality of the app is welcomed by the GoPro community, there's still a lot of discontent over features that still haven't been released, especially the lack of an Android app. A lot of users bought the BacPac months ago in anticipation of the app being released "soon". 🙁
The app is available for from from the Apple App Store
Some of our links in posts like this one are affiliate links, which means that we may receive a small commission on purchases at no cost to you.