We use affiliate links. If you buy something through the links on this page, we may earn a commission at no cost to you. Learn more.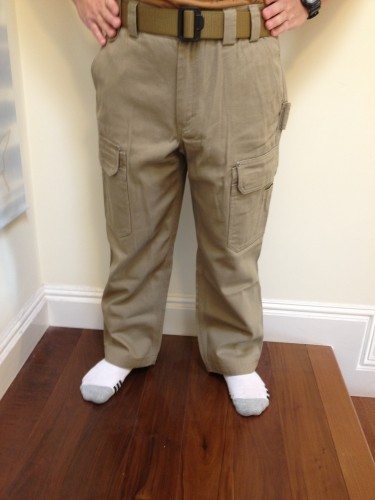 Pants?  On a gadget review site?  Well, how else are you going to carry all your toys?  Today let's look at a pair of tricky trousers, the Fire Hose Work Pants from the Duluth Trading Co.
A little background:  I wear "cargo" or "tactical" style pants every day.  I'm currently a Fire Prevention Officer and EMT, but I first got introduced to Royal Robbins pocketed pants when I was with the FBI.  A company called 5.11 Tactical out of Modesto, CA now carries the pants pattern. If Steve Jobs had a closet of jeans and black turtlenecks, then mine is full of 5.11 pants.  To get me to try something else is a big stretch.  Will these oddly-named Fire Hose Work Pants win me over?
Tough yet soft 11.5-oz. Fire Hose cotton canvas
Prewashed for broken-in comfort
Treated for stain and water resistance
Comfortable crotch gusset lets you bend and crouch
Mid-leg and back pockets with exclusive tuckable capability
Deep 8-oz. Fire Hose pocket bags resist punctures from tools
Durable triple-stitched seams
Imported
Yes, fire hose cotton canvas.  This stuff is thick and durable.  Even at a distance, you can tell this is different.  It's got a nice feel to it.
Let's take a closer look at the pants themselves.  At first, they just look like an ordinary pair of "cargo pants."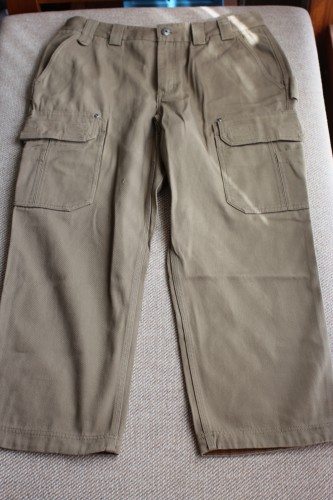 The main attraction:  The side pockets!  These are identical on both sides.  There are three pockets.  The smallest one is open to the outside at all times and large enough for most smartphones.  The new iPhone 5 (shown) will peek out slightly.  And no I would never carry my phone in this pocket.  I'd be afraid of losing it.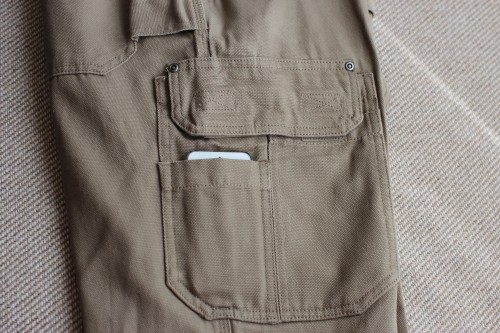 Small pocket measures about 5″ tall.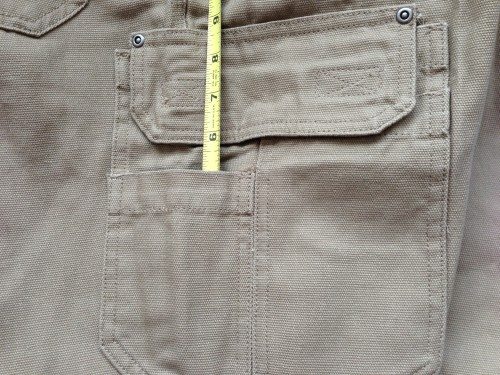 The medium sized pocket (under flap) measures under 7″; the largest pocket a little over  8″.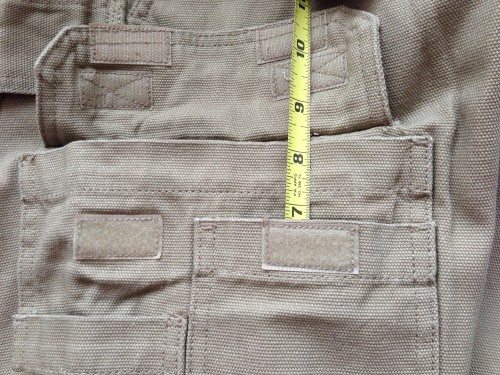 A folding knife fits nicely in the smaller pouch.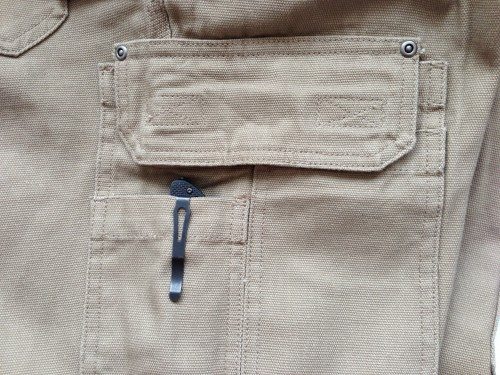 The pocket flaps are held down by hook and loop tape.  If you don't want the flaps, you can tuck them inside where they're held down by a matching set of hook and loop tape.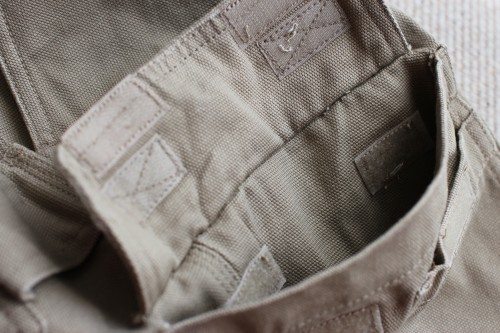 Flap tucked in.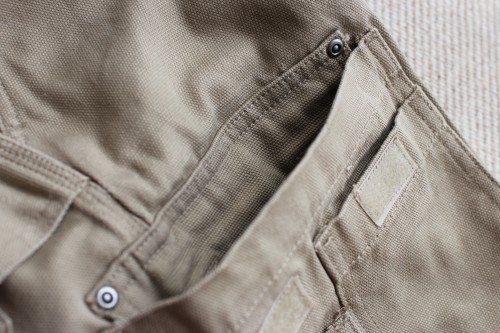 There are two rear pockets with flaps.  The flaps on the right are tucked in to show the difference.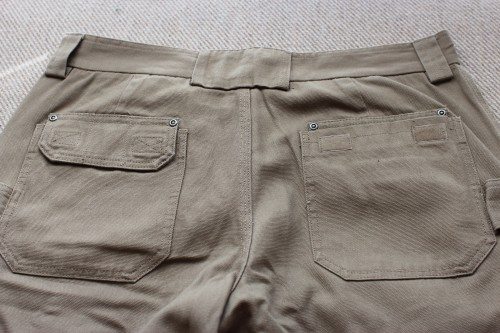 I did notice one defect:  One of the hook and loop fasteners were missing (left).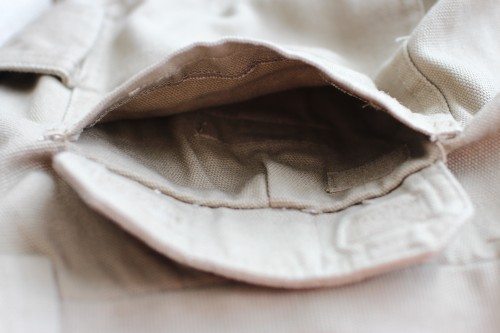 I was surprised to notice that the inside waist liner was nicely appointed with a pleasant contrasting color.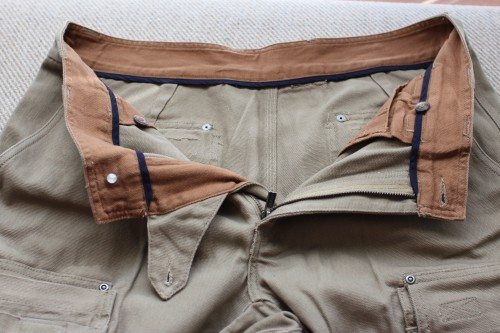 And what's this?  On the inside left leg at the waist, there's a hidden pocket that closes with hook and loop fastener.  The iPhone 5 is peeking out for size reference.  (No, I'm not sure I'd carry my phone in there unless I had to.)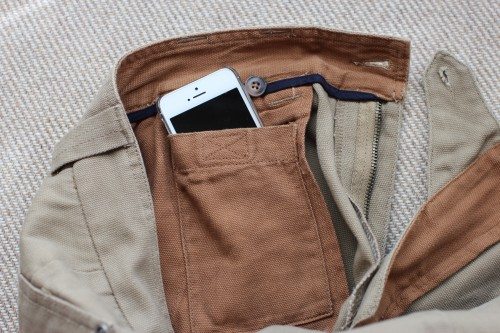 And now a quick side by side shot of the popular 5.11 Tactical pants (Tac Lite Pro, left) and the Fire Hose Work Pants (right).
You'll notice the main side cargo pockets are mounted at different heights.  They're slightly lower on the 5.11 Tactical pants.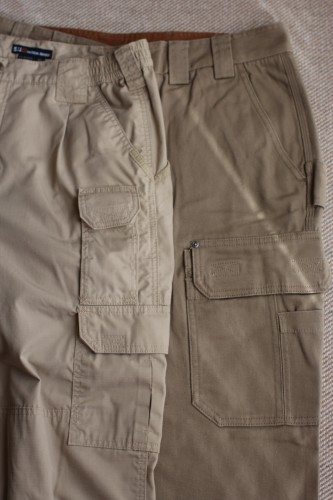 Full side view.  The 5.11 Tactical feature rear "slit" pockets.  The Duluth pants have more traditional jean-style pockets with a flap that can be tucked in.  Notice the elastic waistband on the 5.11 pants.  The Duluth pair are fixed width.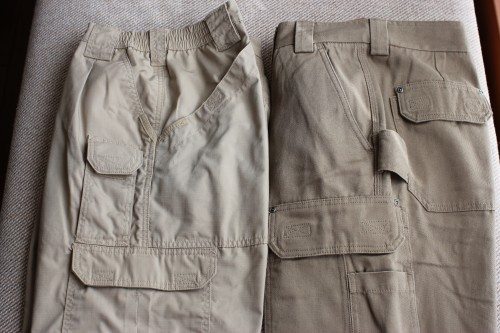 Another view of the cargo pockets.  The 5.11 Tactical pants feature a single upper thigh "magazine" pouch, but the Duluth pants have one small open pouch and two larger pouches under the flap.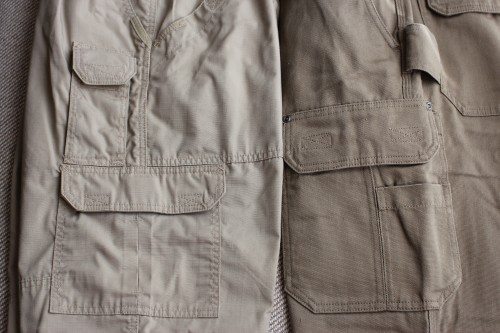 The photos don't show it, but the Duluth Trading Co. Fire Hose Work pants are much, much heavier at 11.5 oz fabric.  The 5.11 Tactical cotton pants weigh in at 8.5 oz fabric, and the Tac-Lite Pro pants (pictured on left) are an even lighter 65% polyester and 35% poly cotton ripstop blend.
The Duluth Trading Co. Fire Hose Work pants feel as extremely comfortable as they are practical.  The 11.5 oz fabric will hold up to quite a bit.  If you prefer something lighter, this may not be for you.
They have them for Women too!
-Julie Strietelmeier
I wanted to jump in here and let you know that Duluth offers women's pants too. They sent me their Flex Fire Hose Cargo Pants ($64.50 (2+ $59.50 ea)) and their Flex Fire Hose Utility Pants ($59.50 (2+ $54.50 ea)). I love love love the Cargo pants. They are soft and comfortable and fit very well. I hate pants that are really snug in the thighs. These pants aren't that way. They feel so good that I could sleep in the cargo pants… ok not really, but they are soft and not overly thick. The material feels a little lighter weight than most jeans. The waist band sits below the belly button, so you don't have to worry that they will look like mom jeans 😉 The front pockets are deep and roomy and the cargo pockets on the legs offer hidden dividers for a total of 9 pockets. The Utility pants are nice too, but the fit is a little too big for me, so by the middle of the day they were feeling a little loose and baggy. I may try washing them in hot water to shrink them a big. The Cargo pants feel perfect every time I put them on. I'll be ordering more.
Updates 08/22/16
I don't know about Andy, but I'm still wearing the pants that they sent me almost 4 years ago. In fact, I'm actually wearing a pair of them right now. It's tough to find women's pants with side pockets that can hold my EDC without looking too bulky or manly. The women's pants from Duluth are just right (for me). I now have four pairs of the pants and they've held up well over the years and hopefully even more years to come.

Product Information
Price:
$64.50 (regular), $69.50 (big/tall)
Manufacturer:
Duluth Trading Co.
Pros:

Heavy duty fabric
Lots of pockets, can go with or without flaps.
Hidden inside pocket is a plus.
Comes in 8 colors.

Cons:

Feels heavier than your average jeans, if you prefer something lighter.