We use affiliate links. If you buy something through the links on this page, we may earn a commission at no cost to you. Learn more.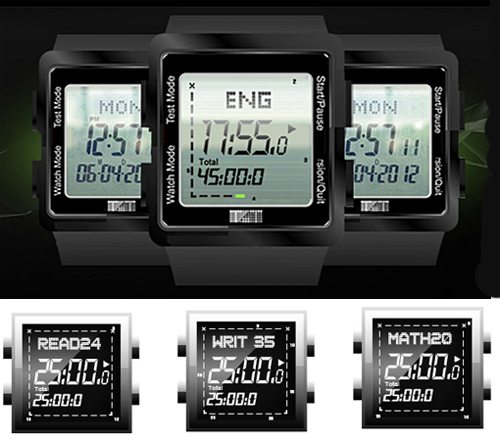 It's that time of the year, when high school juniors and seniors start standardized testing for college admissions.  There's a long list of what you can and can't bring into the testing room, and watches for keeping track of testing times are one of the few allowed things.  My daughter grew up in the digital age, and she has trouble telling time quickly with the old analog clocks in the rooms of most classrooms.  This makes it harder for her to estimate how much time she has left to complete a section, and even a digital watch on her wrist won't tell her how much time she has left to complete a section.  If she had a Testing Timers watch, she'd know at a glance – without wasting a second of testing time trying to calculate how much time she has left.
Testing Timers digital watches are designed specifically for standardized testing; there's a model for the ACT and one for the SAT.  Each model is set up with information about each section of the test: subject, number of questions, and time allowed.  They meet all criteria to bring in to the ACT or SAT test room.  Once testing begins, simply choose the correct category for the section.  As the test progresses, you'll be able to instantly see how much time you have to finish so you can pace yourself.  The Testing Timers work great for practicing for a standardized test as well as they work for taking it, too.  When you aren't testing or practicing, the Testing Timer serves as a standard digital watch.
Right now, only the ACT version is available for $39.99.  They should ship beginning 11/10, but you can pre-order now.