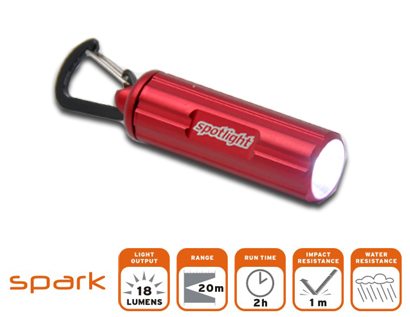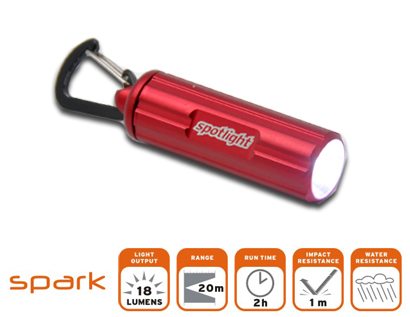 You're just come in from a night out, and find that someone's forgotten to leave the front porch light on for you.  You can't find the right key, and you can't see the keyhole properly.  Sound familiar? The Spark from Spotlight is a small and portable flashlight than can easily be connected to your keyring, access card, lanyard, bag zipper, or a multitude of other places to help you out when you find yourself in these sort of situations.  Find out more after the break.
Packaging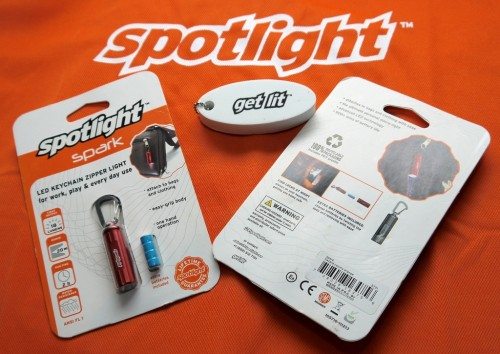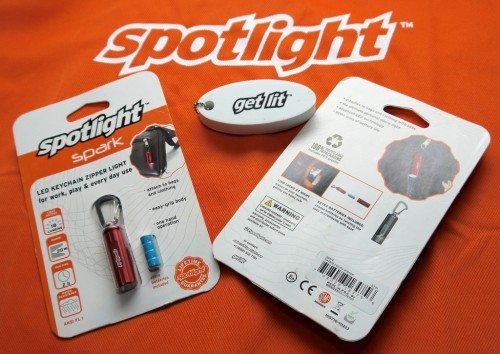 The Spark comes in your standard blister pack. Not my favourite packaging, especially when you have to open them, but obviously the blister pack allows you to put a lot of information about your product, especially for one like this one that's so small.  One small error, the ANSI FL 1 rating on the front shows a 2 hour runtime, while on the back it notes a 900+ minute runtime.  I suspect that the 2 hour one on the front is the correct one. 🙂
Construction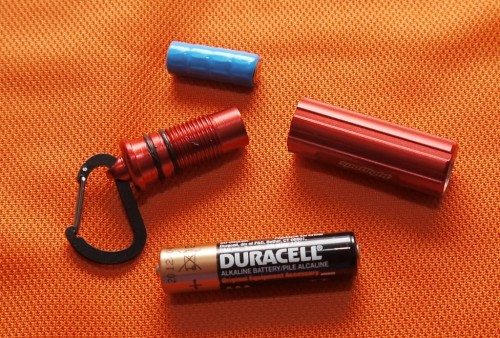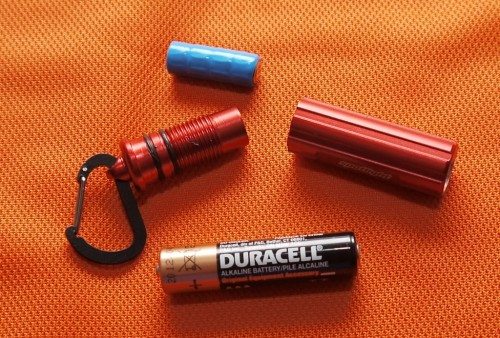 The Spark is constructed of anodized aluminium, is only 4 centimetres in length, and is powered by a cluster of 4 X LR754 (AG5) batteries which are relatively cheap and easily obtainable when you need replacements. The Spark actually comes with a spare set of 4 in the packet as well. It's currently available in 3 colours: race car red, jet black and time machine titanium.
By unscrewing the back cap, you can insert the battery pack.  Note the O-rings on the tail cap which mean that the Spark is water resistant (IPX4). There's a small carabiner on the tailcap for attaching the Spark to whatever you want to. Spotlight offers a lifetime guarantee.
Lens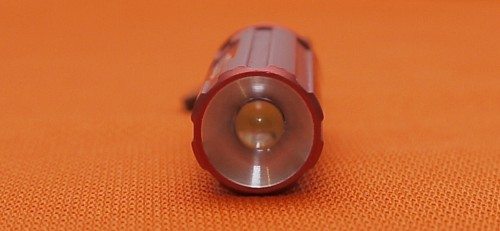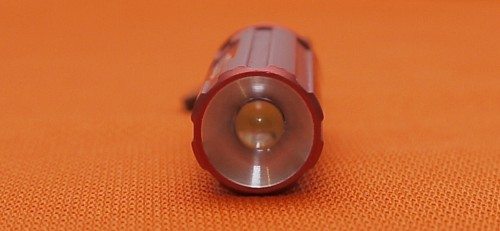 The front has a focused lens.
On the keyring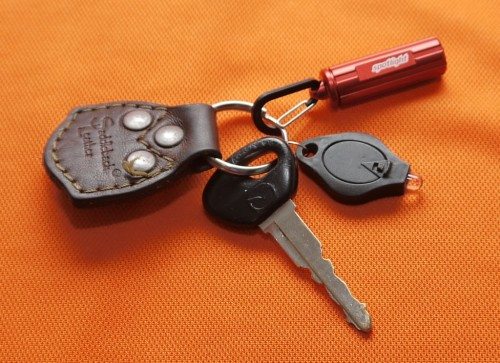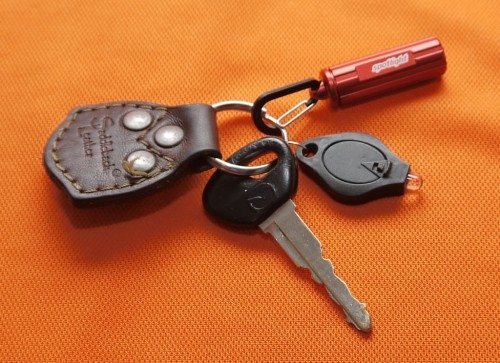 Here's the Spark on my keyring next to my Dealextreme Keyring LCD. The flashlight is operated by turning the body clockwise while holding the cap stationary, closing the circuit. The Spark is nicely knurled for grip. I'm a bit wary that the body might twist by accident while in your pocket, thereby draining the batteries, however this hasn't happened to me yet.  The O-rings do create some resistance to turning.
Beam shot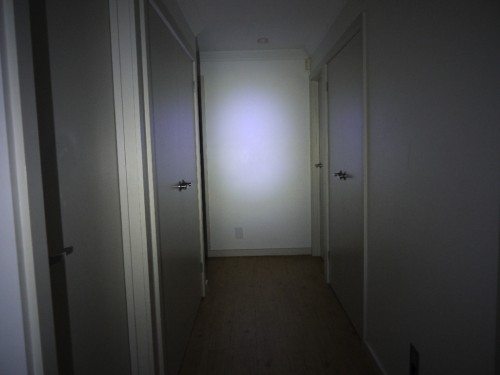 The beam shot is taken down my approximately 6 meter (18 feet) hallway. While the Spark isn't really meant for this purpose, you can see that you actually get some pretty good illumination.  The beam is nice and white.  Where the Spark really excels is for much closer work – finding a keyhole, searching your glovebox, and functions like that.
Conclusion
Small and light, the Spark is an easy flashlight to have with you at all times, especially with the included carabiner. It's not going to light up a concert hall, but that's not the purpose of this unit.  If you need something with you for those "emergencies" when you need additional light, the Spark is definitely worth considering .
Some of our links in posts like this one are affiliate links, which means that we may receive a small commission on purchases at no cost to you.
Product Information
Price:
$14.95
Manufacturer:
Spotlight
Pros:

Small
Light
Bright
Carabiner gives you flexibility in how you carry it
Lifetime Guarantee

Cons:

On/Off mechanism means it can may turn itself on or off in your pocket by accident.