We use affiliate links. If you buy something through the links on this page, we may earn a commission at no cost to you. Learn more.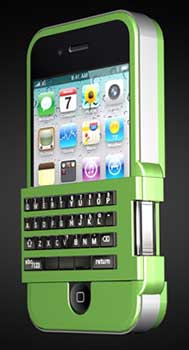 There must be 100's of iPad keyboards on the market, but you don't see many keyboards being offered specifically for the iPhone. The ones that you can find aren't nearly as cool as the Spike Keyboard which is currently seeking funding through Kickstarter. The Spike Keyboard will be available in 2 versions. They both feature a small QWERTY physical keyboard that is positioned over the iPhone's display and can flip out of the way when you aren't using it. The Spike 1 requires you to pull off the bottom half of the case and rotate it to the back. The Spike 2 keyboard has a 360 degree hinge that enables you to flip the keyboard all the way around so that it snaps to the back of the case when it's not being used. The really interesting fact is that the keyboard does not require any power or a Bluetooth connection. It uses something that they are calling Disruptive Technology. My guess is that each key is like a tiny capacitive stylus that touches the iPhone's onscreen keyboard.
If you want to get in on this project, you can pledge $20 for the Spike 1, or $40 for a Spike 2. If you want one of the anodized aluminum Spike 2 keyboards shown in the image on the right, you'll need to pledge $150.