We use affiliate links. If you buy something through the links on this page, we may earn a commission at no cost to you. Learn more.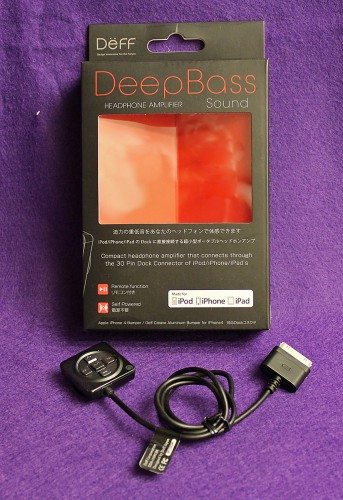 The new Deep Bass Active Control Headphone Amplifier from Draco has me a bit confused. Draco likes to hype the strong, deep bass of this amp and yet, I am happy that they failed to do so. Sort of. See what I mean by confused? If you're a bass head and you bought this amp thinking it would put you in some booming, audio nirvana, you will probably be disappointed because you just spent 70 bucks on something that doesn't work as advertised.
And that's why I love it.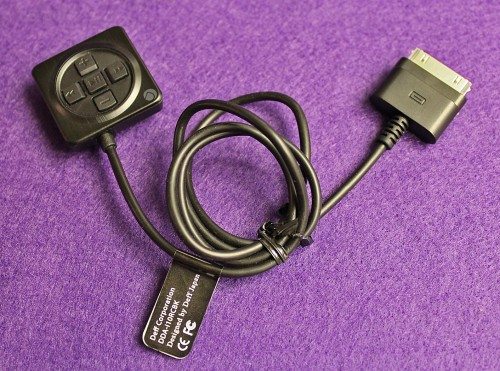 The aluminum and plastic Draco Deep Bass Active Control Headphone Amplifier is a small, black, unobtrusive accessory that plugs directly into the USB dock port on the iPod (or iPhone/iPod Touch/iPad). Since it uses this dock port, the volume buttons on the iPod no longer work – although strangely, pause and skip still do. The controls on the amp are easy to use with recessed buttons. Because they are black-on-black, they're a bit hard to see in anything but bright light. The amp is powered by the iDevice, so batteries are not needed. There is a handy, built-in clip on the back that helps keep the controls in easy reach. The Draco web site is lacking in specs but for all you gear heads, I was able to get them directly from Draco :
Output Power:
100mW (16 ohms Loaded)
12mW (300 ohms Loaded)
Signal to Noise Ratio: 95dB
Distortion: < 0.009%
Frequency Response: 20Hz ~ 20KHz
Suitable Headphone Impedance: 16 ~ 300
Power Supply: 3.3V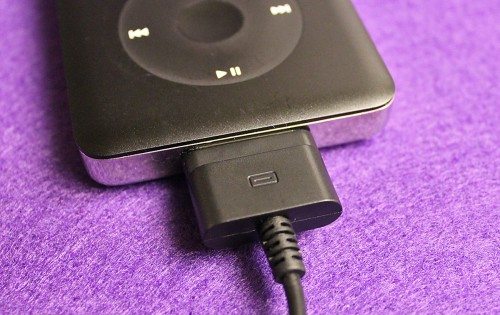 Although the amp connects via the docking port, there is no built-in digital audio convertor (DAC). It amplifies only the analog signal coming from the port.
There is nothing to set up. Just plug into the dock port and then plug your earphones into the amp and that's it. The Draco amp could come in handy during exercise because once connected, the iPod can be put away and not touched by sweaty hands.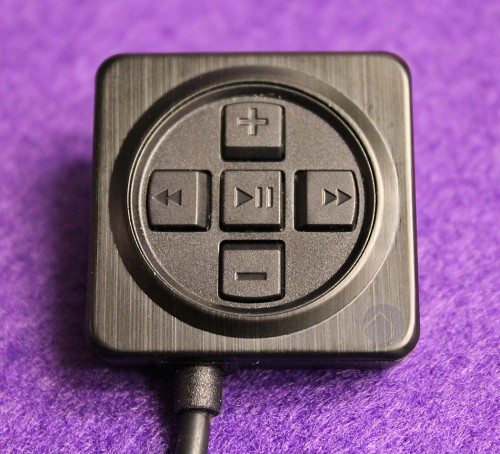 So why does a product that boasts about deep bass enhancement – but really doesn't all that much – make me happy? Because the Draco Deep Bass Active Control Headphone Amplifier works better than advertised in other ways. Let me explain. This amp does not actually make bass a dominant feature, which is what any bass head would want. No, this amp takes the bass that's already there and makes it as accurate as it should have been all along. This amp makes music more punchy, upfront and just plain fun. That includes bass, and the mids and higher frequencies, as well. It reminds me somewhat of the SRS Labs iWOW 3D, but does a better job – although the Draco amp is not nearly as good looking and is also slightly more expensive.
I decided to test the Draco amp using a pair of extremely treble-happy earphones, the ClarityOne earbuds, and then balance it out with one of my favorite all-round high-end earphones, the Grado GR10.
If there is anything the ClarityOnes need, it's bass. These very accurate earphones are bright, sometimes bordering on harsh, depending on the music. Bass can only help here. Using my iPod classic, the amp managed to round off the harsh edges without using bass to drown out the treble. The low, mid and high frequencies compliment each other in a nice balance. Yeah, there seems to be more bass, but there is also more of the good stuff, too.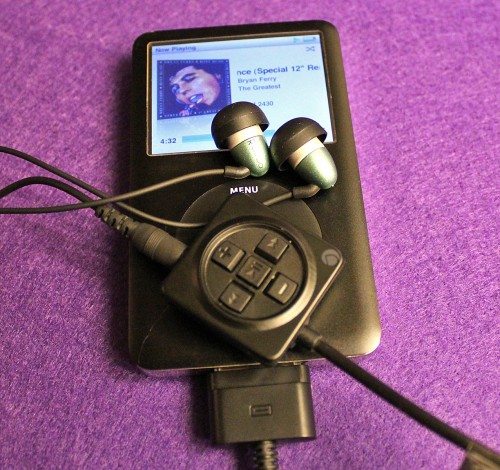 A good example of this is the Ultravox track, "Mr. X," from the seminal 80s album, "Vienna." This song has a strong, electronic bass line, but is also too bright in the higher frequencies. Switching to the Grado GR10 earphones does nothing to mask this. However, with the Draco amp, the harsh highs are gone and the bottom end is a little more clear and less boomy. What was once almost unlistenable is now fun to experience. The ClarityOne earphones were less accurate on the bass using the amp, but the highs were at least tamed. Without the amp, the highs were almost painful and the bass was anemic.
Overall, the Draco amp seems to exhibit more of an improvement using the ClarityOne earphones than the Grado GR10s, which is not surprising. I also tried the amp in my car, which is definitely low-fi and old. The audio was not helped enough for me to use more often, so I didn't.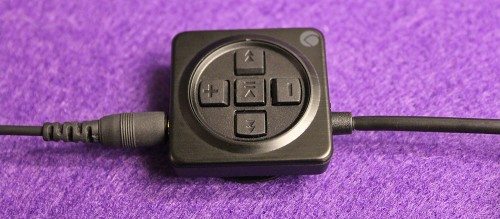 One thing that is also immediately noticeable is volume. The Draco amp makes everything louder, so the volume will need to be set lower to maintain the same level. There is also the issue of background noise. During pauses, or quiet parts of songs, sometimes a faint hissing sound can be heard, especially on older, analog recordings. This is the tape hiss from a recording's master tape. Digital recordings don't have it. The Draco amp helps lower this hiss, but does not completely eliminate it.
The Draco Deep Bass Active Control Headphone Amplifier will improve the audio from your iDevice, but it also does more than what is advertised, just not in ways you might expect. Depending on those expectations, this can be disappointing or very good. I vote for the latter.
Product Information
Price:
$69.99 US
Manufacturer:
Dracodesign
Retailer:
Dracodesign
Requirements:
Pros:

Improves overall sound quality
Easy to use controls
Not just for bass enhancement
Helps round off treble harshness

Cons:

Not just bass enhancement
Not pretty
a bit pricey