We use affiliate links. If you buy something through the links on this page, we may earn a commission at no cost to you. Learn more.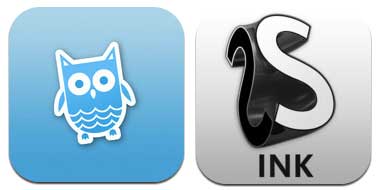 I've been trying two new art apps on my iPad this week. One is Doodle.ly and the other is SketchBook Ink. One is like Twitter for doodlers and the other is a spinoff app from Autodesk's popular SketchBook Pro app. This isn't really a review, but more of a quick look at both apps.
Doodle.ly (available for FREE at  iTunes) is basically a social media sketching app. Think of it as Twitter for doodles.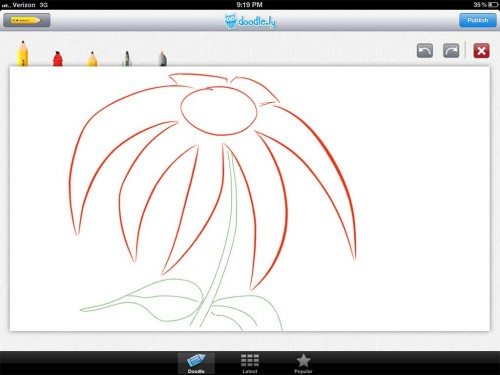 The interface is pretty easy to understand because there isn't much to it. You have 5 tools that vary in thickness and color. For example, the pencil has a small point that can only be used with shades of grey. The Sharpy tool has a larger tip and 8 color choices.
You can't zoom in, and there are no shape tools. It's just a very simple drawing app.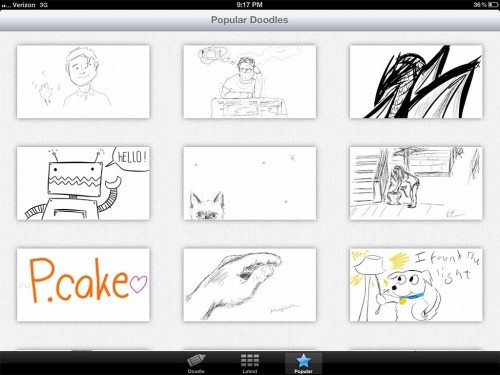 The idea is that you publish your doodles so that people can see them and Like them. You do this by connecting to your Twitter or Facebook accounts. You can look at recently uploaded images and popular images. You can even see and publish doodles through a standard browser, which actually offers more drawing tools than the app. I think it's strange that there's no way to comment on the doodles or follow your favorite doodlers.
Doodle.ly is free, so it's hard to criticize it.But I think it needs some polish if it's going to take off and become popular.
SketchBook Ink (Available for $1.99 (normally $4.99) from iTunes) comes from Autodesk, who offer the popular SketchBook Pro drawing app for iOS and Android.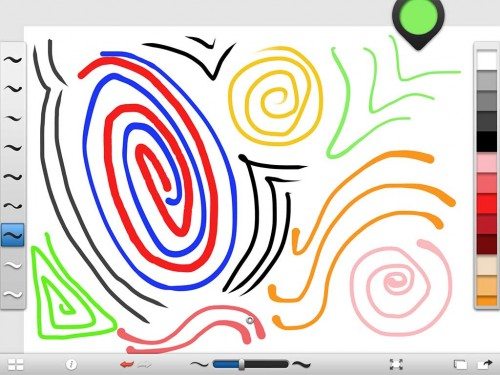 SketchBook Ink is a much more basic version of SketchBook Pro. I offers 9 ink tips and a color chooser that is very similar to the one in SBP. It also offers an undo/redo feature, zooming gestures and the ability to import a background picture, which you can use for cheating tracing.
Some of the ink tips are pretty cool. As you draw with them, the line thickness will change like the flow of real ink. It reminds me a little of the Paper app.
More advanced features that aren't offered in SketchBook Ink are layers, fills and shapes. After playing with this app for a little while, I am confused why it's being offered as a stand alone app. The special "ink tips" should just be added in to SketchBook Pro if you ask me… I don't think as a stand alone app that it's worth the full price of $4.99. That's the same price as SketchBook Pro, which has many more features that justify the price. Even the $1.99 sale price seems a bit too expensive for what this app offers. I might pay $.99 for it if I didn't have any drawing apps at all. But since I already have a bunch of them, I'd probably just skip this one until more feature are added.