We use affiliate links. If you buy something through the links on this page, we may earn a commission at no cost to you. Learn more.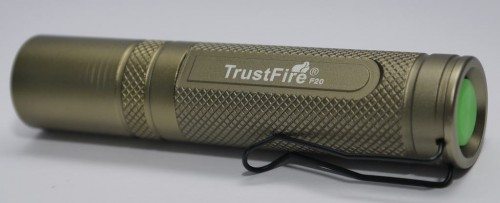 A good torch is one of those essential things that every Gadgeteer has to own. I use mine every night to read by, and of course it's always useful if you have a power outage or if you have to go outside to look for the cat 🙂   When I travel overseas, there's a few things I always take with in my EDC messenger, and a torch is definitely one of those things. In Siem Reap airport, I was stopped at the X-ray scanners  and figured it must have been the syringes I was carrying for my medication; however, it turned out that the security guard had seen my torch.  He turned it on and was amazed by how strong it was and proceeded to run around the terminal shining it in his work colleagues eyes before returning it to me and letting me through 🙂
My longtime standby used to be a 2 AA Mini Mag (bulb and then LED upgrade) until I discovered Chinese-produced Trustfire LED torches a few years go.  Cheap and cheery, but how do they perform ?
Now I can't afford or justify the latest/greatest brand name torch (like the Surefire UB3T Invictus 🙂 ), so some of the Chinese LED torches are a great option.  There's so many of them available out there but be wary, you can't trust the specifications that many of them put on their product, and sometimes quality can be hit or miss. Trustfire has been producing torches, batteries and torch accessories since 2004 and has a wide range from small AAAs to much larger and brighter units.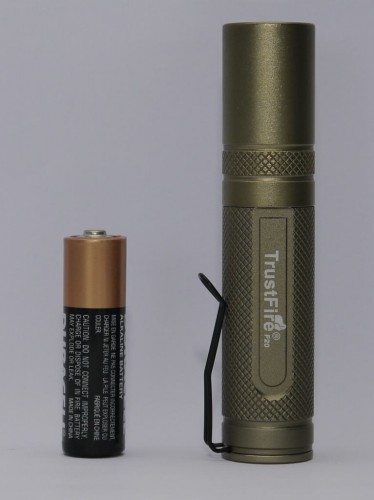 Now, for an EDC, you can't beat a AA torch, the nice thing about AA being that you can easily pick them up in whatever country you're in. That being said, the Trustfire F20 torch is digitally regulated and will also take 14500 Li-ion batteries, if you need extra power. The F20 is nice and small at 3.78 in x 0.94 in x 0.83 in and weighs in at 1.52 oz, not overly light, but it's always nice to have some heft to a torch when you're carrying it.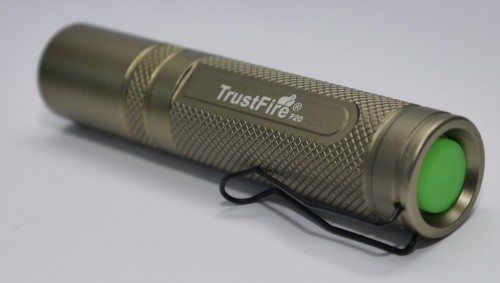 The manufacture on the F20 is very good.  Often, cheap Chinese products look…well….cheap :), but the milling and finishing on the F20 is impeccable, no rough edges or left over burrs. The F20 comes with a handy carry clip attached, but it's not removable –  which is both a blessing and a curse.  The clicky tail cap switch is glow-in-the-dark, and the torch has 5 mode settings: low, medium, high, SOS and fast strobe. I'm not sure that I'll ever use the SOS or strobe but I suppose it's nice to have them if I ever get stuck in the bush or something.  Modes are set by half-pressing the switch to cycle through the different modes.  The torch remembers the last mode you set it in when you turn it off (by a long press on the switch).
The switch is recessed, which sometimes does make it a bit hard to hit quickly; however, this has the added advantage that the torch can be stood on its tail. This is useful when you want a "candle-like" glow rather than a more directed light, quite useful in a power outage or when camping in a tent.
The manufacturer's stated runtime is indicated at 60 minutes, though there's no indication of if that's with an alkaline or lithium-ion battery, and there's also no indication of the mode used.  I've had this thing running now for a couple of weeks with a Duracell AA on low, and I have used it for MANY more hours than the indicated runtime.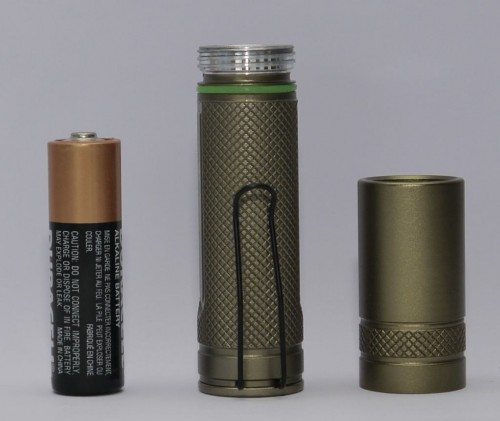 A good sign of the quality (or lack thereof) of  Chinese torches is the quality of the threads.  Again, on the F20 the thread is nice and clean.  There's a glow-in-the-dark o-ring that makes the torch water resistant, though I'm not actually sure why they decided on glow-in-the-dark since this ring will hardly ever see light. 🙂 One thing with this torch is that it's only a 2 piece unit which would make it hard to get to the tail switch if you ever have to.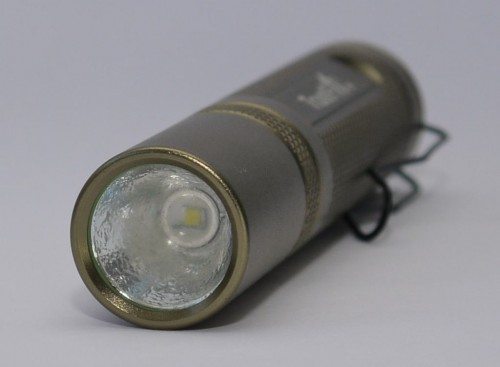 The reflector is an aluminium textured affair and the emitter is a Cree Q5-WC white. Around the lens is another glow-in-the-dark o-ring for waterproofing. It glows nicely once you've used your torch for a while and then turn it off.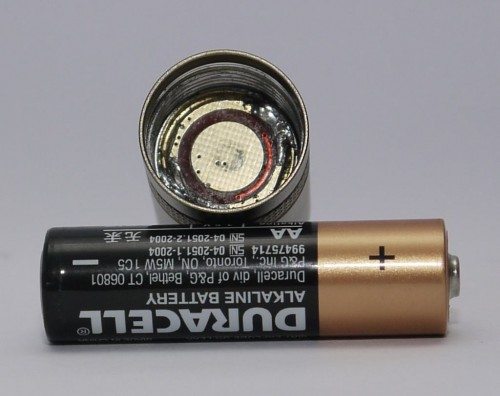 There's one place where you can see the lack of real quality and build control on this torch, but it won't stare you in the face every day. Now I'm certainly no solder jockey but I'm pretty sure that even I could do a better and cleaner solder job than the one someone's done on the emitter.  That being said, it certainly hasn't caused me any issues.

Here's the 3 different power levels looking down my approximately 6 metre long hallway (click on to enlarge).  You can see there's a substantial difference between the high mode and low mode.  The low mode is perfect for me to read in bed without the wife complaining about the bright light; the high setting illuminates the area really well and is useful for finding your way around if you should get lost in the dark. Not bad for such a small and cheap AA-size torch.
If I had to pick on anything – it would be nice if the clip could be removed and if there was a hard tether point for a wrist strap or similar. At times, if there's a fresh Eneloop in it, the regulator will also give off a bit of a hum. Not loud enough to be annoying, but loud enough to be noticed.
This torch and brand can be found on Ebay or on many Chinese sites. I tend to purchase from Dealextreme as I've always had good dealings with them.  They have a good support team, and their products have end user reviews. Dealextreme has taken quite a few of my hard-earned dollars when I need a cheap gadget fix 🙂
At under $12US shipped from China, this torch really is a good value.   If I lose it or it dies, then I haven't thrown too much money away. It's well constructed and bright. I'd highly recommend this torch for someone looking for a low-cost EDC AA flashlight.