We use affiliate links. If you buy something through the links on this page, we may earn a commission at no cost to you. Learn more.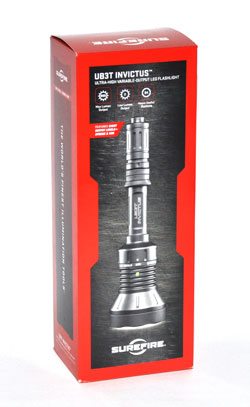 Over the years, I have reviewed multiple very nice flashlights. The cream of that crop has always been the SureFire flashlights I have had the privilege to review. There is little argument that the folks at SureFire make extremely well made hardware. However, many comments in my SureFire reviews say they are too expensive and that there are comparable, less costly alternatives. So, to get price out of the way, the recently released SureFire's UB3T Invictus LED flashlight is a whopping $700. I suggest we set that fact aside for a moment to see just how impressive this high end lantern really is…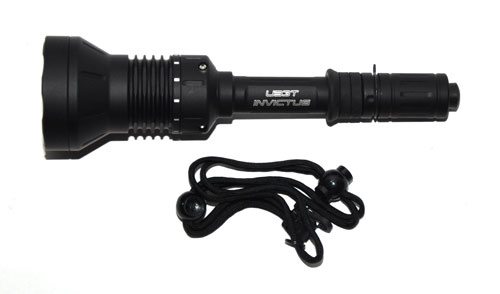 Other than the Invictus itself, SureFire includes 3 – CR123A batteries and a lanyard.
Operational Design: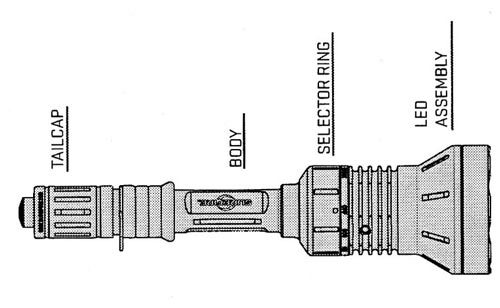 Operationally, the Invictus is (in many ways) a more powerful, somewhat more feature rich version of SureFire's U2 Ultra LED Flashlight I reviewed a few years ago; mainly in its ability to dial in what output you need.  Although, the Invictus has a few more tricks up its sleeve that we will discuss in a bit.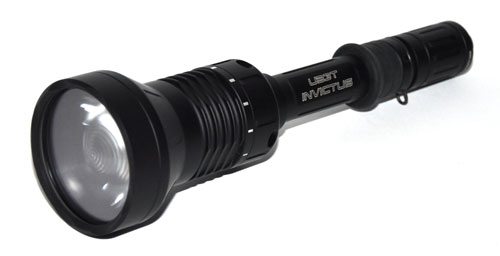 The Invictus is VERY well made.  It is constructed of high-strength aerospace aluminum, mil-Spec hard-anodized for 'extreme' durability. It feels solid and able to withstand the test of time and the hard road taken.
Specifications:
LED: Not sure exactly which one/type. I contacted SureFire and they literally would not tell me. The tech said it was propitiatory information.
Weight (w/batteries): 12 oz (340 g)
Length: 8.9″ (22.6 cm)
Bezel Diameter: 2.5″ (6.4 cm)
Batteries: 3 x CR123A Lithium Batteries
Power Settings and Runtimes: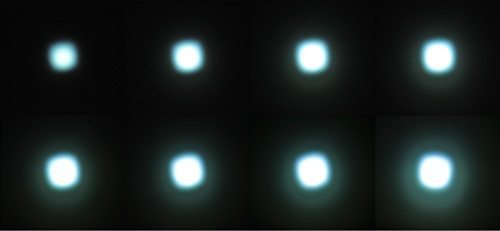 Stage 1: Off
Stage 2: SOS
Stage 3 (Low/Min): 2 lumens, 84 hrs
Stage 4: 8 lumens, 48.5 hrs
Stage 5: 15 lumens, 27.5 hrs runtime
Stage 6: 30 lumens, 25 hrs runtime
Stage 7: 80 lumens, 14 hrs
Stage 8: 160 lumens, 7 hrs
Stage 9: 325 lumens, 3.5 hrs
Stage 10 (Tactical/High/Max): 800 lumens, 1.75 hrs
Stage 11: Strobe
Features:
Virtually indestructible LED emitter regulated to maximize output and runtime
Eight light-output levels—high for maximum light, low for extended runtime
Strobe for tactical applications
SOS beacon for emergency or signaling
Selector ring provides simple control of output level
Large Turbohead TIR lens produces tight, extended-reach beam
High-strength aerospace aluminum body, Mil-Spec hard-anodized for extreme durability
Coated, tempered window resists impact and thermal shock, maximizes light transmission
CombatGrip for secure hold in all conditions
Tactical Max-Blast ™ tailcap switch—press for momentary-on at selected light-output setting, press further for maximum light output, twist for constant-on at selected setting, twist fully for maximum output
Fuel gauge indicates battery charge level
Weatherproof O-ring and gasket sealed
Includes high-energy 123A batteries with 10-year shelf life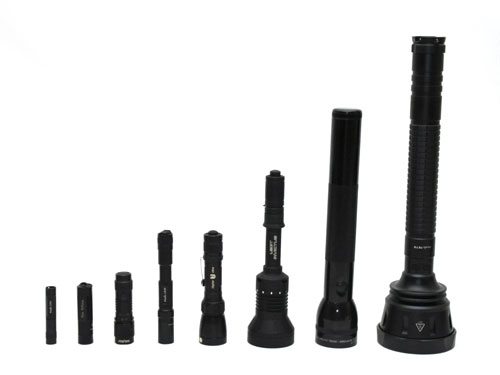 As you can see, for its power and capabilities, the Invictus packs quite a punch in a relative small package. It is approximately twice the volume and weight of the U2 Ultra LED Flashlight to its left. Not bad considering the Invictus is eight (8) times more powerful and has several added features that the U2 Ultra does not.

The control ring has a solid, well-made feel/action to it. There are definite notches at each setting. The selector ring feels firm, reasonably stiff, and locks into place. The selector ring provides simple control of output level. For any size, big or small, the Invictus is very feature rich. Along with its eight (8) different power settings, the Invictus has SOS and strobe settings; both can be a useful tool out in the field. They are definitely a positive when needing to attract help when you are in trouble.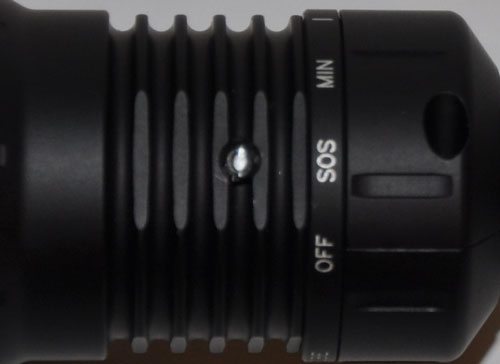 A well thought out feature of the Invictus is the multicolor LED power indicator or 'Fuel Gauge' as SureFire calls it. The Fuel Gauge lets you know if your battery reserve is high (green), medium (yellow), or low (red).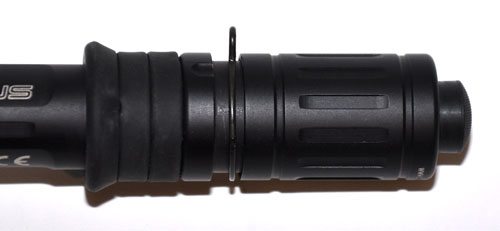 The tailcap is a two-stage screw/press-style tactical switch. Meaning, the cap itself can be screwed down part way that locks the flashlight with the power on at the selected setting. Or can be screwed in all the way, to lock the flashlight on the high setting no matter what power level (except SOS and strobe) it is on at the time.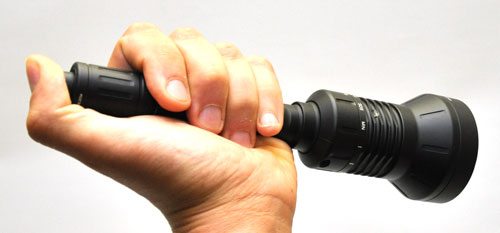 The end trigger can also, when half pushed in, temporarily power on at the selected setting.  When pushed in all the way, the Invictus is at the high setting no matter what power level (except SOS and strobe) it is on at the time.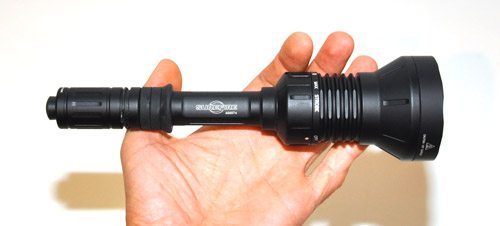 The Invictus is a very nice size and weight, especially considering its light output. It has a good feel and balance to it as well.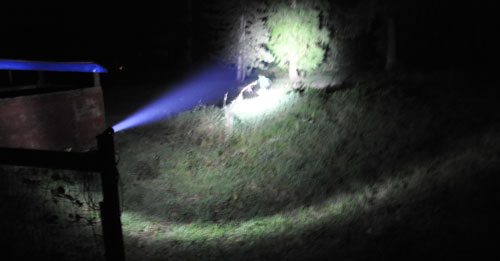 The Invictus' 800 lumens of brightness does a great job of lighting up our 1.5 acre pasture/field. I had the UB3T set on its highest setting and gave the Gadgeteer Kid plenty of light to whiz the dog. As you can see, the UB3T's optics/lens shoots a relatively tight, narrow-focused beam with some spillage to the sides. Although, it is not as tightly focused as the Fenix TD-70 center beam and does widen with distance.
The bottomline is that the SureFire Invictus is a great flashlight, potentially the nicest of my rather extensive collection. It's quality and features are second to none. At $700, it is difficult to say it is a must have in today's leaner economic climate; actually even in the economic boom, it would be a stretch. That said, if you have the funding and need (&/or desire) for this type of high end, feature-rich flashlight….the SureFire Invictus will not disappoint.
Product Information
Price:
$695.00
Manufacturer:
SureFire
Pros:

- Excellent build and material quality
- Great feature set/capabilities
- Eight light levels
- SOS and Strobe settings
- Both moment-on and locking screw cap
- Weatherproof/water resistant, O-ring and gasket sealed
- Well sized and weighted

Cons: