We use affiliate links. If you buy something through the links on this page, we may earn a commission at no cost to you. Learn more.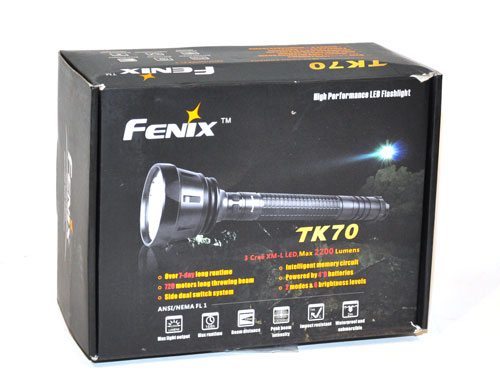 I have reviewed many fancy flashlights on The Gadgeteer, most of them relatively small, compact and for their size, pretty bright. Well, this time I am reviewing the Fenix TK70 courtesy of Fenix Outfitters. The TK70 is neither small nor lightweight but is supposed to be brighter than all my other flashlights combined….car light on high beam bright 🙂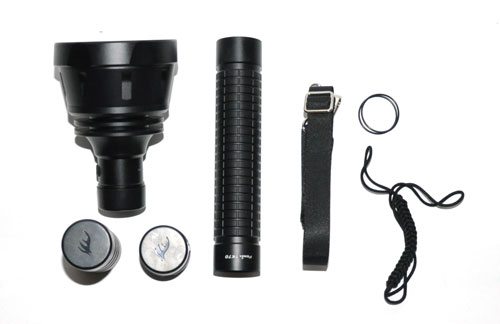 Along with the LED head, two body components and end cap, Fenix includes a lanyard, handle strap, and extra o-rings.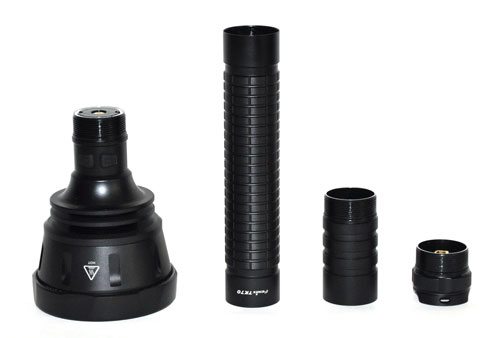 The pieces of the TK70 screw together very much like the lightsabers the Gadgeteer Kid and I built/reviewed a few years ago. The finely threaded aluminum tubes easily twist together. The aluminum is aircraft-grade and durable, coated with a Type III hard-anodized anti-abrasive finish.

The Fenix TK70 uses three high powered Cree XM-L LEDs with a (theoretical) lifespan of 50,000 hours. Its digitally regulated output maintains constant brightness. It also has reverse polarity protection, to protect from improper battery installation and over-discharge protection circuit to protect the rechargeable batteries effectively. To protect the LEDs, Fenix uses a 'tough' ultra-clear glass lens with anti-reflective coating.

The TK70 measures 405mm (Length) x 40mm (Diameter) x 106mm (Head) and weighs 769-gram (excluding batteries). Its power source is four 1.5V D batteries. Along with being insanely bright, its dual switch system is simple and easy to operate as well. With the right batteries, the TK70 can run up to 7 days (lowest beam setting, I am sure) on a single charge.

As I said, the dual switches are easy to use; the right button turns the flashlight on and off and the left button cycles through the four brightness/power levels.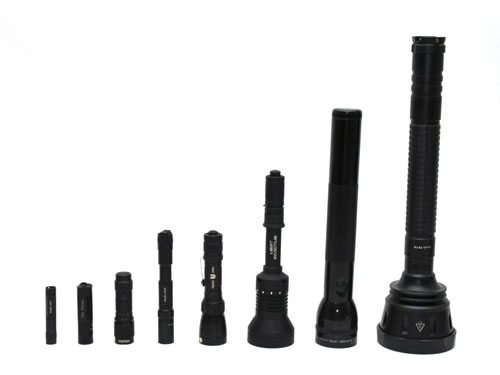 Without a doubt, the TK70 is huge. It is the biggest, longest, and heaviest flashlight I own and with its 2,200 lumens of brightness, it is by far the most powerful/brightest flashlight as well.

I have pretty large hands and as you can see, the TK70 is not petite. But considering its huge head, is surprisingly well balanced. The handle does look more like a lightsaber hilt than classic flashlight body.  The body of the flashlight has good texture and grip-ability.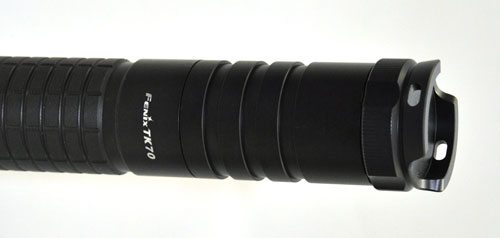 The butt of the flashlight has two connection points for the lanyard or handle strap.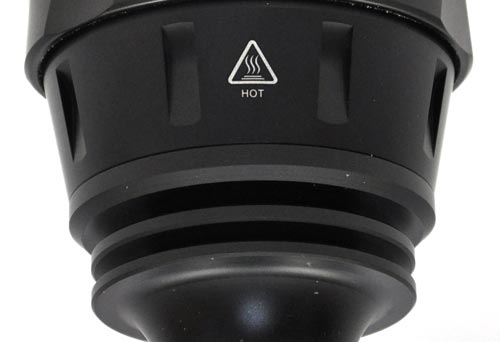 The LEDs are so powerful, there are 'high-efficiency' heat dissipation fins engineered into the TD70 that effectively radiate heat from the LEDs and electronics within the head. This helps protect the LEDs and electronics, ensuring that they do not overheat.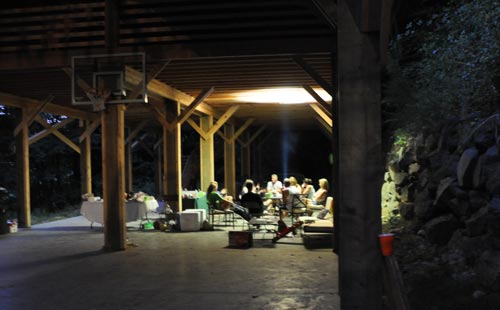 I was going to do a (relatively) detailed comparison of my various high powered flashlight (and still might), but I thought this photo says it all. We were celebrating the Gadgeteer Kid's 10th birthday outdoors in our partially finished polebarn/garage. At this point, there are no lights and only temporary power to the building. Well, as the story goes, it was getting dark and to keep the get together going, unbeknownst  to me, my wife had run into the house, grabbed the Fenix TK70 and had it alone, lighting the whole party.  As you can see from the picture, it was Ark of the Covenant bright. Impressively, the TK70 literally illuminated the entire floor of the structure.
Uncommon praise: my wife rarely comments on the tech-items I review. On those few and far between moments when she chooses to comment, let's just say, it's often less than positive. Well, she surprised me one day while I was away on travel, when she texted me letting me know 'that new flashlight is awesome.' To give you a bit of perspective, I swear, my wife has only used the A-word a half dozen times in the 15 yrs I have known her…..
Due to its size, weight, and brightness, the Fenix TK70 is a somewhat niche flashlight/product. I envision this being used by search and rescue and/or cave explorers, folks who need to throw a huge amount of light. This flashlight is well made and relatively durable. Its aluminum construction, simple controls, and water resistant design makes it a great choice where durability counts. At $233, it is not inexpensive but if you calculate its lumens/dollar ratio, it is decent enough deal ;).
Product Information
Price:
$232.95
Manufacturer:
Fenix Light Limited
Retailer:
Fenix Outfitters
Requirements:
Pros:

- VERY bright
- Well made, great construction
- Simple controls
- Weather/water resistant design

Cons:

- Large
- Heavy
- Expensive