We use affiliate links. If you buy something through the links on this page, we may earn a commission at no cost to you. Learn more.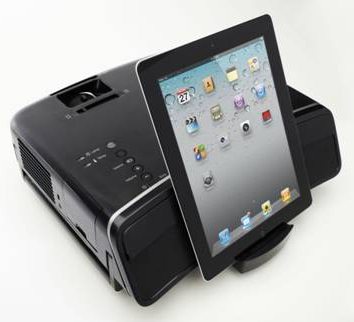 Epson has announced its new line of portable, combo projectors, the MegaPlex MG-850HD and the MegaPlex MG-50.  Although both projectors feature a built-in dock to play content on iPhones, iPods, and iPads (and charge them), they are compatible with other devices.  They have HDMI, VGA, and USB inputs to connect smartphones, tablets, computers (PC and Mac), and gaming consoles (Nintendo Wii, Sony Playstation 3, and MicroSoft Xbox 360).  Both projectors are "powered by 3LCD technology to deliver reliable performance and rich, vibrant colors."  The MegaPlex MG-850HD has 720p HD resolution and 2800 lumens of color and white light output; the MegaPlex MG-50 has 540p resolution and up to 2200 lumens of color and white light output.  Both have two 10W speakers built-in to reproduce sound from your presentation, and they can even be used as a audio dock.  The built-in microphone allows you to narrate your presentation – or even sing karaoke.  Both projectors will be available in September from Epson and select retailers.  The MegaPlex MG-850HD lists for $799 and the MegaPlex MG-50 for $699.  Read the press release after the jump.
Epson MegaPlex Projectors Offer Big Screen Viewing for iPod, iPhone and iPad
 Mobile Device Users to Share Movies, Photos, Music, and More
Combo Solutions Feature Projector, Stereo Speakers, Digital Dock and Popular
App Support for Home Entertainment, Office or Outdoor Viewing Virtually Anywhere
LONG BEACH, Calif. – Sept. 14, 2011 – Epson America today announced its innovative new line of portable, combo projectors, theMegaPlex MG-850HD and MegaPlex MG-50. Equipped with a high-quality, high-brightness projector, stereo speakers and a built-in dock for iPod®, iPhone® and iPad®, the versatile MegaPlex family delivers easy-to-use, big screen viewing to home theater enthusiasts and professionals virtually anywhere – whether inside for a movie-like setting, at the office in a conference room or even outdoors.
MegaPlex MG-850HD and MegaPlex MG-50 make it easy for consumers to watch movies, view presentations, share photos, or enjoy content saved on portable devices on a big screen. Easily project, play and charge an iPod, iPhone, or iPad, or share high quality imagery from a variety of other media devices, including smartphones, PCs, tablets, gaming consoles, and more.
"MegaPlex is the ideal big screen projector for the new digital lifestyle. Enabling consumers to share multimedia content from their iPod, iPhone, iPad  and a wide assortment of other digital devices, MegaPlex is changing the way movies, gaming, slideshows, presentations, music, and more are viewed by eliminating the confinement of a smaller screen," says Jason Palmer, product manager, Epson America. "With the high-quality, versatility and portability of Epson's MegaPlex solutions, consumers can literally dock their iPad, iPhone or iPod, click and immediately share multimedia content on a big screen wherever they may be."
Both solutions are powered by 3LCD technology to deliver reliable performance and rich, vibrant colors. The flagship MegaPlex MG-850HD offers 720p high-definition resolution and high brightness of 2,800 lumens of color and white light output[i] – ideal for big screen viewing in both dark and lighter settings – while the MegaPlex MG-50 features 540p resolution and up to 2,200 lumens of color and white light output.
Featuring two built-in 10W stereo speakers, the MegaPlex MG-850HD and MegaPlex MG-50 deliver great audio sound and can even be used separately as a speaker dock with four optimized audio modes. And with the microphone input, users can narrate photo and business slideshow presentations, or sing karaoke. Both models also feature USB Plug 'n Play instant setup, enabling users to instantly project from a PC or Mac or show slideshows via USB. The portable projectors also include HDMI and VGA inputs for versatile connectivity and flexibility, and are compatible with Nintendo® Wii™, Sony® PlayStation® 3 and Microsoft® Xbox 360®. In addition, MegaPlex projectors are equipped with a built-in handle, making portable big screen viewing easy for consumers.
Availability and Support
Epson MegaPlex MG-850HD ($799) and MegaPlex MG-50 ($699) will be available in September 2011 through select retailers nationwide and the Epson online store. The projectors come with Epson's top-of-the-line service and support, including a two-year limited warranty with toll-free access to Epson's PrivateLine® priority technical support and free two-business-day exchange with Extra CareSM Home Service.
About Epson
Epson is a global imaging and innovation leader dedicated to exceeding the vision of customers worldwide through its compact, energy-saving, high-precision technologies, with a wide lineup ranging from printers and 3LCD projectors for business and the home, to electronic and crystal devices. Led by the Japan-based Seiko Epson Corporation, the Epson Group comprises nearly 75,000 employees in 100 countries around the world. Epson is proud of its ongoing contributions to the global environment and the communities in which it operates and has been named to the Dow Jones Sustainability World Index, an indicator for leading companies in economic, environmental and social criteria, for the third year in a row. Epson America, Inc. based in Long Beach, Calif. is Epson's regional headquarters for the U.S., Canada, and Latin America. To learn more about Epson, please visit: www.Epson.com. You may also connect with Epson America on Facebook (http://www.facebook.com/EpsonAmerica), Twitter (http://twitter.com/EpsonAmerica) and (http://twitter.com/EpsonEducation) and YouTube (http://www.youtube.com/EpsonTV).