We use affiliate links. If you buy something through the links on this page, we may earn a commission at no cost to you. Learn more.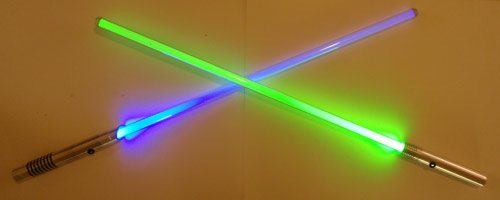 I am definitely a child of the 70's and 80's. As such, I was (and remain) a pretty huge Star Wars fan. I remember my father taking the day off for the first Star Wars movie, not going to school, and standing in line to see the very first showing of Star Wars at the Cinerama 150 in downtown Seattle. From that moment, I lived and breathed Star Wars for years as a kid. I had a ton of Star Wars toys during that time period….from the trading cards to the figures to the cheesy lightsaber they had out at the time. Back in the day, the best lightsaber available was a painted flashlight with a plastic balloon you had to keep blowing up, the end flopped around, fell off, no sound, etc.

Well, lightsaber technology and design have come a long way in the past 30 plus years (from top to bottom: kids $20 (Toy-R-Us), Master Replica–Mace Windu $150 (at the time), PVC Battle Blade $50 (created by Bryan Alford), my and the Gadgeteer Kid's Custom Saber Shop MHS lightsabers). Today's $20 kids lightsabers have a rigid, extendable blade, are decently lit, can stand a good amount of abuse, and make a good variety of battle sounds. But for those hardcore fans, about a decade ago, Master Replicas began designing FX lightsabers that were identical replicas of many of the lightsabers you see in the movies. FX lightsabers have a solid blade that lights up just like the real thing, an intricately designed metal hilt, and emit incredibly cool 'lightsaber' sound effects. As the story goes, my son and I came across several reasonably inexpensive, used FX lightsabers that we decided to battle with. We found out the hard way, the stock blades on those are not for striking each other and did not last a month.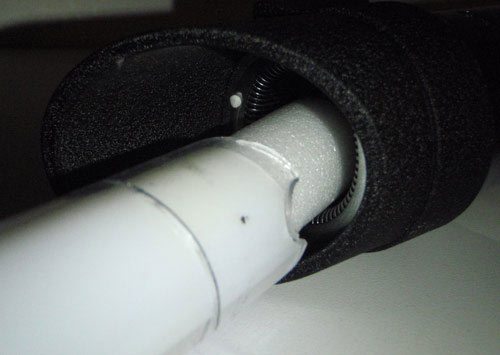 (I really am getting to my point :)) With the destruction of our FX lightsabers, I began searching for a way to repair our FX lightsabers with a blade engineered to withstand the force of many blows and abuse. My quest led me to a world I never even imagined existed, where Star Wars enthusiasts actively build and battle with what they create. These lightsaber 'battle blades' can be constructed of everything from PVC piping, metal plumbing parts, to finely machined pieces of aluminum. The electronics within also ranges in complexity and quality from the very simple to the incredibly complex. The Custom Saber Shop has the best materials and instruction forums currently available (I would like give a huge thanks to Bryan Alford for answering all my technical questions and Tim Yaskus (owner of The Custom Saber Shop) for answering all my parts availability questions).
The Hilt
The Custom Saber Shop is for everyone….from the noob to the most expert saber-smith. For the newbies, the owner of the website has created a very helpful/slick tool (called the Modular Hilt System (MHS) saber builder) which allows you to virtually create your lightsaber. My son and I worked together to design our lightsabers….it was a great deal of fun.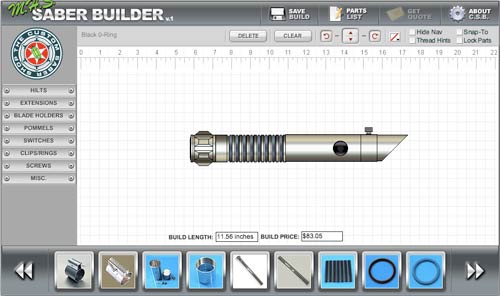 It is great being able to see your lightsaber/creation before ordering all the pieces.


When you are done designing your lightsaber you can save a graphic of the hilt you designed onto your computer. The top one is the Gadgeteer Kids and the bottom is mine.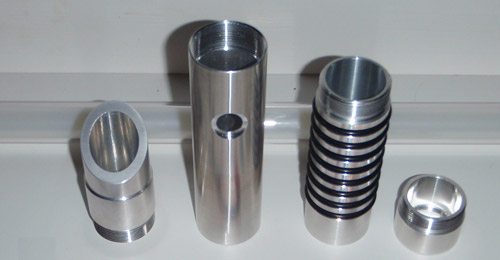 The basic hilt is comprised of three main pieces; the blade holder, center section, and pommel. But you can add various extensions and exterior facades to make your lightsaber hilt look as complicated or simplistic as you wish.

The Electronics
The electronics is where the real hands-on experience begins. As I mentioned earlier, you can make the electronics as simplistic (on and off) or complicated (FX sounds and blade flash) as you like. As my first attempt at saber-smithing, I decided to keep my electronics relatively basic.

As you can see from this line diagram from the The Custom Saber Shop, there are five pieces that make up the hilt electronics; the LED assembly, heat sink, some type of resistor, on/off switch, and battery holder.

The LED is the heart of the lightsaber. Depending on how bright you want your blade, they range in power from 1 watt to 5 watts. They come in a variety of colors dependent of which type of LED you choose.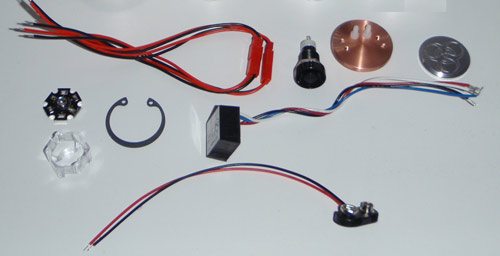 The Custom Saber Shop sells 'electronics kits' that make it easy for you to receive all the correct pieces. Definitely a benefit to us noobs…. Because it is very easy to order the incorrect part(s).
The Battle Blade
The blade is made of a clear, thick and very durable polycarbonate (think schedule 40 PVC) pipe. The interior of the blade is coated to diffuses the LED light. There are two types of blades; a Corbin style and a TCSS style blades in two thicknesses 'show' or 'battle'. You can buy the materials to create your own blades or order complete pre-made blades. The blades can be ordered in a variety of lengths between 24 and 40 inches. We chose pre-made 34″ TCSS battle blades.
The blade slides into the blade holder (top of the hilt) and is held in place by a blade retention screw. Since I do not have the tools to punch the threaded hole in the blade holder, I had Tim do that for me. But if I create another lightsaber, I will give it a try myself.
Bringing the Parts Together
The Forums on The Custom Saber Shop are an invaluable resource for noobs to learn the basics of saber-smithing. Once you figure out what parts you want/need and get the electronics connected/operational, combining all the pieces of the lightsaber was relatively easy.

Even unlit, the lightsabers are impressively well made and ballanced.

And once lit, they are even more impressive. The LED's do a great job illuminating the blade.

Doing Battle
The next best part of creating your very own (ultra high quality, one of a kind) lightsaber, is doing battle with it.
The Gadgeteer Kid and I spend hours per week fighting against each other with our handmade lightsabers. And I can not tell you how much time per day he dedicates to practicing his 'moves'. He will watch one of the movie battles and work for hours perfecting the their Jedi techniques.
The Cost
I have to admit, this project was expensive. I chose to upgrade several electrical components, buy pre-made blades, and had Tim tap the blade retention screw holes, all of which added extra cost. The overall cost was approximately $175 per lightsaber, which is more than double the price of a FX lightsaber now available from Hasbro. While the FX lightsabers have cool sound effects, they are not as bright or battle worthy as what you can create from The Custom Saber Shop. Also, if you add the electronics for sound and blade flash it could easily exceed $400.

Conclusions
The Gadgeteer Kid and I had an INCREDIBLY great time on this project, start to finish. We have created something that we will use/play with for years to come and potentially pass onto his kids decades from now. It was a great father/son experience and a memory I will cherish.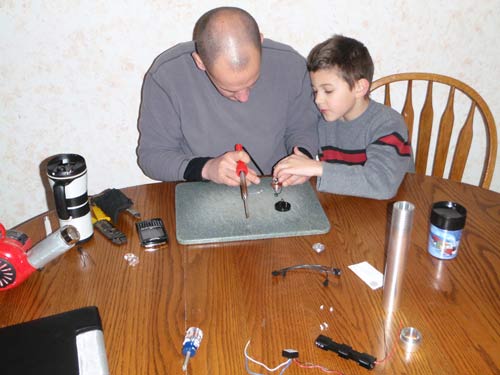 Whether you are an old or young Star Wars fan that always wanted the ultimate lightsaber, I highly recommend visiting The Custom Saber Shop, if for no other reason than to tempt yourself.
May the Force be with you….
Product Information
Price:
Variable (cost as tested/designed was $175 for the Gadgeteer Kid's and $200 for mine)
Manufacturer:
The Custom Saber Shop
Pros:

Precision machined parts
Ability to create your own hilt design
Very bright LED
Can strike blades with great force
Can add additional features along the way
Great overall experience

Cons:

Expensive
Easy to unknowingly order the incorrect part
Parts go in and out of stock frequently