We use affiliate links. If you buy something through the links on this page, we may earn a commission at no cost to you. Learn more.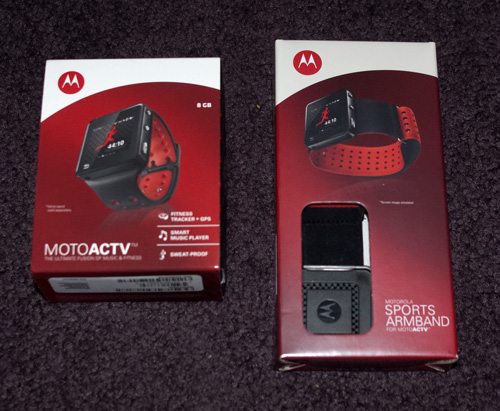 Verizon recently gave me the opportunity to try out the new MOTOACTV.  Well, what exactly is it? A music player? A GPS Tracker? A watch? Actually, it's all of those. They also lent me the Sports armband. I am definitely a casual runner, and I don't run much at all when it is cold, but this got me out on the road to give it a spin.
What's in the Box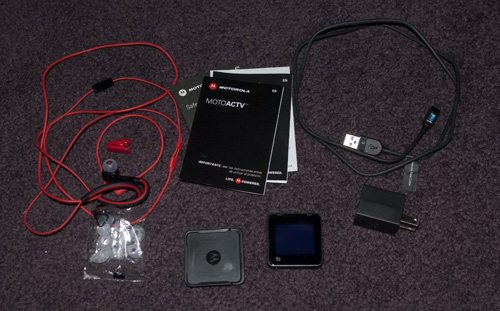 The box includes:
MOTOACTV
Clip
AC Adapter
USB Cable
Headphones
Selection of ear pieces
Quick Guides
The MOTOACTV comes with a nice set of headphones. They are the "hang over the ear" style I prefer for working out. They also have a nice selection of earpiece sizes.
The AC Adapter is your standard Motorola adapter and cable. It's a nice minimalist design. A nice add is two USB ports on the adapter.
The clip is designed so that the MOTOACTV slides into the clip. This also allows the device to slide into the arm or watch band without the clip.
The Specs
46mm by 46 mm by 9.6 mm thick
35 g
Corning Gorilla Glass
258 mAh Lithium-Ion battery
1.6 " 176 by 220 display
ANT+ Enabled (Heart Rate monitor straps)
Bluetooth 1.5 or higher enabled
BLE enabled
GPS
Wi-Fi
8 or 16 GB models
You can't help but compare this device to an iPod nano. I've been using an older nano for running, and have often discussed with friends how cool a "running" version of the nano would be. One that does not use a dongle and was wireless. I did not expect Motorola to create the device.
The screen is slightly bigger than the nano, but it has slightly lower resolution. The body is slightly bigger in every dimension, but then you get to the additions. Bluetooth for wireless headphones, Wi-Fi for wireless syncing, GPS for accurate routing, and ANT+ to support heat-rate monitors. It is a great combo.
The Device
It's a very small device. There is a back button silkscreened on he front, and the entire front is touch-sensitive.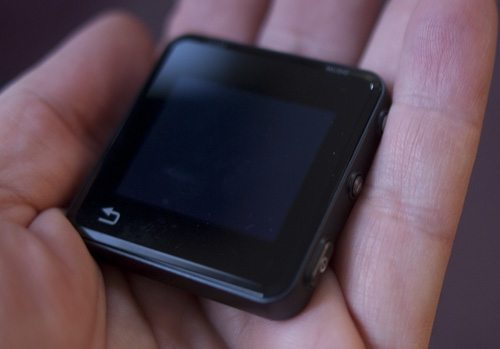 The power and volume buttons are on the side of the device. The size and position make it simple to determine which is which while fumbling for them on a run.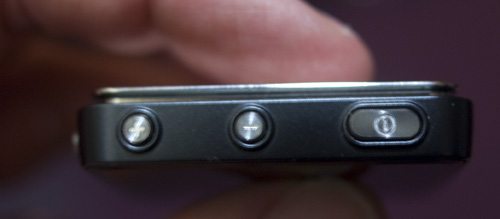 The top has two buttons on it. The workout button is on the left, and the music button on the right.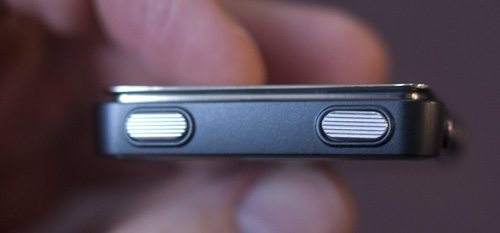 Workout Button:
Press while in the workout screen to pause or resume the workout.
Press on any other screen to go immediately to the workout screen.
Music Button
Single press to play or pause
Double press to go to the next track
Triple press to go the previous track
Long press to return to the music screen
In addition you can control the features with on-screen controls. This includes the ability to swipe left and right to get to different metric screens while working out, tap to get audible alerts, or even display a watch face of your choice.
There is a microUSB connector that is protected by a rubber flap on on the bottom, and a standard headphone jack on the side.

How Accurate?
I was a little skeptical about how well the GPS would work. I find the quality of tracking to differ significantly among phones, and this is a lot smaller. On the plus side, I have found my Droid X is one of the best performing GPS accuracy-wise, and both are Motorola products. The MOTOACTV performed very well on the two runs I was able to make with it. I run in an urban environment, so buildings can be a challenge, but even at one of the hardest turns, it performed well.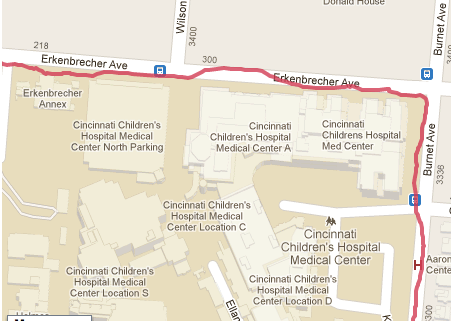 You can see a slight wiggle going east, I promise I do not unnecessarily cross the street there, but that is not as big of a wiggle as I have seen on some phones, including the iPhone 4. It took a little longer than my phone to get that first lock, but kept it throughout the run.
The Website
The MOTOACTV web site is an attractive, well thought-out site. It even has some cool features, like the ability to see your music list and what you listened to at a specific time: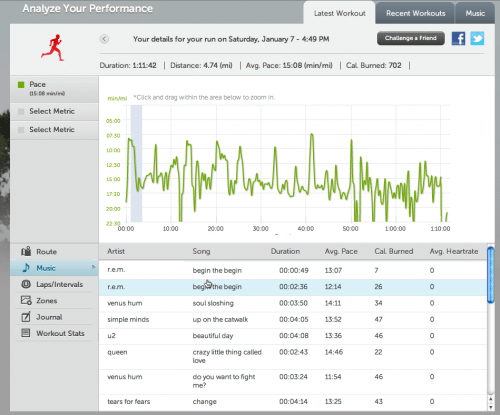 You can even see a breakdown of music you listened to while working out by time, distance, or calories burned. Incidentally, if you are straining your eyes out of curiosity on how good a runner I am… I am really bad, save your eyesight.
The site is continually improving, and I have seen new features added since I had to return the MOTOACTV. It is really nice, but I am disappointed I cannot sync directly to RunKeeper. I have been using that for over a year, and I don't want to start on a new site. You can manually export and then import into RunKeeper, but that kind of defeats a key purpose for me.
Battery Life
There were initial issues with battery life. I heard that it would not last 3 hours with GPS on, which is too short for most folks on a marathon. They have tweaked things, and included Marathon mode, and the latest discussion I saw regarding that was complaint that it would not last 6 hours in marathon mode. I never came close to pushing the limits of the batteries. My longest runs are typically 7K, and though I am slow, I'm not that slow.
The Motorola support forum looks fairly active, and the manager was trying to help the user with the 6-hour issue (he is long-distance bike rider). So be aware of that, but I can't imagine that would be an issue for most users.
Other Activities
I focused on running, since that is my primary interest, but this can be used for any number of activities. The GPS functions for any outdoor activity (walk, run, bike). It also can be used without GPS as a step counter. That is all recorded on the website.
A new addition to the device is Golf. You can now record your golf game using the MOTOACTV. To ensure that you can use the Golf app, I recommend the 16 GB version. It appears there are some issues with the 8GB version. Owners of the 8 GB had the opportunity to update to the Golf app, but appears that windows is now closed, so if that is a key feature, get the 16GB version.
Accessories
One of the coolest accessories for the MOTOACTV I saw in the initial press release were Heart Rate monitor ear phones. These sounded too good to be true, if you have ever worn a chest strap. The idea of having the sensors work on the ears was great. Unfortunately it appears they were never able to get this feature to work. These no longer exist. That however leaves:
Heart Rate Monitor Strap (will work with most Ant + straps)
Bluetooth headphones (again, likely works with third party)
Bike Speed and Cadence monitor
Wrist Strap
Bike Mount
Armband
It's a nice selection of options. The armband worked fine, I am just not a fan of armbands and quickly changed to using the pocket in my SeV performance Tee. I think combining the wrist strap with the Bluetooth headphones would be a great combination.
Conclusion
This is a great setup. Essentially it is the "Runner's Nano" I have wanted Apple to produce (they just never listen to me). It's not cheap, but when you consider that it has GPS, Wi-Fi, Bluetooth and ANT + built in, I think it is a good value. If I could have it sync directly to RunKeeper without having to export/import, I think I would buy it.  But since it doesn't, and my DroidX does, I just can't justify the purchase for me. But if you want to run without your phone, or you like the Golf features, this could be a great device for you.
Product Information
Price:
249.99 (8 GB), 299.99 (16 GB)
Manufacturer:
Motorola
Retailer:
Verizon Wireless
Pros:

Wi-Fi
Bluetooth
GPS
Well-designed web site

Cons:

Battery life (for LONG runs/rides)
No 3rd-party web support (like RunKeeper)
Expensive