We use affiliate links. If you buy something through the links on this page, we may earn a commission at no cost to you. Learn more.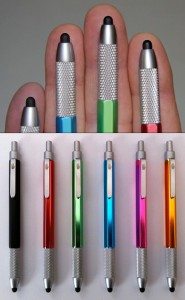 With all the touchscreen devices being introduced, it seems like every day a new stylus appears.  Well, here's another.  The HAND Stylus is a new Kickstarter project that boasts the "world's smallest tip, a mere 4mm in diameter, plus a host of other features that set it apart from all other styluses."  With the knurled grip of a drafting instrument and hexagonal barrel of a traditional pencil, it is made from anodized, laser-engravable aluminum in six different colors and either gloss or matte finish.  The replaceable, retractable tip rotates automatically so that it wears more evenly.  The stainless steel pocket clip is removable and magnetized to attach to your iPad's Smart Cover.  It is currently available only as a Kickstarter project and has 43 days left to go (Jun 17 end) so go place your order today.  $25 minimum pledge with prices and perks upward from there.  I don't own a stylus yet, but this might just be my first one—it reminds me of my favorite Koh-I-Noor Rapidomatic drafting pencils I used in high school!
UPDATE May 8, 2012: I've taken the plunge and become a Backer on this project.  Stay tuned to The Gadgeteer for a review of the Hand Stylus in the future!