We use affiliate links. If you buy something through the links on this page, we may earn a commission at no cost to you. Learn more.
I recently reviewed a small set of Incase USB cables that will lighten your daily-carry load, and now I'll tell you about a single USB cable from Innergie that can charge almost every USB device you own.  The Charge & Sync 3-in-1 USB Cable contains a miniUSB, microUSB, and Apple 30-pin connector in a single unit.  I ordered one of these after I saw Ian's news post about these cables.  Let's give it a closer look.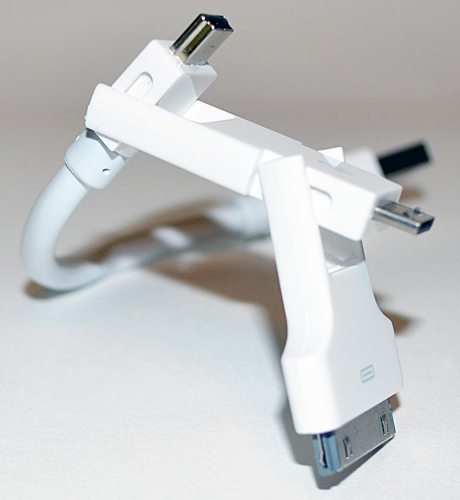 The Innergie 3-in-1 USB cable is about 7″ long used with the Apple connector, about 6.25″ long with the microUSB connector, and about 5.25″ long with the miniUSB, and it weighs about 0.5 ounce on my digital kitchen scale.  The cable is stiff, but you don't really need to wrap it up to store it in your gear bag.  At almost 0.25″ in diameter, the cable is thicker than that used for the Incase cables.
One end has a normal male USB connector.  The other end has a miniUSB connector, and there are a microUSB and an Apple 30-pin adapters attached to the miniUSB connector.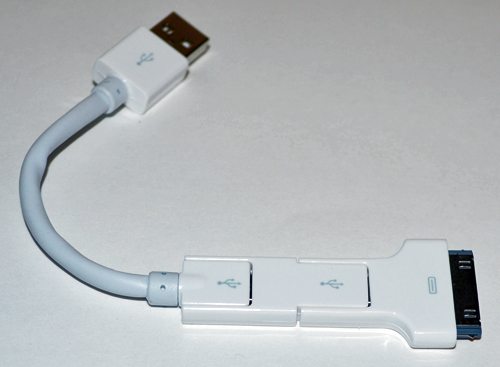 I saw a user review on Amazon that said some of the connectors didn't work.  I wondered if that person hadn't thought to push the connectors together to make the last two work.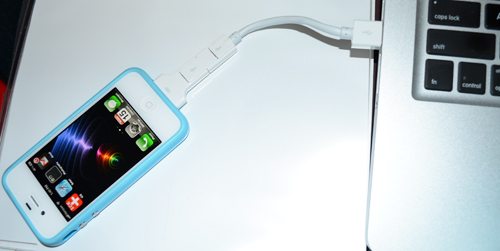 To use the Apple connector, I pushed all the connectors together and plugged it in to my iPhone.  I was able to use the Innergie cable while my phone was in the Apple Bumper.  My iPhone 4 started charging and iTunes opened and synced my iPhone as soon as I connected the cable to my laptop.

I was also able to use the microUSB connector with my Sony PRS-T1 ebook reader.  I still don't have any devices that use the miniUSB connector, but I have to assume it would work since it passes power through to the other two connectors.
Of course, you can use the Innergie Charge & Sync 3-in-1 USB Cable with USB power adapters as well as the USB ports on your computer.  If the cable length isn't long enough, you can add the 1-meter AmazonBasics USB 2.0 A-Male to A-Female Extension Cable that I purchased for $5.
I gave the Innergie cable and the extension cord to my husband, Butch.  He used it on a recent business trip.  It worked great to charge his travel gear, and it lightened the load in his Tom Bihn Empire Builder.  The Innergie cable is a great way to carry a variety of USB charging cables in one small, lightweight package.